NaNoWriMo, Day Five
Food Consumed: more spaghetti and garlic bread
Writing Time: four hours
Words Written: 8,442
Daily Goal Met at: 11:07 PM
Number of I CAN'T DO THIS Panic Attacks: none
Lady of the Day: Leslie Knope from Parks and Recreation
- – -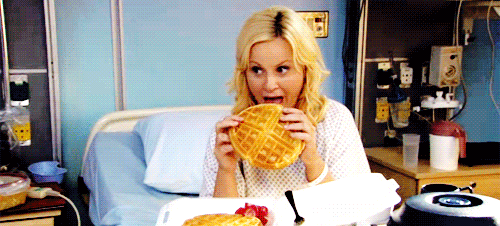 - – -
So yesterday I sacrificed my annual viewing of V For Vendetta on November 5th in order to write 2,000 words of this damn novel, just so you people could maybe possibly someday read it.
Congratulation, Ashley, you turd. You've reached your word count goal . . . for yesterday. Only 1,667 more for tonight. #NaNoWriMo

— Ashley (@narfna) November 6, 2013
It was sucky and I got tired and went to bed after reading thirty pages in Allegiant, which made me even more tired. (It's really making me sad that I'm not liking Allegiant so far, especially since I paid cash for the hardcover, and I NEVER do that anymore.)
To be honest, I probably won't write that much tonight. I'm going to shoot real hard for 800 words and then give myself a pat on the back. I finished chapter one last night, and started chapter two. I will write more of chapter two tonight. It has horses in it. I know, this is riveting stuff, can you even believe you're reading it right now?
And apparently I can't even spell 'Congratulations' right. DAMMIT.