– – –
Once upon a time four years ago I decided to keep track of how many books I read in a year because I have undiagnosed OCD and I like making lists more than most people like sex. I'm not exactly sure where I was going with that thought, but where I've ended up is: holy shit it's been four years like THAT, what is happening to my life. Anyway, in addition to not being able to fathom the passing of four years, I also somehow can't imagine NOT making this giant list every year. When I was a kid, I read even more books than I do nowadays, both because I had SO MUCH FREE TIME, and because my brain worked faster back then (I miss having kid-sponge-brain). So if I'm regularly reading between 100-120 books a year without even trying now, I can't even imagine how many I read as a kid. I mean, seriously, you guys. Depending on the size of the books and how my day was going, I could bust out anywhere from 1-4 books per day. I miss my brain.
This year I've mostly focused on the books that I love (because being positive is better than being negative), but I've also included a small list of books for you to avoid, because that is a service I also provide. The books below are in no particular order, except for the top two, both of which immediately shot in to my Best Books of All Time list, I love them so.
– – –
I read a lot of good books this year, but I only fell in love with two of them. The first was Ready Player One by Ernest Cline.  Ready Player One takes place in the year 2045 when the disaster that is humanity has folded in on itself and taken refuge inside the immersive virtual reality environment of the OASIS. The death of OASIS creator, James Halliday, sparks a worldwide virtual treasure hunt inside the OASIS, Halliday having promised to reward his entire fortune and stakes in the company to the person who can unravel his clues first. Enter our hero, Wade Watts, a chubby and poor nobody who has lived his entire life inside the OASIS. Wade is a gunter — or egg hunter — and the quest for Halliday's easter eggs has become not just a quest for him, but a way of life. Ready Player One is a hero's quest novel dressed up like a cosplayer at Dragon Con. It's a videogame disguised as a novel. It's a celebration of geekdom and technology with a progressive punch to the nuts. It's a love story and a friendship story and an adventure. I loved it so much I read it twice. It hit a ridiculous number of my buttons. You should read it, too. [My review here.]
The second book I fell in love with took me completely by surprise. I can guess pretty accurately most of the time when I'm going to really like a book, but occasionally one pops up out of nowhere to punch me in the heart. So it was with Where'd You Go, Bernadette by Maria Semple. Bernadette is a hard book to explain, which is one of the reasons why I almost didn't pick it up. There's no way a blurb could ever do justice to the irreverent but loving (and kind of magical) way that Maria Semple constructs her story. It's a story about living in Seattle, and people who think the wrong things are important. It's a story about sanity and creativity, and about mothers and daughters and husbands and wives. It's funny and it's sad; it's happy and it's got a nasty bite. Like I said, it's hard to explain, so you're just going to have to trust me on this one. Also, I don't want to spoil you. [My review here.]
Another book I was surprised by this year (though not nearly to the extent I was surprised by Bernadette) was The Rook by Australian author Daniel O'Malley. The Rook is a mystery slash thriller slash urban fantasy slash paranormal slash journey of self-discovery for its heroine, Myfanwy Thomas — it's a mish-mash of all sorts of cool crap, and if you happen to even like one of those genres I just named, you will like the book. If you like more than one, you'll probably love it. Plus Myfanwy has one of the coolest character arcs of any book I've read this year — where she starts out and where she ends up . . . I'd be spoiling it to tell you any more than that. If you like spooky things and thrilling heroics and people with superpowers, or just a good old fashioned whodunnit, The Rook is worth checking out. [My review here.]
I actually read a couple of other books this year that are similarly hard to categorize. Libriomancer by Jim C. Hines is technically urban fantasy, but mostly it's just an imaginative story about the power of stories, practically tailor made for book lovers who just want to have fun for a couple of hours. I finally managed to read The Night Circus by Erin Morgenstern this year as well, and that was a fun ride — a little plot-lite, but a wonderful feast for the imagination. Probably the craziest book I read this year was Alif the Unseen by G. Willow Wilson, a meditation on spirituality, religion, and the exercising of power disguised as a modern day fairy-tale about a young middle eastern hacker who meets a jinn and goes on secret adventures to protect a mysterious book. It was easy going down, but it stayed with me unraveling new meanings for days afterwards. Plus Wilson's prose is gorgeous, which is always nice. [My review here.]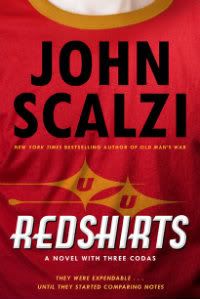 I could probably call 2012 The Year of John Scalzi and get away with it. I read his Old Man's War trilogy in 2011 (and loved it), but 2012 was the year I read everything else of his: all his published novels, most of his short stories, and a novella about gods who power spaceships that broke my brain. I must confess that he was my favorite source of election writing as well (he's good at writing about other controversial stuff too). But by far the most enjoyable Scalzi of 2012 for me was Redshirts, a delightful spoof of sci-fi conventions that managed to transcend its spoofiness and actually say something important as well. Plus, it was funny. Intelligent fluff is probably the best way to describe it. Redshirts is best enjoyed if you are a sci-fan, but it's good enough that anyone can read it and not feel lost. Another description would be, "like Galaxy Quest, but different," if that helps. [My review here.]
2012 was also the year that I think I finally OD'd on YA — especially YA of the dystopian or paranormal romance persuasion. I read SO MUCH OF IT, and with the exception of the always excellent Laini Taylor, whose second installment in the Daughter of Smoke and Bone series, Days of Blood & Starlight, was published in September to much well-deserved fanfare, and indie author Susan Ee's Angelfall, almost all of it was disappointing. But really, the best YA I read this year was not paranormal romance or future dystopia, but belongs to a genre I swore I would never read again in my life: the cancer book. Except it's not really a cancer book. I discovered John Green through his YouTube activities and liked the guy immediately, so when I learned that he was a bestselling author, and that he had a book coming out within a couple of weeks, of course I had to investigate. I was not disappointed, and I can't wait for his next book, although I seriously doubt it could ever be as emotionally charged as The Fault in Our Stars. Just to warn you, this is an excellent book, but IT WILL DESTROY YOU. [My review — which was published on Pajiba! — here. P.S. That post had 36 comments on it — where'd they all go!?!]
2012 also marks another milestone: the year I finally read a Stephen King book that I liked. I knew it was inevitable that eventually I'd find one, but until I read 11/22/63, I'd mostly only read his horror stuff, which isn't my cup of tea at all. King hit it out of the park in this one, and the combination of time travel, the 60s setting, and JFK assassination mythos made for a sort of fictional perfect storm. It showcased just exactly what King seems to be good at, which is weaving a great story. (And my positive experience with 11/22/63 led me to try another, The Eyes of the Dragon, and that was just delightful. I will be picking up Under the Dome soon, hopefully before the show comes out next year on CBS.) I was also late to the party for a couple of other authors this year. I finally gave in and read some Kurt Vonnegut in The Sirens of Titan, and it was just as weird (weirder, actually) as I'd been promised, but all the strangeness was more thought-provoking than unsettling. Another 'classic' author I sampled for the first time was Tamora Pierce, an extremely prolific young adult fantasy author whose work I somehow missed growing up, even though I would have loved it. Her heroines and stories were lightyears ahead of their time in terms of their feminist content and positive representation of young women in literature. [My review of 11/22/63 here.]
There's no doubt in my mind that
the most anticipated book of the year was J.K. Rowling's The Casual Vacancy, her first novel since Harry Potter and the Deathly Hallows was published in t he summer of 2007, and her first published non-Harry Potter book. The public anticipation and publicity surrounding this thing, including a series of mostly negative reviews, almost gave me an anxiety attack. But I lived. And ended up really liking the book, which was a bit surprising to me on one level, as it was mostly a downer, but not surprising on another level, because it's Jo, and she's so, so good at words and especially characters. The Casual Vacancy begins with parish councilman Barry Fairbrother's death, and the consequences of his death spiral outward in the community. Ian Parker of The New Yorker called it 'Mugglemarch,' and I think that's apt, because the real focus of this book is the inner lives of its complicated and very flawed characters. I plan on re-reading it in a couple of years now that I know how it turns out, and I can't wait to see how it changes my experience of reading the book. [My review — which was published on Pajiba! — here.]
The Year of Scalzi, yes, the year of ODing on YA, yes, but also: the year of the graphic novel memoir. I read so, so many, including Stitches by David Small, which was good but incredibly depressing; Blankets by Craig Thompson, which was an experience, to say the least; Persepolis by Marjane Satrapi, a fascinating look at growing up during a revolution; and the classic Maus by Art Spiegelman, which tells the story of Art's father during World War II using mice and cats. It was pretty genius. My favorite, though, was Fun Home by Alison Bechdel (she of the Bechdel test), which tells the story of her troubled relationship with her father, and it was just so well put together I don't even know how to explain it properly. Just a perfect little book. I almost don't want to read her newest book (this time focusing on her mother) because I'm scared it won't be as good.
Other books that I enjoyed this year: Quiet, Spin, Bonk, The Lies of Locke Lamora, and The Mark of Athena. I also finally gave in and started enjoying The Dresden Files. Took me a while, but I really love the characters now and will be finishing out the series by the end of the year (six more books to go).
As for the worst books? The graphic novel adaptation of Girl With the Dragon Tattoo was abysmal. The artwork wasn't that great, but it was the characterization and the story that suffered the most. I also read the second two books in the Matched trilogy, and both were a mess. I probably won't be reading anything by Ally Condie again. Even more awful than Crossed and Reached was the weird princess dystopia, The Selection. Interesting idea, awful execution. Two other YA books actually did a reversal on me — I was expecting to dislike the second book in the Delirium trilogy, Pandemonium, but I actually really enjoyed it. I did not expect to be disappointed in the second Divergent book, Insurgent, but I was. And I really hope book three in that series is back up to snuff. I also want to take a moment for a contrast. If you want to see how not to do a blog-to-book, read Ree Drummond's Black Heels to Tractor Wheels — it didn't work as a novel, as a memoir, or as a romance. A successful blog-to-book? Jenny Lawson's Let's Pretend This Never Happened.
And that's that, friends — see you (hopefully much more frequently) in 2013. And happy reading to you all, you lovely little miscreants.
(For the 2009-2011 Year in Books, click here. See below for full list of 115 books read in 2012):
– – –
1. 11/22/63, Stephen King
2. Across the Universe, Beth Revis
3. Witches Abroad, Terry Pratchett
4. The Fault in Our Stars, John Green
5. Looking for Alaska, John Green, narr. by Jeff Woodman+
6. Sphere, Michael Crichton
7. One For the Money, Janet Evanovich
8. The Love We Share Without Knowing, Christopher Barzak
9. Cinder, Marissa Meyer
10. Crossed, Ally Condie
11. Ready Player One, Ernest Cline
12. Spin, Robert Charles Wilson
13. The Girl With the Dragon Tattoo, Stieg Larsson*
14. The Girl Who Played With Fire, Stieg Larsson*
15. The Girl Who Kicked the Hornet's Nest, Stieg Larsson*
16. Blood Rites, Jim Butcher, narr. by James Marsters+
17-26. Y: The Last Man, Vols. 1-10, Brian K. Vaughan*
27. The Four Agreements, Don Miguel Ruiz
28. Stone of Tears, Terry Goodkind
29. Two For the Dough, Janet Evanovich
30. Three to Get Deadly, Janet Evanovich
31. The Unwritten, Vol. 5: On to Genesis, Mike Carey & Peter Gross
32. The Princess Bride, William Goldman*
33. The Pioneer Woman: Black Heels to Tractor Wheels, Ree Drummond
34. The Hunger Games, Suzanne Collins*
35. Catching Fire, Suzanne Collins*
36. Mockingjay, Suzanne Collins*
37. A Princess of Mars, Edgar Rice Burroughs
38. Ready Player One, Ernest Cline, narr. by Wil Wheaton*+
39. The Girl Who Circumnavigated Fairyland in a Ship of Her Own Making, Catherynne M. Valente
40. Zoe's Tale, John Scalzi
41. Let's Pretend This Never Happened: A Mostly True Memoir, Jenny Lawson
42. Fuzzy Nation, John Scalzi
43. The Art of Racing in the Rain, Garth Stein, narr. by Christopher Evan Welch+
44. Bonk, Mary Roach
45. Divergent, Veronica Roth*
46. Insurgent, Veronica Roth
47. The Serpent's Shadow, Rick Riordan
48. Stiff, Mary Roach
49. The Lies of Locke Lamora, Scott Lynch, narr. by Michael Page+
50. Red Seas Under Red Skies, Scott Lynch
51. Lady Susan, The Watsons, Sanditon, Jane Austen
52. Redshirts, John Scalzi
53. Angelfall, Susan Ee
54. Unveiled, Courtney Milan
55. Unclaimed, Courtney Milan
56. Delirium, Lauren Oliver*
57. Pandemonium, Lauren Oliver
58. Shell Game, James Swallow, narr. by Claudia Black and Michael Shanks+
59. Small Gods, Terry Pratchett
60. The Hobbit, J.R.R. Tolkien*
61. 2312, Kim Stanley Robinson
62. Habibi, Craig Thompson
63. The Selection, Kiera Cass
64. Persepolis, Marjane Satrapi
65. Quiet: The Power of Introverts in a World That Can't Stop Talking, Susan Cain
66. The Rook, Daniel O'Malley
67. The Eyes of the Dragon, Stephen King
68. Agent to the Stars, John Scalzi
69. Alanna: The First Adventure, Tamora Pierce
70. In the Hand of the Goddess, Tamora Pierce
71. The Woman Who Rides Like a Man, Tamora Pierce
72. Lioness Rampant, Tamora Pierce
73. Maus, Art Spiegelman
74. The Night Circus, Erin Morgenstern
75. Alif the Unseen, G. Willow Wilson
76. Fun Home: A Family Tragicomic, Alison Bechdel
77. The Android's Dream, John Scalzi
78. Leviathan Wakes, James S.A. Corey, narr. by Jefferson Mays+
79. Stitches, David Small
80. Libriomancer, Jim C. Hines
81. The Casual Vacancy, J.K. Rowling
82. Stormdancer, Jay Kristoff
83. A Wizard of Earthsea, Ursula K. Le Guin
84. The Tombs of Atuan, Ursula K. Le Guin
85. The Farthest Shore, Ursula K. Le Guin
86. How to Tell if Your Cat is Plotting to Kill You, Matthew Inman
87. Asterios Polyp, David Mazzucchelli
88. Fables, Vol. 6: Homelands, Bill Willingham
89. The Unwritten, Vol. 6: Tommy Taylor and the War of Words, Mike Carey & Peter Gross
90. The Lost Hero, Rick Riordan*
91. The Son of Neptune, Rick Riordan*
92. The Mark of Athena, Rick Riordan
93. Caliban's War, James S.A. Corey, narr. by Jefferson Mays+
94. Blankets, Craig Thompson
95. The Last Unicorn, Peter S. Beagle
96. Daughter of Smoke and Bone, Laini Taylor*
97. Days of Blood and Starlight, Laini Taylor
98. Lips Touch: Three Times, Laini Taylor
99. To Dream in the City of Sorrows, Kathryn M. Drennan
100. Dead Beat, Jim Butcher, narr. by James Marsters+
101. Legend, Marie Lu
102. A Million Suns, Beth Revis
103. Sirens of Titan, Kurt Vonnegut
104. The Girl With the Dragon Tattoo, Book 1, adapted by Denise Mina
105. Reached, Ally Condie
106. The Girl Who Fell Beneath Fairyland and Led the Revels There, Catherynne M. Valente
107. Where'd You Go, Bernadette, Maria Semple
108. The God Engines, John Scalzi
109. Wild Magic, Tamora Pierce
110. Wolf-Speaker, Tamora Pierce
111. Emperor Mage, Tamora Pierce
112. The Realms of the Gods, Tamora Pierce
113. Frozen Heat, Richard Castle
114. Ghost Planet, Sharon Fisher
115. Proven Guilty, Jim Butcher, narr. by James Marsters+
*Re-read
+Audiobook