There's something you should know about me: I love going to the Dentist.
I love everything about it: the chairs, the lights, the scraping, the fixing, the numbing. I like being told what pretty teeth I have. I like feeling all shiny afterwards. I don't even mind getting cavities filled. The only thing that even marginally annoys me is the x-ray stuff because my mouth is too small and all that plastic junk and biting down and crap hurtses us, my precious. Does this make me a freak? I don't know. If it were up to me, I'd go to the dentist once a month to get mah teefs cleaned, but not having dental insurance kind of puts a damper on going at all.
Today I went to the dentist for the first time in a year and a half. I was very excited, despite knowing that I was in for a full set of dental x-rays. I was also a little nervous about getting a new dentist; my first ever dentist appointment was with my grandfather, a tiny, kind little Italian man, and I've had the same dentist since I was five years old. Dr. Bill was our next door neighbor and I used to have sleepovers with his daughter. Those two factors are probably the main reason I'm not scared of the dentist, but does it explain why I actually gain enjoyment from going? Probably not.
Well, today I had my bubble popped a little. New dentist was kind of mean and scary. He kept telling me in like five hundred different ways every five minutes, using lots of medical/dentical jargon, that I needed to floss all the time every day or my teeth are going to fall out of my head and I will be ugly. Then he told me I needed "therapy" on the lower left half of my jaw. Hmm, therapy. Sounds kind of nice, right?
Wrong.
Therapy, or Deep Scaling and Root Planing, is for people whose gums are in danger of receding too far. I thought they were just going to give me, like an extra little cleaning boost or something, but when she busted out the numbing gel and then injected me with novocaine using a big-ass needle, I was like, um? What exactly are you planning on doing to me? "Oh, it's not big deal," she says, "we're just going to clean under your gums, and it can get kind of uncomfortable." Um, what? Under my gums? By this time the novocaine had started to take effect, and I asked her what exactly all that meant, but it came out more like this: "What are you do to mah teef?"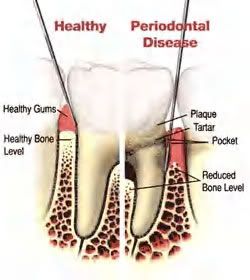 Oh, it's totally no biggie, they just move your gums out of the way and then start hacking at them with a whiny drill. Actually, it didn't hurt at all, but I'm very disappointed in myself for not having perfect teeth. I didn't have a cavity until I was twenty-one years old, so every tooth failure after that is like a me-failure. I fail at life, MY GUMS ARE RECEDING. And then they showed me all these scary videos about tooth rotting and brushing and flossing too hard, and basically now I'm a little paranoid.
Halfway through the procedure, I realized I had been chewing on my tongue for about two minutes, but I couldn't tell because of the numb. It's been three hours, and that little bugger keeps slipping in there, and I'm all chomp, chomp, oh shit! I'm probably going to be all bruised now. The dentist said I'm not allowed to eat for four hours, and I'm hungry! Plus I have to gargle with salt water. Totally gross. I hope the numb goes away in time for tonight. Lindsay and I plan on getting tipsy and then seeing Up in 3-D*. Does anybody know if mixing alcohol and novocaine is dangerous? In the meantime, I'll be here, reading my book, and trying to keep my teeth from subconsciously eating my tongue.
Oh, and P.S. I still like going to the dentist.
*I don't know how she talked me into this. I hate 3-D; it scares me beyond reason. This one time at Disneyland I went on the Honey, I Shrunk the Kids ride and when the things started coming out of the screen and then all the special effects in the chair started doing stuff in my personal space, I yanked the 3-D glasses off and started crying. I was seventeen.