19. "Phase One," Alias
Click Here to see the Rest of the List So Far
Season Two, Episode 13
Original Airdate: January 26, 2003
Written By: J.J. Abrams
Directed By: Jack Bender

Starring: David Anders as Mr. Sark
Bradley Cooper as Will Tippin
Merrin Dungey as Francie Calfo
Victor Garber as Jack Bristow
Jennifer Garner as Sydney Bristow
Greg Grunberg as Eric Weiss
Rutger Hauer as Anthony Geiger
Carl Lumbly as Marcus Dixon
Terry O'Quinn as Assistant Director Kendall
Ron Rifkin as Arvin Sloane
Michael Vartan as Michael Vaughn
Kevin Weisman as Marshall Flinkman

Synopsis: Sydney and Jack are confronted by the new director of SD-6 replacing Sloane, whose whereabouts and intentions are unknown. Meanwhile, romantic sparks begin to fly between Francie and Will, and everything is about to change for all of them.

Trivia:
This episode originally aired after Super Bowl XXXVII on ABC.
A real champagne bucket was used in the fight on the airplane.

Jennifer Garner

accidentally hit the stuntman and gave him a black eye.

Critical Reception:
"The Futon Critic" rated this episode the 4th best television episode of 2003.
This was the highest rated episode of the entire series.
Why It's on the List: Last summer Lindsay lent me all of Alias on DVD because it was her favorite show and she knew I wanted to watch it. I watched season one very quickly, because it was addicting and fun, but mostly because the sexual tension between Sydney Bristow and her CIA handler Michael Vaughn was so intense that I was having dreams about it. Then came season two, and it only got worse. Sydney's badass mom came back into the picture in the form of Lena Olin, and Sydney and Vaughn, not allowed to be together lest she break her cover as a double agent trying to destroy the evil Alliance, were about to die from all the sexiness. I was about to die from all the sexiness. I stayed up for twenty-four hours straight to get to this episode. I think I must have watched something like fourteen episodes in a row to get here, but at 3:00 AM, I did. And it was glorious. This episode is incredibly satisfying. It resolves so many things, completely changes the direction of the show (The bad guys are defeated? What now?), and wait for it, has one of the best first kisses in the history of television. Admittedly, you need to have seen the first season and a half to really feel the emotion of the thing, but trust me. It's good. As for the show itself, Alias is like girl power eye-candy for the sci-fi action crowd, or spy-fi, if you will. Hot chicks in wigs, hot guys with guns, danger, intrigue, nuclear weapons, evil mothers, father-daughter bonding; there's a little something for everyone.

Extra Goodies: Screencaps, Episode Transcript, Watch the Episode
We open on an unknown hallway; everything is red and black and there is no one in sight. The camera work here is gorgeous. Then the music starts, AC/DC's "Back in Black," and in comes our girl. I'm just gonna get this out of the way right now at the beginning of this recap: Jennifer Garner is smoking hot.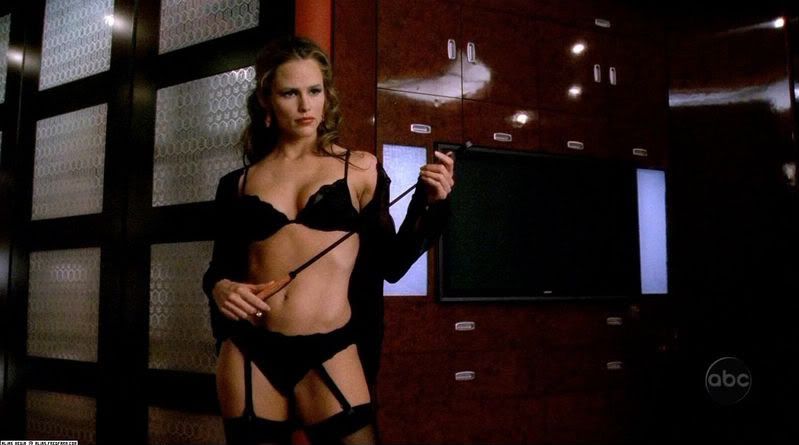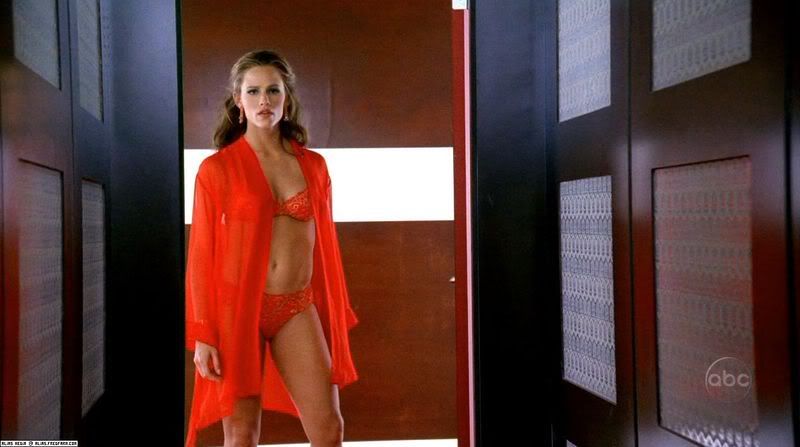 You see what I mean. She saunters down the hallway; Sydney Bristow is way too good at her job. She pauses when she reaches the end of her impromptu runway and we see that there is a smarmy looking chubster watching her while eating shrimp cocktail and drinking champagne. He is leering at her unpleasantly, but she isn't fazed in the slightest. There is a bodyguard standing behind Sleazy Chubs. Chubs tells Sydney — in French — "No. Put on the red one." He smirks chubbily at his bodyguard, and out comes Sydney again, down the hallway. But this time she's wearing fire engine red lingerie. She poses for him in the doorway, although on the inside she's probably screaming in horror. "Not bad," says Chubs, "That's better." He motions for the bodyguard to leave the room, speaking once again in French. Sydney moves over to the window and looks out, and it's then that we see this is no posh hotel room, but a plane, flying high in the sky. The night is inky black, as black as Sydney's soul probably feels when Chubs is looking at her. Like he's doing right now. Then she's on the bed, posing seductively for him. His greedy face makes me want to vom. He unzips his sweater, pulls it off, and lays all of his sweaty chub on top of her, the poor thing. This right here is true patriotism. She maneuvers so she's the one on top as he has his hands all over her. As he's murmuring nasty things in French, the camera cuts to a view of Sydney's hands, which are slowly reaching for her bracelet. When they reach their destination, she pulls on a charm and out comes a wire.
Before you can say "Holy Shit," Sydney has the wire around Chubs's neck and with her mouth dangerously close to his ear says, "What was wrong with the black one? Do you think it's comfortable wearing clothes like this?" She squeezes harder and he tries to reach for a big red button, but the effort is in vain because Sydney has disconnected it, and is demanding to know the location of something called Server 47. At first he denies knowing what she's talking about, but she just pulls the wire harder and he gives in. She elbows him in the face and he falls unconscious onto the bed as she uncovers a hidden computer behind a frame across the room. She pulls out a computer transmitter from her own hidden briefcase — which also contains a fresh, non-whore type of clothes, and a gun — and plugs the transmitter in. Seemingly to no one, she says: "We're transmitting." Then quickly, she changes into the new clothes, grabs the gun and heads out the door. She carefully makes her way around the rest of the plan, stopping before corners and aiming her gun, lest she get shot in the face. She opens a door, but it's just a closet full of parachutes. Plot point, anyone? Another door, which she opens, has only a mirror behind it. Although she's relieved to only see herself, her relief is quickly squashed by the untimely presence of a gun being forced into the side of her neck.
It's Chubs' bodyguard; in French, he tells her not to move, and to drop her gun. She pauses a little, then drops the gun on the floor behind him. When he goes to look at the gun, she kicks him from behind. He jumps up and a pretty long fight ensues. I'm not gonna bore you with it. Basically, they kick each other a lot, and the whole thing ends with the bodyguard unconscious but Chubs is awake and fires his gun STRAIGHT INTO THE CAMERA. Credits.
In Which There Are Some Problems
Los Angeles, twenty-four hours earlier. Sydney is jogging through the park to the tune of "American Woman." She drops some money in a "homeless" man's cup. As she jogs away, he speaks close to his wrist: "Mountaineer requests covert entry." In the control room at the CIA ops center, agents are watching the monitors. One agent says, "Roger that. Mountaineer is clear for entry." (I know that having Sydney's CIA codename be Mountaineer was this big inside joke because of where Jennifer Garner went to college, but her SD-6 name is so much cooler — Bluebird. Also, her CIA name from the first season, Freelancer. Her codename for the last season was the best, though — Phoenix.) At the broken phone in the freeway underpass, Sydney presses entrance code and a broken, rusty door swings open.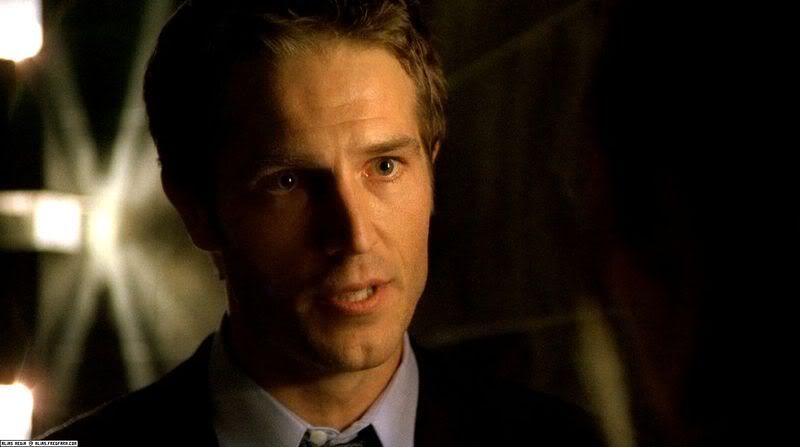 Inside ops, Sydney meets up with Vaughn. She asks him what the new intel is, but he doesn't know. Deputy Director Kendall of the FBI wants to wait until the meeting. They make googly eyes at one another and chat idly about how there are so many people in the park right now just having picnics and throwing frisbees. They just really want to be on each other. Kendall walks by, calling out, "Let's move," but I'm having a hard time listening to him because he's really just John Locke pretending to be the deputy director. But Vaughn has other ideas. He pulls Sydney into a small room off the main center; he needs to tell her something. "I'm going to say something and it will either be obvious to you or seem presumptuous. Either way, I got to say it. This isn't working. I've been thinking about this for a while. I don't know what the hell to do." Sydney is floored; she can't imagine Vaughn not being in her life. "What?" He says that she knows what, but she needs him to tell her. Vaughn: "You need me to tell you what? That when you're on operations, I can't sleep at night. That when we're in debrief I have to force myself to remember what the hell we're supposed to be reviewing. When all I want to do is kiss you." Sydney's face melts off from all the gooey love inside. Aloud, she agrees that sometimes it's hard to remember what they're supposed to be talking about. "That's what I'm talking about. And the thing that makes me crazy every day is that the people who would kill us if we're seen together — the Alliance, SD-6, Sloane — are the very forces that brought you into my life to begin with. What kind of a sick joke is that?" Sydney gets nervous face, is he saying they shouldn't be working together? Indeed, that's what he was thinking, but then, they're great together. "And the more we work together, the sooner the Alliance gets destroyed." Sydney wants to know what he's suggesting, but before he can answer, Weiss interrupts them. Weiss really being the pilot who crashed Oceanic Flight 815 and also that dude from Felicity. Weiss: "What is this, the flirting corner?" Hee. They're talking, Weiss. Yeah, he figured, but "Uh, there's a meeting. National security, remember that? It's important… for the people?" They'll be right there, right after they finish their final round of googly eyes.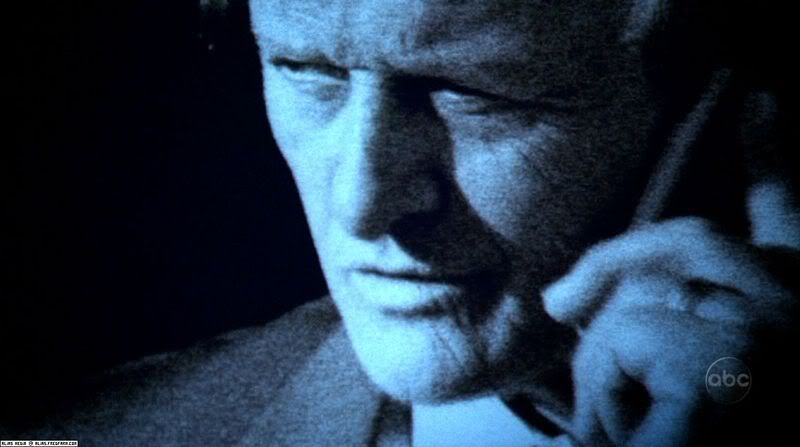 The conference room, like ten seconds later. Jack Bristow, Sydney, Weiss, Vaughn, Kendall, and some others are sitting around a table. Kendall starts to speak, pulling up a picture of first Sloane, then an unknown man on a cellphone: "Arvin Sloane. As most of you know, Sloane is the acting director of SD-6. For those of you new to the fun and games, SD-6 is an arm of the Alliance, a worldwide organized crime syndicate responsible for weapons trade, drug traffic, and murder. The Alliance keeps a dozen offices or cells, SD-1 through SD-12. We have identified the locations of seven of these cells, the rest is speculation. The agents Bristow — Jack and Sydney — have been working undercover at SD-6 tracking their objectives, operations, contacts. Working under Arvin Sloane… until now. We've intercepted communications which reveal that the Alliance has picked someone to be Sloane's replacement. Anthony Geiger. Which is about as much as I can tell you about him. Geiger has no file at CIA, FBI, no police record, no overdue video rentals, nothing." Well, all I have to say is thank God this aired after the Super Bowl and the network probably required all this exposition, because now I don't have to explain it all to you. But we're not done — Sydney wants clarification: "Sloane's being replaced?" Kendall: "He's been MIA for five days. With Sloane gone and Geiger coming in, we no longer have access to their inner circle. So, Sydney and Jack, your assignment is to get close to Geiger, earn his trust, get back in that inner circle. That's it."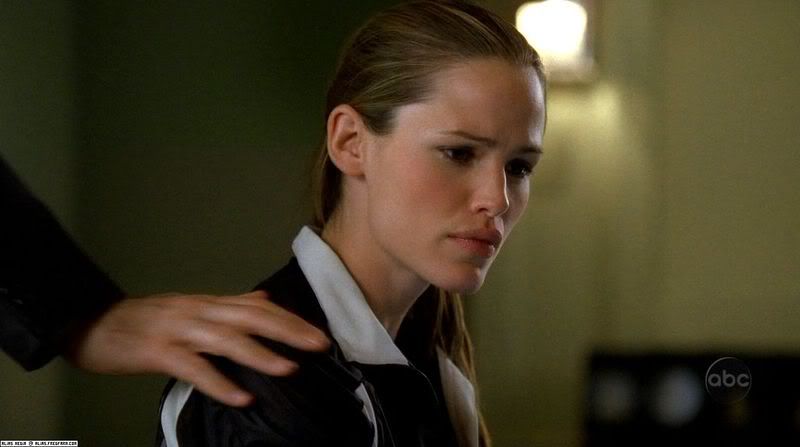 Sydney is clearly upset that the work she is doing is no longer going to affect Sloane, the man she wants to take down more than anything. She turns to her father, "Dad, the one person in the world I want brought to justice, he's disappeared." Jack looks sympathetic, "I've been doing this a long time, Sydney. There's rarely an end to the story." He gets up, puts a reassuring hand on her shoulder, and leaves the room.
SD-6, a little while later. Sydney walks over to her desk, but sees an strange man — Geiger, played by the always terrifying Rutger Hauer — in Sloane's old office. Her partner, Dixon, tells her he doesn't like what's going on. She nods slightly, and goes over to Geiger's office, knocking quietly. "Excuse me, Mr. Geiger?" She introduces herself and he tells her to come in and sit down. He opens a file — presumably hers — "Let's see . . . " She tells him she just wanted to introduce herself, say hello, but he has other things on his mind. "What can you tell me about Danny?" Ouch, the bastard. But Sydney is calm, "What would you like to know?" He knows they were engaged; he wants something more, and she knows what it is. "I assume you mean how Danny died. I told him the truth — that I worked for SD-6. Security section discovered this, they told Sloane, Sloane had him killed." Geiger chatters meanly about Danny's life, rubbing it in her face. But he gets right down to it: "Mmmm. If the people I work for would assassinate my wife, I would not show up at the office the next day. So why come back? What for?" Um, gee, Mr. Geiger. Maybe it's because I hate this place and I want to see it burned to the ground as I avenge my fiance and all the people who work here under the pretense of a lie. Also, I want to pop Sloane's head like a Maraschino cherry. But she doesn't say that. Instead, she says, "The precepts of SD-6 were made clear to me when I was recruited. What happened was my fault. And I am a faithful officer of this agency." He looks at her, trying to gauge her, but seems to give up and thanks her for coming in. She leaves, definitely not in the inner circle.
At her desk, Sark approaches her. Oh, Mr. Sark. Yummy, yummy — evil!– Sark. "The new boss has a dreadful personality, don't you think?" She glares at him; she's seen worse. "Am I supposed to take that personally?" She sighs and asks him what he wants. He tells her that when he met Geiger he left the office feeling as unstrung as she looks. Sydney's all, I am totally and fully strung, FYI. Sark gets important face, "We all have secrets, Sydney. And from what I've heard about Geiger, he'll discover them." Hmmm. She wants to know what he's heard about Geiger, but Sark doesn't have much. "Former German intelligence. Has more enemies than various other Germans we're familiar with. He seems to think Sloane is a traitor. He's already unlocked Sloane's secret files on server forty-seven." But there are only forty-six servers. "Really? Well, he announced it to me as if it were a victory. 'I've already hacked Sloane's files on server forty-seven.'" Well, this certainly changes things.
In Which They Must Destroy a Computer
The self-storage building where Sydney and Jack get briefed by Vaughn, etc. all the time. Sydney is speaking to Jack, telling him that the only reason Sloane would keep the existence of a forty-seventh server secret is that it is a vulnerability. Jack doesn't understand what she's implying. She continues, "I think there's a central Alliance computer, I think that's what server forty-seven is. A network that links all the SD cells. It makes sense, doesn't it?" Jack: "I'm trying to find a flaw in this line of thought. Hee. Sydney wants to find the computer, it could contain everything they need to know to take down the Alliance, the names of the partners, the locations of the offices . . . Jack thinks this is too good to be true. Sydney: "Dad, this could be the silver bullet." Jack looks at her for a moment, then: "I'll get CIA to sanction it." Score.
Ops, Sydney and Vaughn walk over to Weiss. Vaughn and Weiss are briefing Sydney on Server 47. "The reason you couldn't get a twenty on it is because it doesn't exist on this planet. It's in the sky. It's a 747 purchased by the Alliance in 1998. They retrofitted the interior to contain a secure server and a satellite uplink." Sydney, whose seen a lot, is amazed. They go on to explain that the plane only lands for refueling and that the man overseeing the project — here they show her a picture of Chubs — is an accomplished computer security expert, he and his bodyguards travel with the server at all times. Sydney: "This guy spends his life on a plane with a computer?" Weiss: "It's a really nice plane." Vaughn chimes in, saying that they only convinced the guy to do this by providing him with women. Sydney can see where this is going, and she doesn't like it. "Twice a week, alternate airports in England and Spain. A high-end escort agency provides a new… friend." Sydney: "And I have to be his friend." Vaughn's quick to assure her that she just has to get him alone, that there are terminals in each cabin that connect to the computer. They're all going to Barcelona where the CIA will ambush his latest "dropoff," and Sydney will take her place. Weiss and Vaughn will be in a cargo jet following at no further than 5,000 feet away. Weiss hands her a pair of earrings and a pen, "Here's your transmitter, the earrings will give you audio and video and op-tech has the rest of your gear." Let's get this show on the road.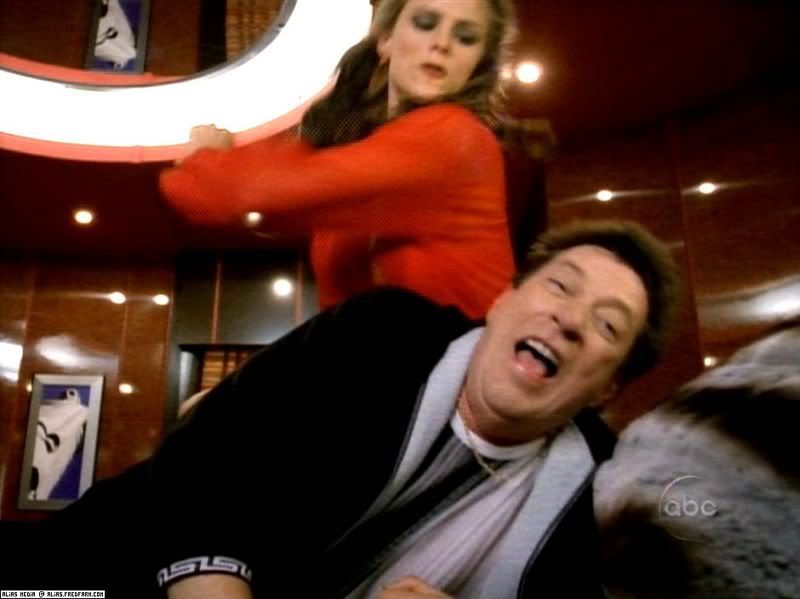 Somewhere over the Atlantic, Vaughn and Weiss are sitting in the cargo jet waiting for Sydney to start transmitting audio and video. Weiss is like, okay, whenever you wanna talk . . . and Vaughn tries to play all innocent, like, what talk? About the cologne, or whatever the hell Vaughn is wearing. "I'm not wearing cologne." "Well, something's going on. No man naturally smells as good as you do right now." Just then the video starts transmitting Sydney's point of view on the plane. Chubs is telling her to change into the red lingerie, and now that we can see it from this side, we can also see that this does not make Vaughn happy. At all. See: "That son of a bitch!" Weiss is like, easy!, but Vaughn just wants to murder Chubs in the face. Weiss, as Chubs climbs on top of Sydney: "There's no way that guy smells as good as you." Vaughn's like, OMG, it's aftershave, and Weiss tells him he might want to lighten up on it, "To the point of non-use." Hee. Back with Sydney, we've reached the part of the evening where she gets to knock Chubs unconscious (Weiss and Vaughn cheering) so she can steal stuff from him and then almost get killed.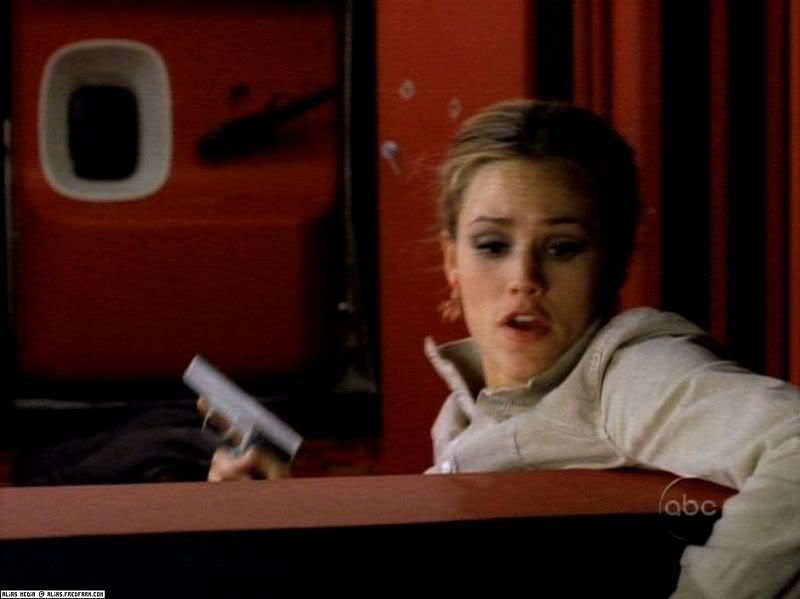 As this replays quickly and in short flashes, we see that Sydney had some help from Weiss and Vaughn in her fight. And then we're back to the beginning, Chubs pointing a gun in her face, but this time we see that he misses her. As she's hiding from him, he calls her a little bitch, but then she totally takes her gun and blows out one of the airplane's windows. Vaughn freaks out: "No, no no no no no no no NO!!!!" With the window shot out, the pressure in the plane drops and the door freaking whomps off of the plane, leaving everything not bolted to the floor free to be sucked out as well. Also, the door flew into the engine, causing it to explode, so that's cool. Chubs gets sucked out — Bye, Chubs! — as does a bunch of other shit, but our tenacious girl hangs on tight. That plane is goin' down. Sydney shimmies her way inexplicably over to the plot-point parachute closet, secures herself inside of it with her feet, puts on a parachute, and lets herself be sucked out into the abyss where she is thankfully not propelled into the exploded engine, but glides safely away. Vaughn's like, fuck yes. Weiss: "She's all yours."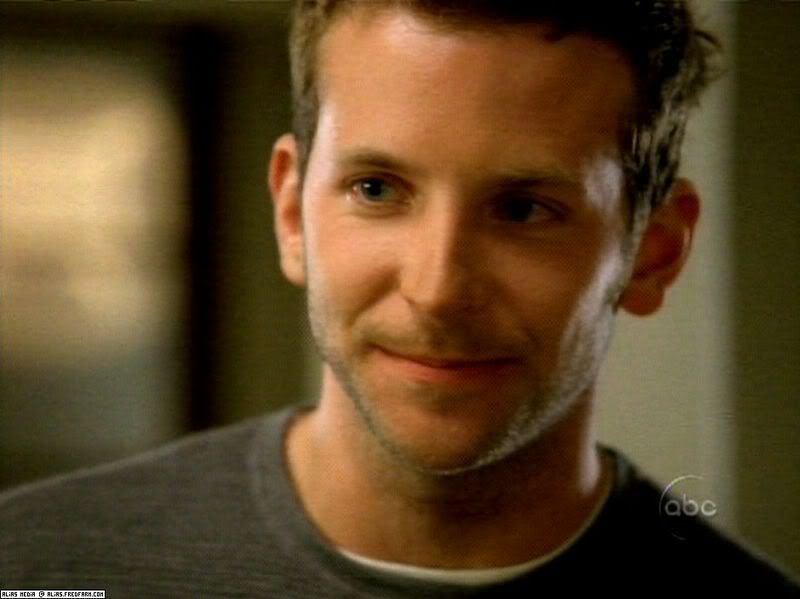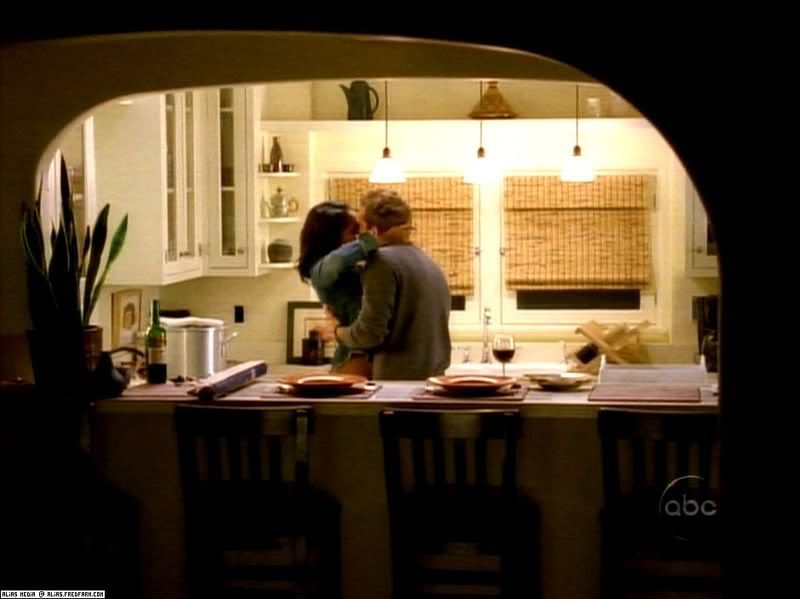 Back in L.A., Francie and Will are in Francie's kitchen cooking dinner. Lobsters, live ones. Will tells Francie that Sydney's going to be late, he of course knowing where she really is, but Francie merely segues into complaining that she's missing all the dirty work. Honey, I wouldn't want to kill them lobsters, either, but somebody has to. Er, unless you're a vegetarian. Will bravely drops the suckers into the pot and then starts harassing Francie: "Okay, the suspense is killing me. What's the occasion?" Francie looks a little shifty, but she finally answers with this cute little hesitant smile, "The restaurant is actually making a profit." Will's all, after six months? "Is that even possible?" Apparently it is, hence the fancy and expensive lobster dinner. She can't believe she has her own restaurant, that she's actually making it work. Honey, please take that back right now. Don't you know the laws of TV? Something has to go wrong now, it just has to! Will: "I guess this is a really bad time to tell you I have to quit, right? I got a job working for a travel magazine. I mean, it's not The New York Times, but I am writing for a living." And by 'travel magazine,' he of course means 'researcher for the CIA.' But Francie is nothing but excited for him, that he has a good job again, that he's writing. He's still worried she's upset, but seriously Will? "Like I can't find another waiter in Los Angeles." He tells her she's the best, she congratulates him, he congratulates her back. Naturally this leads to kissing. While this may not surprise us savvy TV-holics, it sure surprises them. If this were a nature documentary it would be called When Roommates Make Out With Each Other In The Kitchen While Murdering Lobsters. Very romantic.
Ops, Sydney has made it safely to the ground and is now being handed a bunch of papers by Vaughn, who is giving her significant face. The papers are printouts from the hard drive, and when she finishes giving them a quick once over, she gives Vaughn significant face right back. This shit is huge.
The self-storage place of hidiness. Sydney and Vaughn are meeting with Kendall and Jack, trying to convince them of something. Sydney: "Sir, this is our chance to destroy the Alliance now!" Kendall understands, "but you don't rush an operation like this." Vaughn points out that as soon as the Alliance realizes there's been a breach in their computer network, the information will be worthless. Kendall then reminds all of them about the C4 sitting under all the SD cells and the hundreds of civilian lives that could be lost if the intel in that hard drive is wrong. Jack finishes looking over the papers and interrupts: "The answer is in the document. According to the information you retrieved, each SD cell uses a code which changes weekly to operate their security system. The current code is listed right here." Vaughn gets it; they need to get to SD-6 to check the actual code, and if it matches the code in the papers, the intel is correct. Kendall's on board with this: "In which case I could go to Langley about raiding the Alliance facilities." Jack's new job? Getting the current SD-6 code.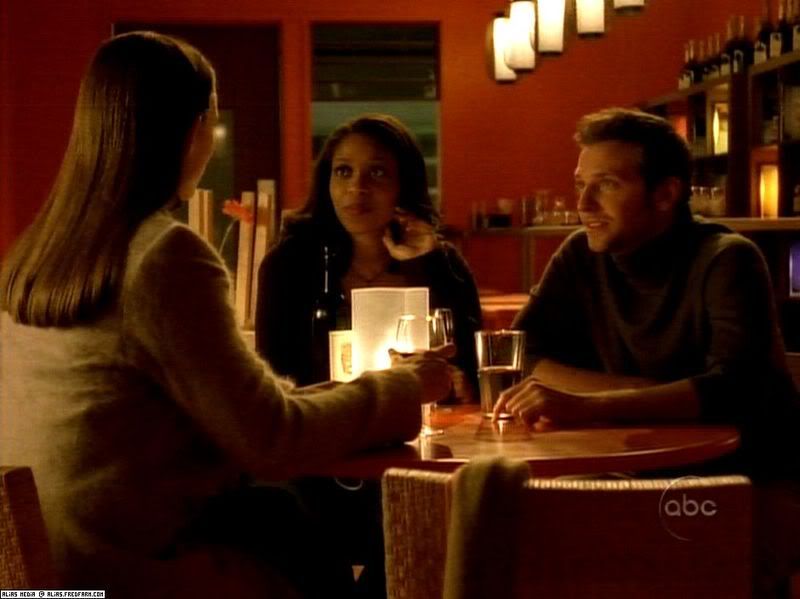 Francie's restaurant. Sydney has arrived for the celebration dinner; she sits on one side of the table as Francie and Will sit on the other, talking in hushed voices. Sydney can tell something is up, but she doesn't press it. Francie's all, Did you like the salmon? And Will's like, gee of course I did. Thank you. No, thank you. No, thank you. Did you see that guy looking at you? He was totally checking you out. He was not. So was, etc, etc. Finally, Sydney's just like, you guys are acting like crackheads, what the fuck is going on. Francie: "Uh, well, um… we sort of made out." Sydney: "Oh, my God." Will: "Okay, this is too weird." His face turns bright red and he leaves the room, leaving Francie and Sydney to their giggles.
SD-6, Geiger's office. Agent Calvin McCullough walks in, "You called for me?" Geiger: "I've been reviewing Mr. Sloane's work. I found an e-mail that struck me as curious. Is SD-6 running a program recording keystrokes at each desktop?" Uh oh. McCullough affirms. "Well, then, why don't you sit down. I'd like you to play back what Arvin Sloane was typing." This is not good.
Outside the restaurant, Will and Sydney are leaving together. As soon as the door shuts behind them Sydney starts in on him, "Literally. Every detail now." You can't really tell because it's dark, but he's blushing again. He starts telling her about the kitchen but she's so excited she can't even wait for it. "I can't believe this. I'm like, I'm in shock." Good shock? "No, great shock! I mean, is this a one-time thing?" Will: "I don't know, I don't know. You know the weird part? The really weird part? It wasn't weird." Sydney: "I'm going to have so much fun with this!" Will laughs, but seriously, STOP JINXING IT.
Back in Geiger's office, McCullough is typing away at Sloane's computer. "Here we go. This is a playback of Arvin Sloane as he wrote the e-mail in question." Geiger notices that he wrote something and then erased it and instructs McCullough to play that part back slowly. The deleted section comes up, line by line. It reads: "Jack and Sydney Bristow are double agents." Oh, shit.
In Which There Are Some More Problems Different From the Other Problems
SD-6, the next morning. Jack is walking down the hall and goes into a boardroom. He sits down at a computer, presumably to get the code for the CIA, when in comes Geiger. Jack stands up and they introduce themselves. Jack tells Geiger he's been looking forward to this, and as Geiger says the same, the doors close ominously behind him.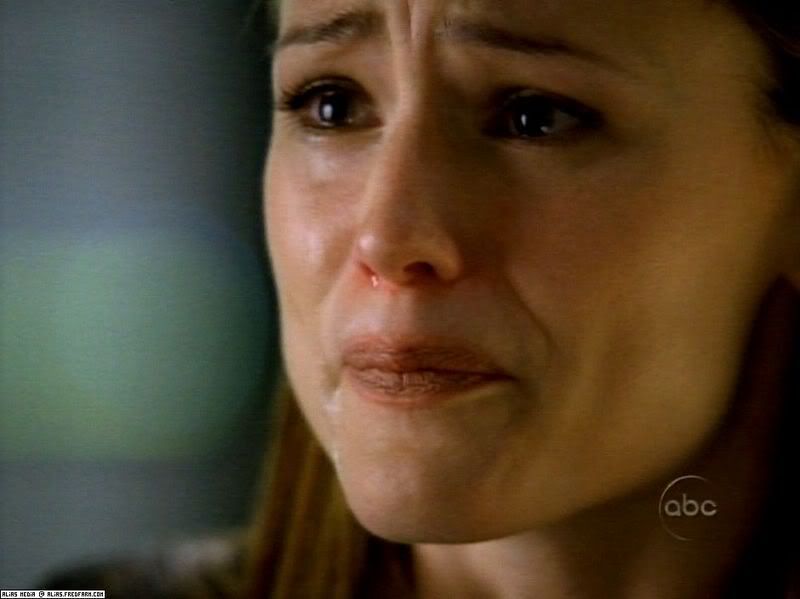 CIA Ops, Sydney is at her desk. Vaughn is nearby when her cell phone rings. It's Jack; he tells her that Geiger wants her to come in and talk and that she should take the surface streets, they're doing work on the freeway. Sydney can barely even bring herself to reply, so full of panic is she. She stutters out an "Okay . . . I will . . ." before he says goodbye and hangs up on her. She lets the tears flow but Vaughn wants to know what just happened, did he get the code? She tells him Jack was compromised. "He just said 'Take the surface streets, they're doing some work on the freeway.'" Vaughn doesn't understand. "It's a phrase we came up with last year. A code to let one of us know if the other was ever discovered, to warn them to stay away. He's with Geiger now." Vaughn doesn't even know how to comfort her as she breaks down.
SD-6, room of torture-y horribleness. Jack is being secured into a scary looking chair by Geiger. Geiger tells him that he knows both he and Sydney are disloyal, that there files have so many red flags he thought he was in a Russian airport. Har har, and also, I hate you. He starts rubbing some gel on Jack's ankles and it just really creeps me out because of the rubbing and the torture. He tries to get info out of Jack, but Jack isn't that kind of man. Jack is The Shit; he will not give in. Instead, he starts making small talk about having met Geiger before, doesn't he remember? It was in Kanagawa, '87. Finally Geiger remembers — something to do with a woman and a club foot — and puts on his friendly face. He tells Jack this will all go away, if he'll only tell Geiger who he's working for. Jack says nothing, and screams in agony as Geiger turns on his torture machine. Daddy!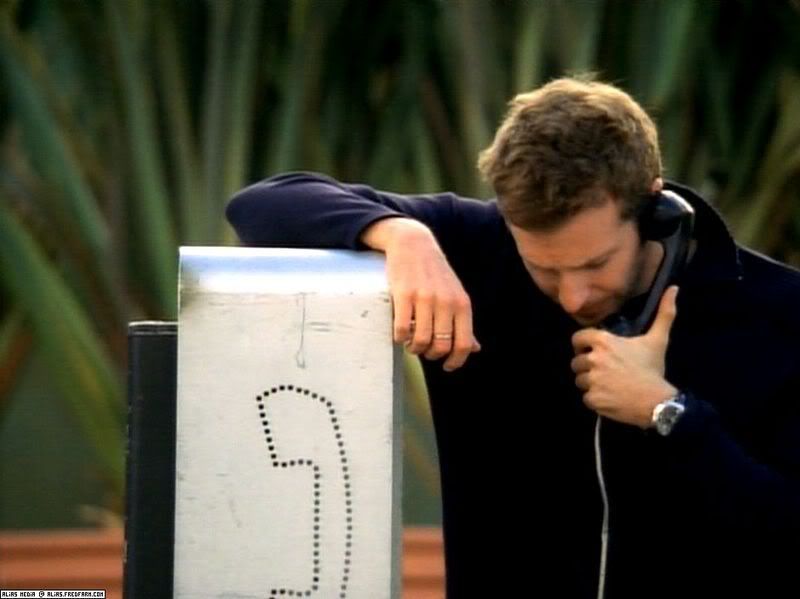 Will is at an unknown pay-phone talking to Sydney, who is still at CIA Ops. He wants to know what's wrong, but all she'll tell him is that she wants him to take Francie far away from here, to get themselves to safety. He promises and hangs up. Vaughn tells her that Kendall's on his way, but Sydney knows he's not going to do anything until they have confirmation that the intel in that hard drive was correct. Vaughn tells her she can't go back to SD-6. She knows.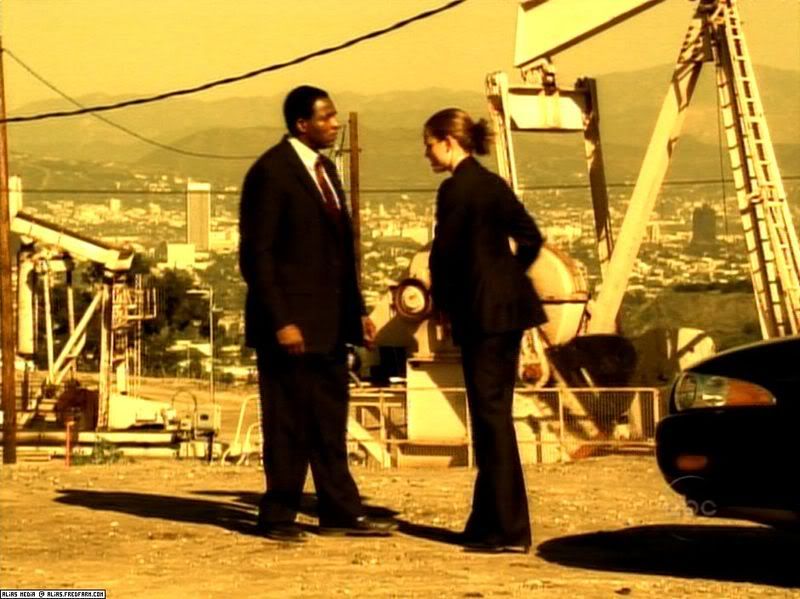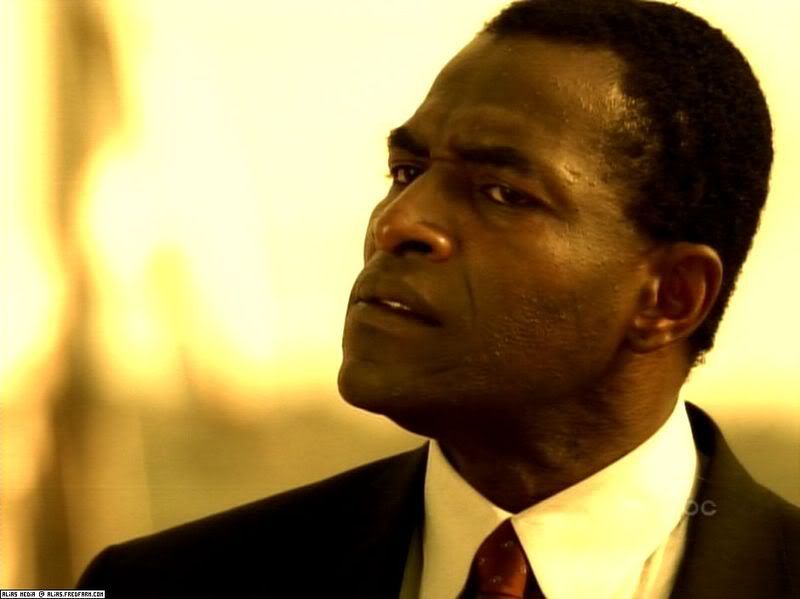 Cut to some shipyard in L.A. Sydney is waiting by her car. Dixon drives up and gets out of his car, saying that he got her message. Sydney: "There isn't time for me to explain everything, for me to apologize the way I need to. SD-6 has nothing to do with the CIA. Dixon, you've been lied to. We have all been lied to." He doesn't understand so she reminds him that he's had his suspicions about her, and tells him that they were true. He's getting angry now. "I know this is insane but you have to trust me now! I'd take you to CIA headquarters, I'd show you the files, the proof! SD-6 is part of the Alliance! You have been working for the enemy you thought you were fighting. This will take time to understand, time we don't have. I need you to listen to me." He nods slowly, fighting to keep control. If what she's saying is true, his whole life is a lie. She tells him about Jack and starts crying. "The CIA, the real CIA, " she starts, but Dixon interrupts her. "No, no, NO! This is CRAZY, Sydney! Do you HEAR yourself?!" She keeps trying to tell him about the intel they need but he is walking away. She calls after him, panicked and hysterical, "You have to listen to me!" Dixon: "No, this does not MAKE ANY SENSE!" Sydney: " YOU HAVE TO LISTEN TO ME! I can't go back there or they will kill me, too! We need you to go into SD-6. We need you to hack into the system and make visible a hidden file, one that you would never see, never know was there." She takes out a piece of paper and gives it to him. "It's a code. A number that we need. If it's a match to one we already have, it will confirm data and the CIA will raid SD-6 and every Alliance office! If you follow these instructions to get the code you will be in the core of the SD-6 computer network and you'll see… it's not CIA. It's Alliance. I'll wait for your e-mail but you need to hurry." She's crying again and he stares at her for awhile, his expression so fierce it's almost unreadable, and then he gets in his car and drives away.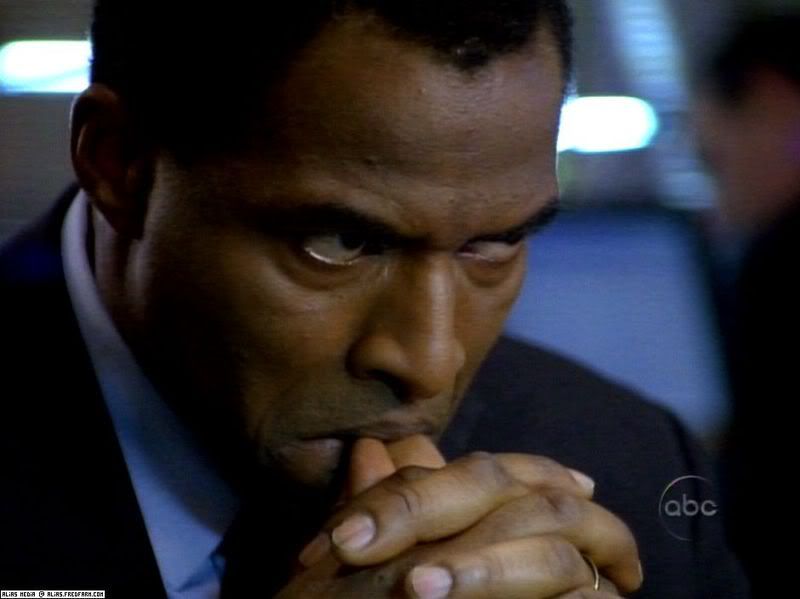 Back at SD-6, Dixon is just sitting at his desk. This is probably the second best scene in the episode, just for the quality of Carl Lumbly's acting. He's seriously just sitting there, trying to decide if knowing the truth is more important than becoming a traitor. Than keeping up the pretense that the work he does every day is making a difference. That he isn't the enemy he thought he'd been fighting all along. He slowly sits up, typing in the information Sydney gave him. After a brief moment, it pops up on the screen: Alliance Secure Network, Alliance Network Cell, SD-6. Poor Dixon.Meanwhile back at Ops, Sydney, Vaughn, Weiss and others are waiting at Sydney's computer for Dixon's email. They wait and wait but nothing comes.
SD-6. Dixon picks up his phone and dials; his wife answers. He calls her baby, and she wants to know why he's calling in the middle of the day. "I was just calling… you… to tell you I love you. How much I love you." "Oh, thanks, sweetie. I love you, too. When will you be home?" His face is a perfect mask of anguish; he doesn't know. She tells him to be safe; he wishes her the same. They hang up and he just continues staring at the computer, at that button called 'send.'
Ops, they're still waiting. They wait and they wait and they wait. Finally it beeps: one new message. Sydney cautiously opens it. It's from Dixon and the code is a match. The room erupts into chaos. They have some work to do. A little while later, they're all in a meeting room. Kendall speaks: "As many of you may be aware, the CIA recently received intelligence which provides us with vital, previous unavailable details on the inner workings of the Alliance. Thanks to some exceptional work, we've confirmed the validity of this intel. Therefore, tonight at 2200 hours, the CIA in conjunction with the FSB, the BAP, the MI5 and the Shin Bet will conduct simultaneous raids on all Alliance facilities and tomorrow morning, God willing, the Alliance will no longer exist." Ah, but Kendall, the question I think you and everybody else needs to be asking is, what happens after the happily ever after?
In Which Shit Gets Blown Up, Metaphorically Speaking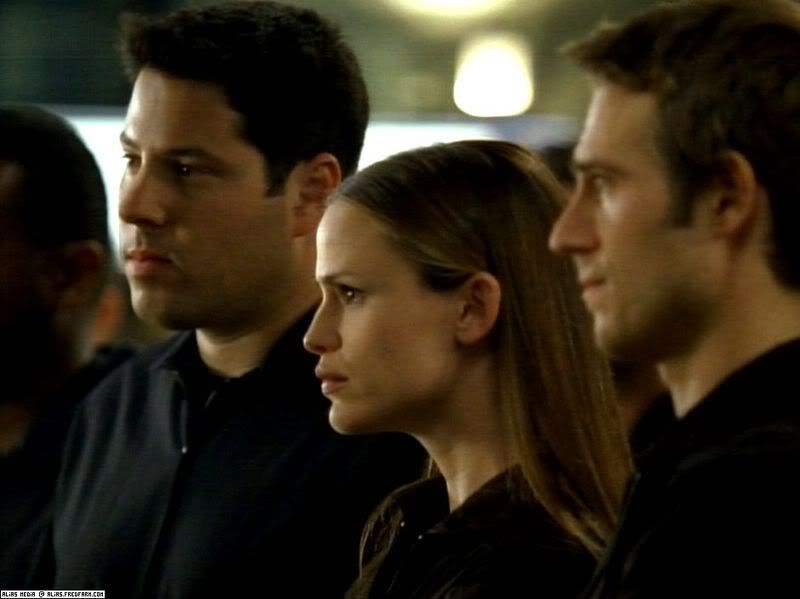 Ops, go-time. All in black, they prepare for the raid to end all raids. Kendall briefs them, reminding them to not hurt civilians but to focus on the security trained ones. He dismisses them and we cut to a bunch of black SUV's pulling up outside of Credit Dauphine, entering the parking garage. Vaughn jumps out of one and cuts the lines to the security camera feeds. He looks really sexy in case you were wondering.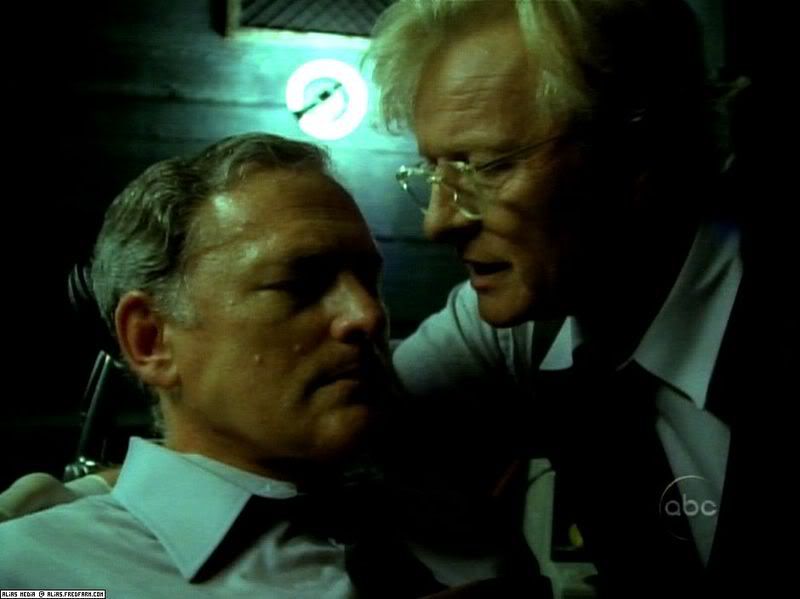 The room of torture-y horribleness. Jack pretty much looks like he's about to die. Geiger taunts him gently, almost friend-like, but it's all part of the game. He tells him that his heart won't take one more shock, perhaps two. "I've never seen anyone go beyond three. Have you?"
The agents run into the building towards the elevator, Sydney, Vaughn, and Weiss in attendance although there are about twenty-five agents in total. Sydney yanks the panel off the elevator and rips out the wires. Agents at Ops let everyone know that security has been fully disabled at all SD locations across the globe. One of the agents busts out a blowtorch and it is awesome.
Torture-yucky. Geiger is gross and mean: "I have given you enough time to reconsider." Jack gasps a little as Geiger turns the dial on the machine. You know what else is torture? Watching this scene. Except I love it.
Just outside the offices, the agents prepare for entry, crouched, guns at the ready. Vaughn asks Sydney if she's okay, and she affirms. They give each other some we're-about-to-die googly eyes. All the teams across the globe prepare for attack as our agents put on ski masks. At Ops, a female agent tells everyone, "All teams in position." It's a go. Kendall: "Let's move in." "Go, go, go!" and agent calls out. Abruptly we're back inside SD-6 with Dixon as Marshall wheels up in his chair, offering Dixon some pigs in a blanket. Marshall's such a nerd and I love him, but Dixon is so not in the mood. The look on his face is breaking my heart. "What? Hey, nobody can resist a little pig in a blanket. They're hot, fresh out of the oven." He eats some, but begins to sense something's not right. "Everything all right?" Yeah, he says, but just then, the real CIA busts in the office, pointing guns. Everyone starts shooting and Dixon yells for Marshall to get down. Parts of the ceiling are falling down around them, chaos everywhere as Sydney shoots at the people who have been her co-workers for over six years. As she crosses the room and turns a corner, she takes off her ski-mask.
Torture horror bloodshed death room. Geiger whispers in Jack's ear: "Your daughter is so beautiful. Imagine what I could do to her." Eww.
More chaos and destruction upstairs. People are getting shot, the walls are crumbling, lights flicker violently. Sydney runs.
Geiger: "This is your last chance, Jack, to save yourself. To save Sydney." He brings the jumper cables up to Jack's sweaty cheek, placing one down on the left side, leaving the other hovering over the right. "Who are you working for? Hmmm?" He's literally like a centimeter from placing the other jumper on Jack's cheek when the door slams open; enter, Sydney. Geiger fumbles for his gun, but before he can even get near it, Sydney shoots him point blank, five shots straight to the chest. He dead. She runs over to Jack. Awww, it's okay, he'll be fine. It's just a TV show. (Who am I?!) The shooting is petering off upstairs. At ops, the female agent is listing casualties and successes from all twelve raids. A CIA medic comes into the torture room to care for Jack, pushing Sydney out of the way. This is her cue to leave.
Upstairs, the CIA is handcuffing all the SD-6 agents, Marshall and Dixon included. Some are crying, Marshall is horrified, but Dixon's face is blank. As he's being led out, Sydney comes up the stairs and pauses in front of him. She is much more relaxed now and tries to talk. "Look, this will be over soon. I promise. Thank you." Dixon, brusque and so angry: "Don't talk to me." Sydney is hurt, but she understands. At Ops, female agent tells Kendall that even though the details are still pretty sketchy, it look like all twelve raids were a success. There is no more Alliance.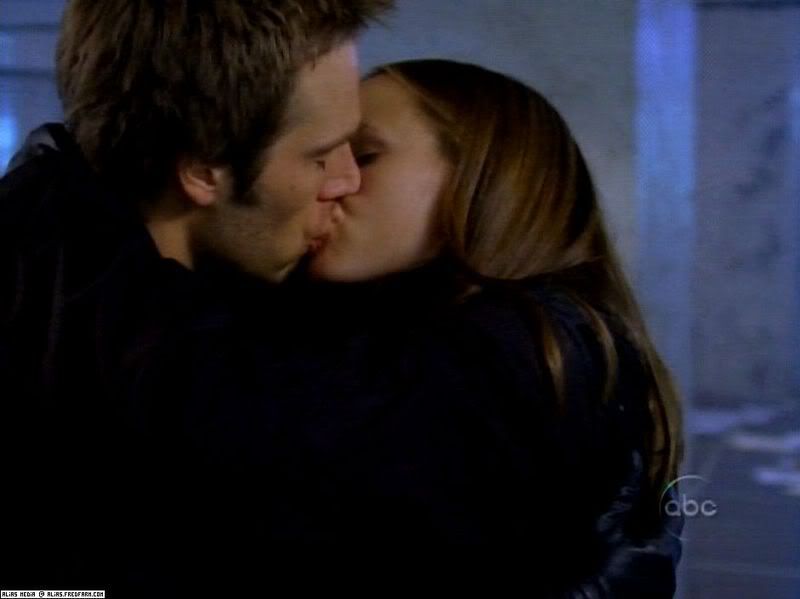 Vaughn takes off his ski-mask, looking around. Sparks are still flying in the air from the newly exposed wiring. He makes eye contact with Sydney from across the room and they hold it for a second, each knowing exactly what is coming. They move — determined — across the room, lips crashing together for the first time in a beautiful and harmonious sexual tension relieving harmony. Up walks Weiss. "Hey, guys… I just talked to base, we did it. We kicked their asses." Sydney and Vaughn don't seem to care about anything but sucking each other's faces off. "Hey… guys, did you hear what I said? Asses… kicked." More kissing. Weiss is amused and annoyed. He leaves them in peace.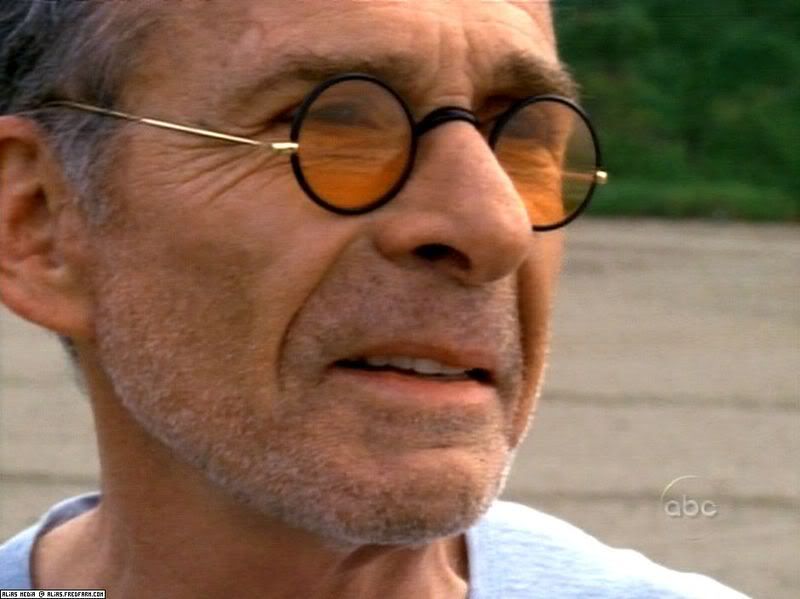 We hear Mr. Sark speaking a voiceover as we see Sydney and Vaughn fading gradually into a beautiful beach and the silhouette of a man. "It's remarkable, really," Sark says, "Sydney leaked the intel to the CIA and the rest played out exactly as you predicted it would. So congratulations, sir. The Alliance is gone." He is, of course, speaking to one Arvin Sloane. He looks out at the ocean, "We shouldn't celebrate yet. As you know, there's much more work to be done." Sark tells him he just wanted to let him know that phase one is complete, and Sloane is pleased, saying now it's time to move on to phase two. Oh, and Sark, "Check in on our new asset. Make sure we're on schedule." He hangs up and stares out at the beach, smiling.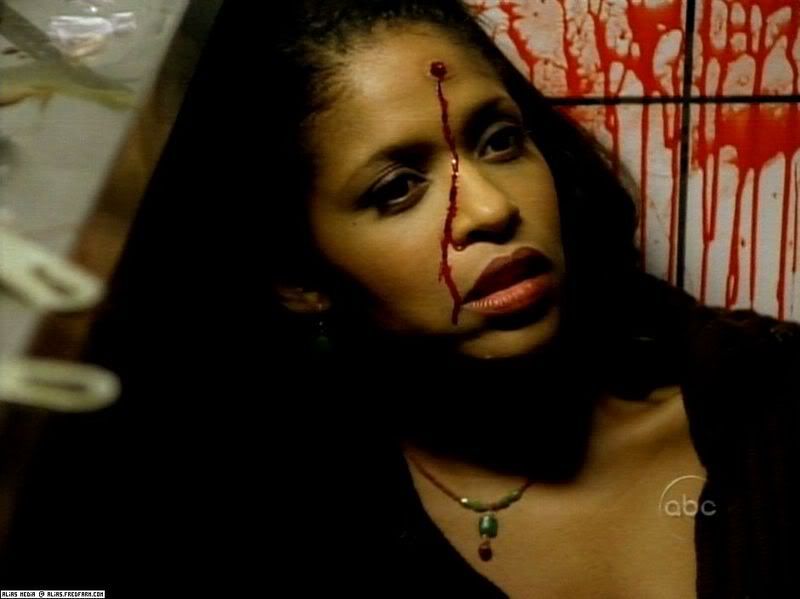 Almost immediately, right on the word asset, we cut to Francie's restaurant. A cell phone rings, and Francie answers it. It's Sark, and he wants to know if she's in position. Francie has a new, evil face that she's never had before. Francie is evil? She affirms that everything is in place, and the camera pans over to the kitchen where we see the real Francie, shot through the head, her blood smeared across the wall. Everything in place, and no one is happy for long. There are no happy endings.