23. "Smooching and Mooching," Freaks and Geeks
Click Here For the List So Far

Season One, Episode Sixteen
Original Airdate: July 8, 2000
Written By: Steve Bannos
Directed By: Jake Kasdan
Starring: Becky Ann Baker as Jean Weir
Linda Cardellini as Lindsay Weir
John Francis Daley as Sam Weir
Joe Flaherty as Harold Weir
James Franco as Daniel Desario
Joanna Garcia as Vicki Applebee
Samm Levine as Neil Schweiber
Natasha Melnick as Cindy Sanders
Busy Philipps as Kim Kelly
Seth Rogen as Ken Miller
Jason Segel as Nick Andopolis
Martin Starr as Bill Haverchuck
Synopsis: After fighting with his father, Nick moves out, and to Lindsay's surprise, begins staying with the Weirs. Cindy tells Bill that she has a crush on Sam. She asks Bill to convince Sam to invite her to a party — a makeout party.
Trivia: This episode was originally scheduled to air April 10, 2000, but the show was cancelled before it could. The rest of the episodes were aired in mini-marathons on ABC Family over the summer of 2000.
Why It's On the List: Why nobody watched this show is a mystery to me. There are many reasons to love Freaks and Geeks, not least among them the all-star cast, who were at the time a bunch of nobodies. I love it for many reasons also, but mostly I love it for the horrible accuracy with which Judd Apatow & Co. portrayed adolescence. No awkward stone is left unturned, no pimple left unpopped. This is a show for everybody who didn't have a date to the prom and who looked in the mirror and saw nothing but awkward. Every inch of this show is dedicated to the rebel outcast with parental issues, the stoner with the heart of gold, the painfully geeky loser, the math geek turned freak, and the sweet, skinny freshman in all of us. I chose this episode not least because it gives my favorite character a spectacular showcase and the dynamics between the ensemble at are at a perfect pitch, but also because it has one of the best and most well-earned endings in television history. Also, it's funny!

Extra Goodies: Screencaps, Watch the Episode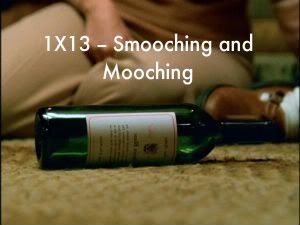 My Father Sold My Drums, and Other Teenage Tragedies
A small Michigan town in 1980, a garage sale — the stage is set. Nick Andopolis and Ken Miller are futzing around. Nick is poking the back of Ken's head with some sort of stick, and just generally being tall and annoying. They are discussing the quality of the items for sale and come to the conclusion that it's all junk. Ken says he's going to sell all of his junk: "You know, my crap is way better than this . . . crap." Nick changes the subject when he spots a table full of books. He wonders aloud why people save all their books, "It's not like you read a book twice." Oh, Nick, you poor dumb stoner. But Ken has another theory: "They're probably just braggin' to us, you know, 'Oooh, look at all these books I've read. I'm so clever. I read a lot of books and stuff.'" Nick becomes extremely excited when he spots a small pair of bongo drums hiding under a folding table. Ken is not amused, but Nick is not to be deterred. He loves drums more than he loves girls and weed put together. Nick says that they — his and Ken's band — could play "Evil Ways" if they had those. Ken becomes interested at this point, "Yeah, that would bring the Andopolis drum kit to an even thirty pieces." Yes, because that's not excessive at all. Nick corrects him, pointing at the pair of drums in his hands, "thirty-one pieces." He's gonna buy these, man, this garage sale rules.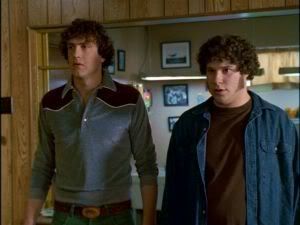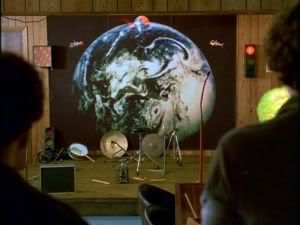 Nick's basement, home of the soon to be thirty-one piece drum set. He says they've got to be quiet because his dad's really pissed off at him. Ken wonders if he saw Nick's report card, and the answer is a resigned "Yeah." Also, he was playing American Band while his dad was trying to watch 60 Minutes. But at this point their conversation is stopped cold when they are confronted with a very empty stage, the former home of the thirty-one piece drum set, the love of his young life. All is a ruin. Credits.
The Den of Evil, Nick's house. Nick's father, who is played by the always evil Kevin Tighe, is telling him that he's gonna want to lower his voice. But Nick is righteously angry: "You had no right to give my drums away!" But his father says that those drums were making him go deaf, "otherwise you would have heard about all those times I tried to tell you to clean up your act." Nick protests that he's been trying, but Papa Evil says that with a little more effort he could end up living in a cardboard box. Ouch, Papa Evil, that was harsh. But those drums were Nick's personal property. Papa Evil: "Your only personal property is your future." Nick is hysterical — maybe his drums were his future. Papa Evil tries to end the conversation, but Nick, resigned that his drums are gone, says that Papa Evil owes him money. "Those were my drums. I paid for them, and you sold them, and I want the money." Papa Evil holds up his hands in this kind of fruity gesture and asks Nick how much money he spent on the drums, and how much money he spent on drugs. Point, Papa Evil. Nick: "Give me my money!" Papa Evil: "End of conversation." Papa Evil takes the match, but Nick ain't done yet. "Fine", he says, "I'm outta here. And I hope you enjoy your peace and quiet."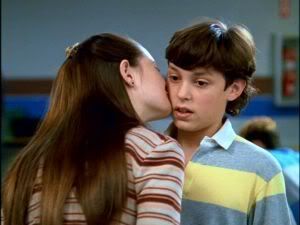 McKinley High School cafeteria, the geek table, where Sam Weir is doing an incredibly bad impression of Steve Martin in The Jerk. Incidentally, one of my favorite parts about this show is how The Jerk is used as kind of a constant measuring tape against how worthy a person is. If you like The Jerk, you're okay. Sam is interrupted by Neil Schweiber sitting down at the table who tells him that Caddyshack was better. I disagree with you Neil, which is only one of the many reasons that I like Sam better than you. Another? I love John Francis Daley. And Bill Haverchuck, who is my favorite character, agrees with Neil unfortunately, as we see him do another really bad impersonation, this time of Ted Knight. Neil laughs nerdily, but Sam wants to argue. He says that Caddyshack is uneven, that yeah half of it rules, but half of it sucks. He compares it to Stripes, which he claims that you could not tell him what happened in the second half of that movie. And this is one of the reasons I love nerds. They are having a whole, very serious, conversation about this, and they are very passionate. But their nerd conversation is interrupted by the approaching Cindy Sanders, resident freshman hottie, and Sam's crush of many a year. She wants to talk to him — alone. Bill's mouth is hanging open unattractively, and Neil looks stunned. Also, Sam's pants do not match his shirt. Cindy is very serious, and tells Sam that she just broke up with Todd, the star of the basketball team. Sam is surprised, and tries pretty hard to hide his obvious excitement. But mostly he's just confused as to why she's telling him this. He tells her he's sorry, but she tells him not to be, that Todd's a jerk, and that he's only interested in one thing — all these jocks are. Sam just nods. Cindy: "So anyways, I was wondering, are you gonna be home tonight?" Wow, honey, you're pretty forward. Sam is way out of his league. He says, yeah, and she says that she's gonna call him. "I really need someone to talk to." Anytime, he says. And she gives him a kiss on the cheek. Poor, poor Sam. What have you gotten yourself into? As Sam stares in shock after Cindy, touching his cheek, Neil grabs Bill's arm and hisses, "Oh, my God, it's happening."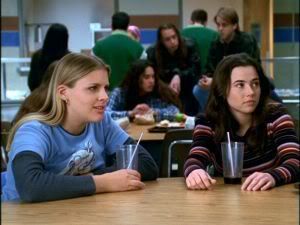 Another corner of the cafeteria, and we meet the rest of the freaks: Lindsay Weir (sister of Sam), Kim Kelly, and Daniel Desario. A girl in pigtails and a hippy shirt, and who is obviously quite stoned, comes over to their table and asks if anyone is using an extra chair. Kim, played with bitchy fervor by Busy Philipps, rolls her eyes and says no, that she can have it. The hippy chick smiles happily and walks away, which is Ken's cue to complain about how the Grateful Dead have horrible music, but chicks that are hot. Nick asks if anyone wants to give him a neck-rub, and Kim just laughs at him for spending the night on Daniel's floor. "His carpet is, like, infested." Daniel just shrugs, but Nick thinks it's better than sleeping in his Maverick, kind of. Daniel is stuffing his face as Lindsay asks Nick if he's going to go home tonight. (Sidenote — according to the commentary, James Franco has a constant need as an actor for props. He was always eating, or putting his fingers in his mouth, or even on one memorable occasion that didn't make it into an episode, licking stuffed animals.) Nick says no, "not as long as that fascist is there," and then asks Ken if he can crash at his place. Ken says no, that his dad would have a conniption, and that he doesn't even let his grandma stay over. "He's got issues." Daniel, in between bites, tells Nick that he'd invite him over again, but that he blew it by not flushing the toilet. "My mom almost had a heart attack this morning." Nick is embarrassed and tries to change the subject, but not before Daniel gets in, ". . . the plunger." Nick turns to Kim, but says he doesn't want to stay at her place, his expression implying it is the home of Satan. Then it's Lindsay's turn; he stares silently at her, and she gets all shifty-eyed. Really, I don't blame her. Would you want your ex-boyfriend staying at your house, especially if your parents didn't really like him? But he goes for it. Lindsay, lying through her teeth: "God, Nick, sure if it were up to me. But my dad, he's way worse than Ken's dad." Nick realizes she's saying no and tells her its okay, but he's lying, too. He loves the Weirs. Ken cuts through the awkward with a "nice try," telling him that he should have pretended to cry.
Casa Weir, dinner. Lindsay is doing her best to persuade dear old dad around to the idea that having a woman president would not be a national tragedy. Harold: "It's called three irrational days per month." Okay, first of all: ouch, Harold. Second: try seven. TMI. But, wait, he would have no issue with the other twenty-seven days (twenty-three), but "we're talking about the atomic bomb here." But Mama Weir just crinkles her nose, and "Oh, Harolds" him. Lindsay is predictably frustrated, and next tries to convince Harold that men get periods too. Something about body tides, or some such nonsense. It's really kind of dumb, and Harold agrees. "My body does not have a tide." But just then the doorbell rings, rather insistently. Jean: "Those religious people have been bothering me all day." Harold goes to answer to door, only to find that it's Nick, wanting to know if Lindsay's home. "Oh, yeah," is his response when Harold tells him she's eating dinner. Cut to Lindsay rolling her eyes and getting up from the table as we hear Nick say, "Oh, yeah, I can tell. God, it smells really great in there. Let me guess: meat?" Harold: "Congratulations." Just then Lindsay arrives at the door, wondering what Nick wants aloud, but inside she's not wondering at all. Nick wants shelter from the cold. He tries to play if off like it's so late, and he didn't know the Weirs would be eating so late, and then Jean comes up, smiling at Nick. It's a party at the door. Nick tries again with his not so subtle "smells great" comment, but this time it works and Jean invites him in for dinner. Neither Harold nor Lindsay look too happy about this, but Nick is ecstatic.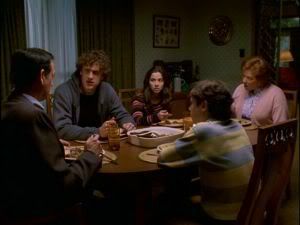 Back to the dinner table, and we see that not only is Nick devouring his dinner, but he's complimenting Mrs. Weir profusely on its magnificence. Unfortunately, his compliments are tempered by the fact that his mouth is completely stuffed full of food. That is a suburban no-no. Having successfully conquered Mrs. Weir with his compliments, he turns to Mr. Weir and starts asking him about his sporting goods store and whether they sell sleeping bags. "You know, I've just been spending a lot of my time sleeping on other people's floors so I thought I should probably get a good one." This of course ignites Mrs. Weir's maternal instincts. "Why on earth are you sleeping on other people's floors?" Oh, Nick, you're good. You're really good. He starts to tell them that his dad kicked him out of the house but Lindsay corrects him. Nick: "He sold my drums. That doesn't really seem like an invitation to stay." Harold tells him that Papa Evil must have had a reason, and Nick says, yeah, he had a really stupid reason. "He said that my drums were interfering with my schoolwork." And then he makes this face like, can you believe how dumb that guy is? The Weirs just stare, and Nick continues, "I think my schoolwork is interfering with my drums." Harold asks how Nick is doing in school, and Nick answers honestly, pretty bad. Harold looks like he's considering something for a moment, and then offers for Nick to spend the night on the couch. Lindsay and Sam look up, flabbergasted. Nick is either really grateful, or really good at pretending that that wasn't what he wanted the entire time, or both. He thanks them profusely, with lots of "oh my goshes" and "your whole family is so nices." He ends by telling Mrs. Weir that her pot-roast must have been cooked in heaven before being brought down to her table. What a smooth piece of work.
That Time a Cheerleader Had a Crush on Me, and Other Things Unbelievable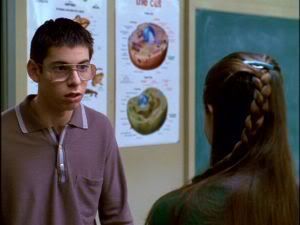 McKinley High School. Bill is staggering geekily through the hallways, when Cindy pulls him aside. She says that she needs to talk to him about yesterday. He interrupts, "That wasn't me, it was Neil. He just said it was me." Bill, neither Cindy or I have any idea what you're talking about. Cindy goes on about how she and Sam had the greatest conversation yesterday and how it lasted for hours and how she can trust Bill because they were lab partners and how, pause for embarrassed smile, she likes Sam. Raise your hand if you saw that coming. But Bill doesn't get it. "No, I like like Sam." Bill: "Oh. Ohhhh." He doesn't seem thrilled. Cindy goes on about how she never dates nice guys, and how she should try it, "I mean, I think I deserve to." RED FLAG — EGO ALERT. But Bill's more concerned about what this will do to the sanctity of his geek troika. When Cindy asks him if he thinks Sam likes him, he says that it's "hard to tell." Yes, Bill, if by "hard to tell" you mean talks about her non-stop, dreams about her, thinks about her constantly, and has been in love with her for years. She giggles and asks if he can find out for her. He says okay, and she says, "Tell him to ask me to Mona's party." What a bossy little ho. The bell rings, and Cindy spots Sam, coyly working her extremely short skirt on over to him. Sam and Neil look confused as to why Bill could possibly be speaking to Cindy Sanders. As Bill sits down, Sam whispers frantically to him, asking what just happened. Before he gets the whole thing out, they're interrupted by the teacher, who's attempting to give a pop quiz. Bill tries again, and is thwarted, again. Drat.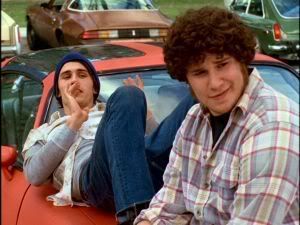 McKinley High parking lot. Daniel is laying on top of his car, Ken looking on, and telling Nick that this is what he's gotta do: "Get her to stay up watching TV with you, right, until her parents go to sleep? Then you offer to give her a back rub. You do it right . . . you're in." And, depending on just what exactly Daniel is trying to get Nick "in on," is how I would judge how dirty that last statement of advice was. Daniel just nods confidently; this has obviously worked with Kim before. But Nick resents the implications (that he's still in love with Lindsay) and says that he and Lindsay are just friends, and that what the Weirs are doing for him is really nice. Daniel feigns regret, saying he didn't realize they were "just friends." But just then Nick changes his tune: "Well, if she came to me in the middle of the night and was like, 'Nick, I love you,' I wouldn't turn her away." Daniel just smiles pervertedly. Ken looks pretty bored by this whole conversation; he probably wants some weed.
An immediate cut to Lindsay and Kim, who are sitting in Kim's car. Kim: "Did he try to give you a back rub?" Lindsay: "No." Kim: "Well, he will." Guys think we're not onto them, but here's a secret: we are. And, what's more, it's really not that difficult. But Kim has more advice for us: "If he tries to give you a foot massage, run." Lindsay confesses that she's weirded out having Nick in her house, and Kim laughs at her and tells her that she needs to kick him out. But Lindsay can't do that, she's too nice, thus "she's in for a long night." Also, Kim's car is a piece of shit.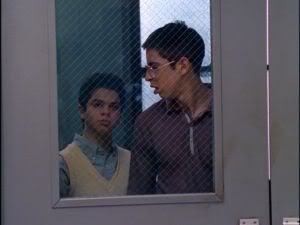 McKinley High, The Hidey-Hole of Geekiness (under the stairs). Bill, Sam, and Neil are having a very important conversation. Bill has obviously just delivered Cindy's message to Sam, because he's saying he doesn't believe him. "If this is some kind of a joke and you're trying to set me up, I'll stop being your friend. I'm not kidding." We know this is serious. So, not only does Bill have to be the messenger, but he also gets threats. He's thrilled, I tell you. "It's true," he exasperates. Neil butts in, telling Sam that he has to ask her to the party, although we'll find out later he has more than just Sam's love life in mind. Sam protests that he doesn't even know Mona, but Neil is adamant, saying it's what Cindy wants. Sam looks like he's about to blow chunks all over the fucking place, and Bill doesn't help: "I think she wants to be your girlfriend." You know, if this were any other show, Cindy would be a stuck up bitch who's just setting Sam up to fail, ala Drew Barrymore in Never Been Kissed, but it's not. So Sam's main problem, brilliantly, isn't that he's afraid of rejection, but that he's afraid of getting what he's always wanted. Neil feels the same: "What's the matter with you!? You've wanted this for years. Be a man! Go get her!" And as Neil motions away, we see that all three are watching Cindy through a window. Sam protests some more, and Neil prompts him some more. Finally, Sam just says it: "I'm scared!" I love you, Sam Weir. I really, really do. (P.S. John Francis Daley, if you're reading this, I'm totally single. WE'RE THE SAME AGE. Soul mates.) So, the show. Neil says that those jocks surrounding Cindy and her cheerleader friends aren't scared (which: not necessarily true), and does an elaborate fake conversation in which a jock named Thor asks Cindy out and she says yes. Neil is a geek, but Sam is convinced. He bravely makes his way out to the hallway to do the walk of doom.
The walk of doom. Some rock song starts up as it takes Sam a very long time to walk a very short hallway. Sidenote — according to the commentary, that song was supposed to be ELO's "Showdown," but they couldn't clear the rights for the DVD. Which, seriously, one of my pet peeves. I mean, the whole reason Ed isn't on DVD is because they can't clear a song in the first season that Ed lip syncs to, and thus, can't be replaced. ANGER. And "Showdown" would have been awesome here. Sam finally arrives and quietly tries to catch Cindy's attention. Cindy happily bids her friends adieu, and seriously annoying, doesn't look scared in the least. Yet another flag; there should always be intense amounts of fear in these types of situations, otherwise you're not doing them right. Cindy asks him what's up. Sam, mumbling unhappily: "I was wondering." Awkward pause while he looks away. "Do you wanna come to Mona's party with me?" Cindy just smiles and pretends like she's surprised as she tells him she'd love to. He cutely smiles back. Obviously this was not a joke, so you owe Bill an apology, buddy. Sam: "Really?" Cindy: "Really." We cut back to Neil and Bill, who are watching eagerly. Neil, once again with the "it's happening . . . they're smiling." But Bill is still sad: "What if he starts going out with her and stops hanging out with us?" And Neil is clueless: "He won't. He'll get us in with Cindy's friends . . . Vicky. Oh, man, I love her." These are the dreams of the deluded geek: that one day he will be with the prettiest girl in school. And he has to believe it, or he'd kill himself. Bill is still confused; the wonders of the bosom (or other parts) have yet to enchant him: "I thought you said they were pod people. A cult, you said. Neil's response is priceless: "Well, they are. That's one cult I wouldn't mind joining. Bring on the pods." Bill is disgusted. Back to Sam and Cindy who are, say it with me now, awkwardly saying goodbye. She makes him promise to call her, and then she goes in for the kill. Sam eyes remain open and he goes cross-eyed. I'm dying here. He touches his lips, like to make sure they're still there, as Neil is creepy and kind of selfish: "It's on."
'Will you adopt me please?', and other Questions of a Pathetic Nature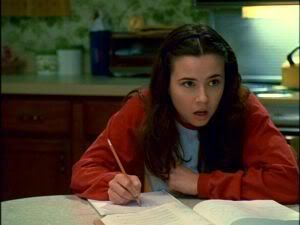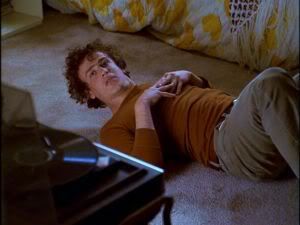 Casa de Weir, quiet hour. Lindsay and Sam are studying, Harold is paying some bills, and Jean is reading a magazine. The quiet is broken when Rush's "Tom Sawyer" starts up, courtesy one Nick Andopolis, mooching houseguest extraordinaire. Lindsay is speechless. Harold gets up from his business, and Lindsay follows. They find find Nick laying on the floor of Lindsay's room, the music blasting. Harold informs him of previously mentioned quiet hour and Nick apologizes for being too loud. Harold asks whether he should be doing his homework, but Nick's face is all, me? Homework? While his mouth is all, "I . . . I was." But Harold isn't a dumb stoner: "Well then maybe you ought to finish it." Nick scoffs a little and tells him that he's starting to sound like Papa Evil, but Harold tells him that must mean Papa Evil is a smart man. Nick: "I'm a drummer, you know, so this is my homework." Harold chastises him, saying this isn't homework, it's screwing around. "If you're really a drummer, your homework would be practicing your drums." Nick acknowledges this, but brings up the valid point that he has no drums now. Harold: "Well, then you go out and you find two sticks and you pound on a rock. That's what a guy who really wanted to be a drummer would do if someone took his drums from him." Meanwhile, Lindsay is watching in horrified disbelief as this conversation unfolds. Is her dad really lecturing her ex-boyfriend? Is her ex-boyfriend really wearing that shirt? Nice pit-stains. Harold is still going on, about how when he was in high school he had a full time job learning retail and he still got straight A's, so he's not going to accept that Nick couldn't do both things, either. For once, Nick looks like he's listening. Harold: "Don't be that easy on yourself, Nick. Push yourself. You're a smart kid." That one really gets to him; I'm not sure if anyone's ever told him that before. Nick agrees with me: "That's really cool of you to say, Mr. Weir." Harold says it's true, and then insults the drummer that Nick is listening to. Nick's attempts to defend Neil Peart as the greatest drummer alive are in vain, because Harold's got some drumming to show Nick.
We cut to Nick's mind being blown. His mouth is hanging wide open and his eyes are filled with joy as he listens to some drummer playing the shit out of his drums on the Weir's record player. He grills Harold for details, but Harold is all, these guys? I grew up with these guys. Nick is hilarious, like actually being good at your instrument is a novelty: "Oh, God." His voice gets all high. "How do they do that?" More hilarity: "They must hold the sticks like this (the correct position). I can't do that. I've never been able to do that. Well then you could go faster that way." He's seriously spazzing out. Mrs. Weir is dancing a little in her chair as Nick asks, "God, how'd they learn to do that?" Harold: "I don't know, took a lesson?" Hee. Nick, some more, as the drums go crazy fast: "That is insane; nobody can do that." Well, gee, Nick, it appears they can. "Maybe I should take a lesson, huh?" Like that's a novel idea as well.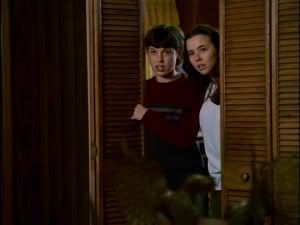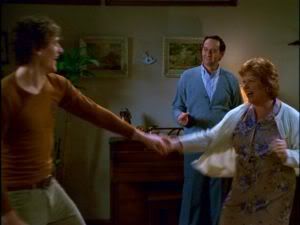 Cut to the Weir family kitchen. Lindsay is listening at the swinging door as Sam is still trying to study. He interrupts her voyeurism; he wants to ask her something. He's sweet. He tells her about the party and how he thinks it's a date, which isn't a question. But he just wants to talk to someone. He tells her about the kiss at school and how he didn't know what to do. She smacks his hand, like, good job! "She kissed you?" Sam: "Yeah." Nobody listens on this show. And here comes the question: "But what if she wants to kiss me at the party for real?" She doesn't see the problem. "But what if I do it wrong?" Lindsay: "You can't kiss wrong. You'll know what to do when it happens." Yeah, she would know (forward to minute 4:40). He's worried because he's never had a girlfriend, but Lindsay just tells him to be himself, and it's no use telling her that characters in movies and TV never listen to that advice. Lindsay: "That's why she likes you. She's the lucky one. Be a gentleman. And don't be weird. And don't smother her." It's Sam's turn to pry a little; he wants to know if Nick smothered her. Lindsay: "Nick was so into me he made me want to move to another country." They hear giggling from the other room and get up to check it out. And what do they see? Nick and Mrs. Weir, dancing along. Laughing. Sam is kinda brilliant: "I don't think Nick's in love with you. I think he's in love with mom and dad." Nick: "This is the best family ever."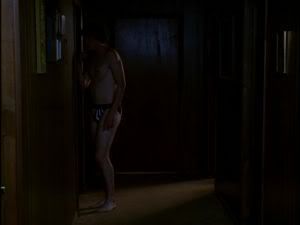 Lindsay's room. It's dark, and she's in bed. There's an awkward knock on the door; it's obviously Nick, and she rolls her eyes. At the door she whisper-asks who it is, and surprise, hey it's Nick. I thought you were going to wait for her to come to you, buddy? She asks him what he wants, but he non-sequiturs, "D-don't open the door." And we immediately see why. Those are the best underpants I've ever seen. They make his next words oddly heartfelt: "I just wanted to say thank you. I think it's really cool that you and your parents are letting me stay here." She whispers back that it's okay; she just wants him to go back to bed. But he really appreciates it, you know, he needs her to know that. But she knows, please just don't wake up her dad. Finally he's off, but she listens at the door for a bit just to make sure. Just as she settles back down a thud and a loud groan come from Nick's general vicinity. He's bouncing around in his fabulous underpants, holding his newly stubbed toe as Lindsay comes out to see what's wrong. Her mouth, understandably, drops open. "Oh," he says, quickly covering himself — Lindsay's hand going to cover her mouth — "Hey." He tells her he was just working — what? — when Sam comes out, a huge grin on his face. Nick compliments his Star Wars pajamas and Lindsay snorts, wishing she could say the same for Nick.
'I'm Just Sayin', You're All Thinkin' It, Too,' and other Thoughts on Kissing
McKinley High, the cafeteria, geek table. Neil, Bill, and Sam have been joined by their sometime pals Gordon and the King of the Geeks, Harris Trinsky. The King congratulates him on his good fortune, but Gordon says that she's the one that should be thankful, Sam's a catch. (And someone's kinda gay! But no, really, Gordon. You are so right. Okay, that's it, I'm done. I swear.) But Neil just wants to know if Sam can get Bill and him into the party. Sam hasn't really thought about it and he doesn't know. Neil presses him; this is very important. Bill says he doesn't want to go, and the King asks him why not, "everyone wants to go to a make-out party." Sam loses all the elasticity in his face. "It's a make-out party?" The King assents. Nobody told Sam this; he must now proceed to freak out. The King tells him he better kiss her or she'll think he doesn't like her. Bill tells him he better not french kiss her; french kissing is gross. And I'm gonna pause here to tell you why Bill Haverchuck –played with complete and utter genius by Martin Starr, whom you may know as the bearded wonder from Knocked Up — is my favorite character: okay, ready? Picture it. Inside of Bill Haverchuck . . . is me. We are the same person. Well, if I was a guy and not awesomely cool and funny and marginally hot. But the point is, that deep down I'm a Bill Haverchuck at heart. Also, this scene.
Now, on with my favorite part ever. Neil, the forty year old in a fourteen year old's body, wants to know why the hell not. Bill: "Hello? Germs, spit, mucous, old bits of food. That's just to name a couple; there's a lot of things in there. I mean, why do you have to use your tongue anyway? Aren't you supposed to kiss with your lips?" Neil, always with the answers, says it's not a real kiss unless you use your tongue. Sam is grossed out, but Bill is on a roll, "Why? What's the point? I mean, what are you supposed to do, lick the inside of her mouth? Are you supposed to lick her teeth? Do you make your tongue hard or soft?" Sam puts an end to the madness, mostly because he's thinking the same exact thoughts. But Bill's angry now, he wants to know since everyone seems to think it's so great. Old Man Neil: "You put your tongue against her tongue." I'm dying: "What if she puts her tongue too far in, to my mouth. What . . . what if I throw up? What if I throw up all over her? What if I throw up in her mouth." The last one is too much for the rest of them to handle. Sam tells him to shut up with the disgusting talk. Bill says fine, he just wants them to know he's not doing it. Neil is, though, "as soon as possible." But can they go to the party? Sam is iffy. If he takes them he has to take Gordon and the King. But Gordon says he can't make it, that he's saving his virginity for the future Mrs. Crisp (ahem), and Harris says that he and his girlfriend Judith have a date, "and every night's a make-out party with us." Oh, my God, I'm gonna throw up now. Neil: "Yes!" Bill: "Whoopee."
Neil's bedroom. Neil and Bill are obviously mentally preparing for the party; Neil is telling Bill that all these parties start the same way: Spin the Bottle. He reaches under the bed and pulls out a bottle that he's been practicing with, saying it's the key to their make-out future. "The ability to control the spin will determine whether we have a good night, or a great night." Bill tells him he can't control a bottle, but can't he? And yes, he's been practicing all week, and he's not afraid to tell us. He spins the bottle and it lands perfectly on Bill every time. Bill is impressed. Neil explains his surprisingly complicated formula. Something about two spins and adding and subtracting depending on your target, and it makes my head hurt. Bill thinks that's amazing. Neil: "All I can say is, 'Hello, Ladies.'" Maybe you should say something else, sweetie. Like something that doesn't make you sound forty-five years old. Bill makes me sad: "What if — they don't wanna kiss us?" Neil has an answer of course; that's the genius of Spin the Bottle: they have to! Bill, stop making me sad: "I don't know. I just don't want to see the expression on their face when they see the bottle land on me." But Neil's a pragmatist: all he cares about is whether they look disappointed after the kiss, and he plans on "delivering the goods." Not surprisingly, I'm going with Bill on this one. I'd rather they like me than my lips. Bill has one final question: do people French kiss during Spin the Bottle? "Some do. Most don't. I do." Samm Levine was trying not to laugh here, but I think it works in the scene. What a cornhead.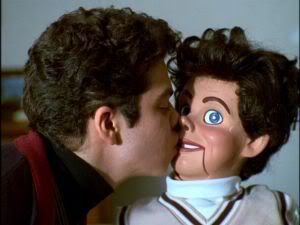 Cut to Bill frantically brushing his teeth, as "Katmandu" plays, making sure to brush his tongue — and gagging profusely. And, ooh! A montage! I love those. We cut to Sam, who is picking out clothes. Sidenote — has anyone else noticed how these teenage geeks are acting just like teenage girls? Sam tries out a clip on tie, throws it away, comes to the suit, thankfully tosses it away. And here comes Neil in, I kid you not, a smoking jacket. He picks up a fake brandy from his nightstand, which he seems to have manufactured just for this preparation, and twirls it around, gesturing and talking to invisible people. Seriously: cornhead. "Hey, baby," he says to some unknown figure, and leans in for a kiss. Too late we see its his dummy, Morty. Oh, God, Neil. You're never getting laid, and, yes, he did. He made the dummies eyes move. Excuse me while I go rewind. They sink down to the bed. It's showtime.
'You're a Jerk, But I'm'a Kiss You Anyway,' and other Twists of Fate

The geeks are walking to the party and fighting about who gets to wear a turtleneck. Neil and Bill fight and futz around, but Sam tells them to be cool. Sam, do you know who you're talking to? Neil: "You be cool." Sam tells him just not to embarass himself. Neil wants to know if going out with Cindy makes Sam ashamed of them, but don't worry, Neil, you left the jacket at home. It's all cool. They all stomp off towards the open door, but it's fine because they're nervous. Cindy greets them as they walk in, making sure to tell Sam he looks good ("So do you, Cindy. You look beautiful") and leads them into the next room, taking Sam by the hand. Also, the next room happens to be the basement. It's always the basement. There are lots of good looking people and Neil dies a little inside just looking at them. "Don't rush me," he tells Bill when asked if he's going in. Bill and Neil then have a weird conversation about not being cool enough which references Animal House, which I've never seen. So we're moving on. The point is, Neil is rethinking his confidence. But Bill's okay, so they go to mingle.
Casa de Weir. Dinner-time minus Sam, plus Nick. Jean asks Lindsay how their day was and she's like whatever, but he's like IT WAS THE BEST DAY EVAR. WILL YOU BE MY MOMMY? No, really, though. He took his first drum lesson. Lindsay's kind of impressed, and Harold wants to know how it went. It was so cool, and the teacher was so cool, and he taught Nick how to hold his drumsticks jazz style. He busts out a pair and starts demonstrating on the table. Lindsay asks him where he got the money, and the answer is from her dad. Apparently he's going to work part-time as a stock boy in Harold's store so he can pay for his lessons. As Nick goes to help Jean with the ham, Lindsay is flabbergasted for the billionth time this episode. I really like it when she's quiet. Except here she goes: she wants to know what the deal is with him being so nice to Nick. He's trying to help the kid out, doesn't she want him to? But it's all about jealousy. Lindsay: "No, I'm just wondering why when Nick has a problem you're nice and logical, and when I do, you just yell at me." He tells her it's because he expects more from her, that Nick's father is a hard man and that his was the same way. Lindsay says she knows the feeling, but I think she's just a whiner. Harold: "Trust me, you don't." She's quiet again, yes! And he tells her that any time she wants to dance with him he'll be around.
The basement of making out. Cindy kisses a random dude while Sam looks on. Everybody else giggles. Spin the Bottle is on. Cindy: "Why does the bottle keep landing on me?" Because fate hates Sam. A guy you might know as Goldberg from The Mighty Ducks grouses about why it never lands on him. A random dude spins and gets to kiss a random chick next to him. Bored now, get to the goods. Oh! There's Vicky Applebee, and she says it's three times, so into the closet they must go for Seven Minutes in Heaven. Oh, you know where this is going, and you're gonna like it. Chick and Dude get up to go have some fun. This was back when "in the closet" meant something way different. It's Cindy's turn again; she spins and it lands on Goldberg, who smarmily accepts the kiss, but she does apologize to Sam so at least there's that. Goldberg is gross.
Casa de Weir, where the doorbell is once again ringing incessantly. It must be genetics, because it's Papa Evil, come to collect his wayward son. After some pleasant introductions, Papa Evil tells Nick it's time to come home, and he agrees. Harold asks to speak to Papa Evil in the kitchen. Papa Evil thanks him for letting Nick stay, but Harold won't hear of it. "That's quite a kid you've got there." Papa Evil yeahs it up. Harold continues, "So, you gave his drums away. I guess they must be . . . pretty distracting. Papa Evil says that he has no idea, but Harold just says, eh, "things kids'll get into." He used to bring dogs home, sometimes you just gotta let kids be kids. Papa Evil sees where this is going, and intercedes. "Harold, how old is your son?" Fourteen. "You call me when he turns sixteen." Papa Evil may be a bastard, but he sure does know how to win a tennis game.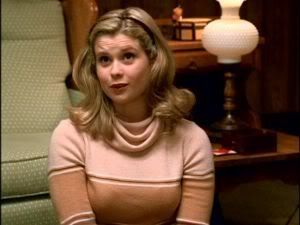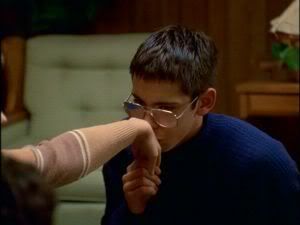 The basement of making out. Bill and Neil join the vacant spots left by chick and dude. Vicky rolls her eyes. And another montage as we see Neil spinning the bottle over and over again, and only landing on Bill. But Bill, oh Bill, he lands on Vicky. She gives him her hand to kiss with a disgruntled, "of course." Neil is not happy. More random people kiss, including grody Goldberg and Vicky. Neil lands on Bill, Vicky lands on Bill. This time she gives him her cheek. Neil gets Bill, again, and groans in frustration. Neil tries to blame it on the bottle and makes him switch with a random blonde chick; Bill obeys. He spins again . . . and lands on Bill. Bill looks suitably shamefaced. It's Vicky's turn again. She spins, and it lands on Bill. Again. Everyone is shocked, because, oh! SEVEN MINUTES IN HEAVEN. Vicky looks like she's gonna vom, Bill looks like he's thinking about his vom-conversation earlier, and Neil looks like he's going to murder Bill. Vicky grabs Bill and they head to closet-ville.
Casa de Weir. Papa Evil and Nick are saying goodbye. Papa Evil heads to the car and Nick jokingly pleads for an adoption. Lindsay asks him whether he's sure he'll be okay, and he says yeah, "I mean, he came lookin' for me, right? Didn't really think that was gonna happen." Jean tells him to stop by any time and he agrees, telling Lindsay he'll see her at school. Awww, I love that they like him now.
Back to the make-out party, but they seem to have left the basement. They, being Sam and Cindy, who are walking along a hall and making googly eyes at one another. She's glad he could make it, and he is, too. He smoothly asks her if she wants to go in a room "and talk or something." She says okay, and they both know what's really coming.
The closet o' doom. Bill and Vicky are sitting awkwardly in the dark. Vicky the Bitchqueen opens the conversation with an extremely pleasant, "Don't even think about it, okay?" But he wasn't thinking about anything. "Good." Bill: "Their fabric softener smells good." Vicky: "Just stay away from me, okay. You're not going to touch me, and you are definitely not going to kiss me. Got it?" I LOVE BILL: "You know, you know what? You're a jerk." Excuse me? "You're a jerk. I was just trying to make small talk. I couldn't be less happy to be in here with you. So quit acting like I'm hoping I can kiss you. It's actually the last thing I wanna do right now." She knows he's right, and tells him it wasn't nice of her, which I can admire. But seriously, I'm so glad he stood up for himself. He tells her not to worry about it, they only have three minutes and twenty-six seconds left. "In heaven."
The new room of making out, with Cindy and Sam. They're sitting on a bed, being, what? Awkward. And you know there's no way Sam is making the first move. He spazzes out and goes to turn on the radio as a distraction.
Closet o' less doom. Bill wants to know if he can ask Vicky a question. What? Bill: "What's it like being pretty?" Kill me now. Just shoot me in the face. But she doesn't know, "like, this is the only way that I've ever looked." Bill thinks out loud that he's pretty sure people treat you nicer when you're pretty, which is something most geeks know by rote, and something most pretty people take for granted. She wants to know why he'd say that, and he says its because they're never nice to him. She laughs a little. She tells him it's not true, that every time she looks at him he looks like he's having a pretty good time. He's always laughing or something. "So what are you laughing about?" Bill: "I watch movies in my head." She laughs outright, and he giggles sheepishly right alongside her. This is so cute that I might die.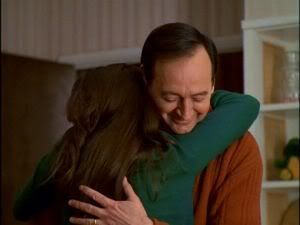 Casa de Weir, bedroom de Lindsay. Lindsays flags Harold down as he's walking by her door. She tells him again it was really nice what he did for Nick, but he sees where this is heading, "I'm sorry you don't think I treat you right sometimes." She didn't say that, Dad. "I just wish you could talk to me like you talk to Nick." Harold: "You know what the difference is between you and Nick? You're my daughter, and every second you're out of this house, every second that I can't see you or know what you're doing, it's . . . it's absolute torture for me." She says she can't stay inside all the time, and he knows, but, "Why not?" She laughs. They hug. It's super cute. But let's get back to the kissing place.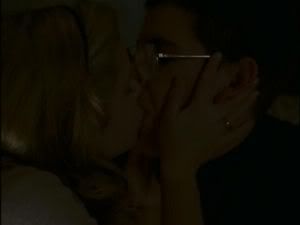 The closet o' bonding. Bill is telling Vicky about that scene in The Jerk (see?) where Steve Martin can't understand why the man with the gun hates the cans. It's the same scene that Sam was doing earlier in the episode. Vicky thinks it's funny, which according to Jerk-logic, means she's cool*. Vicky looks like she's contemplating something, and then, "Oh, what the hell." He's confused. "Don't ever tell anyone about this." And she grabs his face and kisses the hell out of him. (Wait, didn't I write that last week? I think I sense a pattern here.) And, oh holy shit, it's so glorious. You'll be happy to know that Bill is holding his own, no vom in sight.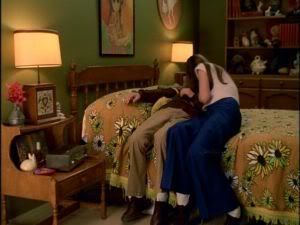 Back to Sam and Cindy — but hurry up, please, I want more Bill and Vicky. They are still awkwardly not kissing. They just stare at each other ookily for a long ass time, during which I'm pretty sure she's coming to the understanding that she's wearing the britches in this field of cows (what?**). But then he asks her if he can kiss her –gentleman!– and she of courses it, and they kiss. Sidenote — according to the commentary, Natasha Melnick came up to Samm Levine after shooting this and asked if stage kisses normally had tongue in them. When he said no, she was all, "John totally used tongue on me." THAT'S MY BOY. Okay, so I lied. But I swear I'm done for reals now. But Cindy's not. She pushes Sam down on the bed with one hand and totally rapes his innocence. Or, at least, that's what it looks like. His leg twitches awesomely, but then she goes up to turn off the light, and now we really know for sure about the raping and the innocence. Goodbye, my sweet. And I'm a filthy liar.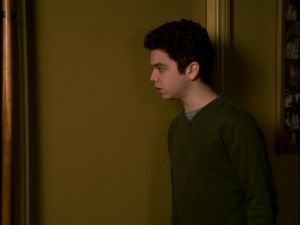 The closet o' sweet lovin'. Neil is knocking on the door because their seven minutes were up five minutes ago. And then, best part of the episode, we see Vicky and Bill kissing sensuously — really no other way to describe that — as we hear Neil's voice saying, "Vicky, your nightmare's over!" Honey, the hands on Bill's face and the tongue in his mouth would say otherwise. I am so happy right now. Neil: "God, this party sucks."
*SPOILER: Sam takes Cindy to see The Jerk and she hates it. This is one of the reasons he eventually breaks up with her. Also, she's a shallow bitch.
**It's 5:00 AM. Shut up. Recaps are HARD.