24. "The One With the Prom Video," Friends
Click Here for the Rest of the List So Far

Season Two, Episode 14
Original Airdate: February 1, 1996
Written By: Alexa Junge
Directed By: James Burrows

Starring: Jennifer Aniston as Rachel Green
Courteney Cox as Monica Geller
Lisa Kudrow as Phoebe Buffay
Matt LeBlanc as Joey Tribbiani
Matthew Perry as Chandler Bing
David Schwimmer as Ross Geller
Elliot Gould as Jack Geller
Christina Pickles as Judy Geller

Synopsis: After getting his big break with Days of Our Lives, Joey shows Chandler his appreciation with $812 and an extremely tacky bracelet. Also, an unemployed Monica is hard up for money while Monica and Rachel's prom video reveals Monica's former girth, Rachel's former nose, and the way Ross has always felt about Rachel.

Trivia:
The first time Courteney Cox

wore her fat suit in "The One With The Prom Video", Matthew Perry walked by her without knowing who she was.

Rachel's large nose was added because Alexa Junge believed that the characters "were so good-looking, you wanted to feel they had some realness in their past."

At first, David Schwimmer did not want to wear the afro wig and mustache because he thought he would look like Gabe Kaplan in

Welcome Back, Kotter

(a similarity referenced in the episode). He relented because it enabled him to "tap into a part of

himself

that was very vulnerable and shy" and incorporate it into his performance.

At the time this episode was filmed, Monica's prom date, who was played by Michael Bower, was 20 years old, while Courteney Cox was 31.

This is David Schwimmer's favorite episode.

The song that Ross played on his keyboard in the prom video, "Axel F," by Harold Faltermeyer, is most commonly associated with the Beverly Hills Cop soundtrack.
Critical Reception: Robert Bianco wrote in USA Today in 2004, "If any one outing can take credit for moving Friends from good to great, it's Prom Video" and describes the resolution as an "ingenious, unexpected twist. The episode was also #1 in "NBC's 6 Favorite Friends Episodes Countdown," and #2 in "UK's 6 Favorite Friends Episodes Countdown," and was named as one of TV Guide's Funniest Moments and Greatest Episodes in TV History.
Why It's On the List: Friends is that most rare of breeds: a sitcom that can actually make me laugh. Nowadays I tend to gravitate towards shows without laughtracks and which use single cameras, instead of the multiple camera setup which most sitcoms, including Friends, employ. (Examples of shows that use single-camera are The Office, Scrubs, 30 Rock, and Arrested Development.) Sitcoms are a tough sell for me precisely because of this setup; most of the time they end up feeling false and theatrical to me. Only the really good ones stick. And Friends is one of the good ones. (In case you're curious some of the others are Cheers, Frasier, and The Golden Girls.) And why is it so good? The writing was top notch, clever, and really funny. The actors were at the top of their game, and knew how to milk an audience. And most importantly, at least in the first six seasons, the comedy was grounded in reality and character development. The occasional ridiculous element — i.e. Monica being fat, ala this episode — worked because of the thoughtful development that went along side it; it wasn't just played for laughs, there was a reason. And while I think that Friends suffered in its later years, mostly because the characters sometimes seemed to be playing caricatures of their earlier selves (a problem I also see in Scrubs, mind you), in its heyday it was the king of comedy. This episode is probably the best example of how it managed to simultaneously juggle humor with heart and reality.
Extra Goodies: Episode Transcript, Watch the Episode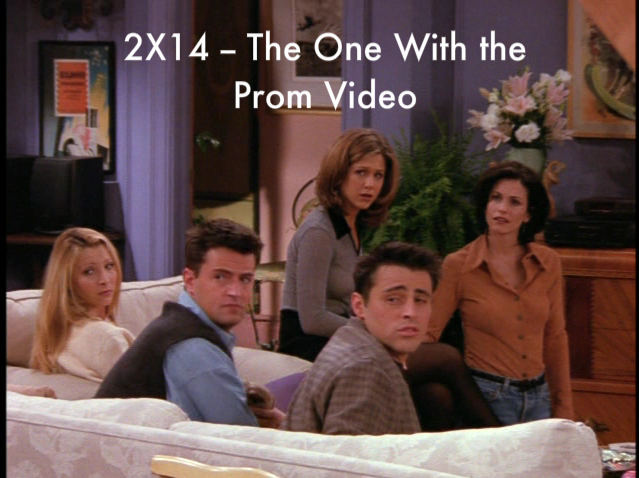 Chandler Bing is playing foosball by himself, geeking around and being kind of giggly, when in comes Joey Tribbiani, with a "Hey." Chandler holds up a finger, signaling for silence, and then spastically makes his final foos shot. He celebrates with his weird Chandler body language, and Joey is very appreciative of all the hard work that must have gone into making that shot. It also seems like Joey is appreciative of other things Chandler-related, because he hands him an envelope filled with exactly $812. Chandler: "I don't know what Big Leon told you, but it's an even thousand if you want me for the whole night." Joey just smiles, and Chandler asks what the money is for. Joey says that he's making money now with his job on Days of Our Lives and it's to pay him back for all the years of support: head shots, electric bills, and so many slices of pizza he can't even count. "I love you, man." And he slaps Chandler on the shoulder in man-affection. Chandler: "Now I can get my pony!" He crosses the room, presumably to get his wallet, but Joey isn't done. He fishes a small black box out of his pocket, "And this is a little extra something for, uh, you know, always being there for me." You gonna propose, Joe? Famous last words: "Wow, I don't know what to say."
He pulls the world's ugliest bracelet out of the box and turns to Joey in horror. "Wow, I don't know what to say," but this time he says it all high-pitched and forced. Joey remains oblivious of Chandler's pain. "Eh, what do you say?" he grins. Chandler, quickly: "I don't know . . . it's a bracelet." Joey tells him that its engraved, too, check it out. Chandler reads it aloud. It says, "To My Best Bud." Chandler fake-grins and puts the bracelet stealthily back into the box and goes to put it in the desk drawer. Joey tells him to put it on as he oh, so subtly moves the chair in front of the drawer, most likely to ward the evil spirits away. Chandler tries to weasel out of it by suggesting that something that nice should be saved for a special occasion. "No, no, no that's the beauty part. It goes with everything," says Joey as he digs the box out of its hiding place. "You put this on, you're good to go." Chandler looks aghast but puts his game face on as Joey puts the bracelet around his wrist. He shakes it around dubiously. Joey: "Oh, man. You are so wearin' that bracelet." Chandler: "I so am." Joey asks him if he has any idea what it will do for his sex life, and Chandler cracks that it will probably slow him down for a while, but once he gets used to the extra weight, he'll be back on track. Joey nods in agreement, only pausing slightly to show the inevitable confusion. I've got to say, Chandler is a better person than I am, because you couldn't have gotten me near that thing for all the freshly baked chocolate chip cookies in the world. Credits.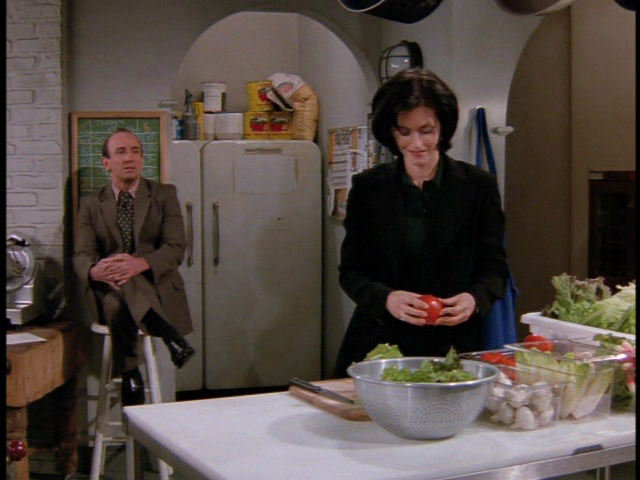 We open in an unknown restaurant's kitchen; Monica is there for an interview. A short, balding man is telling her that everything looks good, and that if he wants to call for a reference about her last job? "Oh, that's there on the bottom, see?" she tells him. "Chandler Bing." Monica, you dirty rotten scoundrel. But I don't blame her, really, you're not going to get hired if you tell people that you were fired. "All right," baldy tells her, "Let's see if you're as good in person as you are on paper. Make me a salad." A salad, really? Is he sure he doesn't want something a little more complicated? Baldy says, "Just the salad will be fine," in this weird, over-enunciated pervtastic way. She shrugs and starts to prep. He sits behind her on a white stool and asks her to tell him what she's doing when she's doing it. She agrees, somewhat warily. "Well, I'm tearing the lettuce." Pervy Manager: "Uh huh, is it . . . dirty?" Red flag! Monica tells him not to worry, that she's going to wash it. "Don't!" he says. "I like it . . . dirty." This actor is fantastic. Monica is creeped out, but she continues. He asks her what she's going to do next, and she tells him that she's going to cut up the tomatoes. Perv: "Are they, uh, firm?" Monica makes a weird face, "They're all right." Perv asks her if she's sure they haven't gone bad? Sure they're not very, very bad?" No really, she assures him, trying her best to stay calm, they're all right. He asks her if she's gonna slice 'em up real nice, and she tells him that she was going to do them julienne. His response? "Ohhhhhhhhh." And she's outta there.
Chandler and Phoebe are sitting in Rachel and Monica's apartment, playing cards, and Ross is sitting at their kitchen table doing a crossword puzzle. When the phone rings, he answers it with a, "Y'ello?" But it's Ross, so I forgive him. "No Rachel's not here right now, can I take a message?" He writes it down on a pad of paper, asking the caller whether Casey is like "at the bat or and the Sunshine Band?" We never do find out which it is, but Ross wants to know who this Casey is. Phoebe tells him it's just some guy that Rachel met at the movies. Ross stupidly asks what he wants with her, and Chandler gives him a worthy answer. In deadpan: "Well, I'm guessing he wants to do a little dance. You know, make a little love. Well, pretty much get down tonight." I love Chandler. Ross is in turmoil. Nodding his head, he takes the message off of the refrigerator where he's just placed it and hides it away in the cabinet above. He complains to Phoebe and Chandler about how two months ago he and Rachel were *this* close, and now he's taking messages from guys she met at the movies. "I mean, this, this Casey guy should be taking down my messages, you know, or, or Rachel and I should be together, and, and we should get some kinda m-message service." Ross is such a yutz. Mostly I just love the fact that none of these three people actually live in this apartment. Where are Monica and Rachel? Actually, I don't want an explanation, it takes away from the atmosphere. A lot of the appeal of this show is just this: I think all that a lot of people want in life is to have a group of friends so close that you can go over to each other's apartments without even asking. The blurring of boundaries; kinda reminiscent of some sort of strange six-part familial relationship. It's so comfortable and homey.
Phoebe tells Ross to hang in there, that's it's gonna happen. He asks her how she knows. Phoebe, all matter of fact, "Because she's your lobster." Like, isn't it obvious? But Ross and Chandler, like us, need more of an explanation. Chandler: "Oh, she's going somewhere." Ross sits on the edge of the chair, as Phoebe launches into crazy explanation number one thousand and thirty-three. "Come on, you guys, it's a known fact that lobsters fall in love and mate for life. You know what, you can actually see old lobster couples walkin' around their tank, you know, holding claws." She proceeds to demonstrate, fingers linked. "You have to picture lobsters." Aside from the fact that I'm pretty sure this is not true, Phoebe sure believes it. Then again, Phoebe also believes that Albert Einstein is her grandfather. Either way, it's a good metaphor, which I'm sure is her point.
At this time, my earlier question is answered when Monica comes out of the bathroom in her robe, wearing a towel on her head. Chandler asks her if she's feeling better and she tells him that she thinks that fifth shower actually got the interview off of her. Phoebe asks her if she has any other possibilities. Monica: "Oh, yeah, there is the possibility that I won't make rent." Ross offers to lend her some money, but she declines, saying that if she couldn't pay him back right away she'd feel guilty and tense every time she saw him. He suggests that she borrow it from their parents, then, because she already feels guilty and tense around them. Monica smiles, and Chandler pipes in about how Ross has a point, but his emphatic arm movements cause his ugly new arm shackle to fall off onto the floor where the others can now see it. Phoebe asks what that sparkly thing is, and Ross picks it up. "That thing, it's a, uh . . .," he's twitching around like crazy, "it's a little flashy." Ross tells him no, no no. It's not flashy, not for a Goodfella. Monica then makes a really bad joke about how many doubloons it must have cost him. Chandler is very embarrassed, but Phoebe continues, saying how it's fun, and that it's kind of like knowing one of the Gabor sisters. Hee!
Desperation
It's some time later in the day, and Monica is letting her parents, Jack and Judy Geller, into her apartment. They are carrying lots of boxes. She asks them what's in the boxes, and they tell her that it's some of her old stuff. Judy tells Monica that they have a surprise for her. They're turning her old room into a gym! What kind of surprise is that, Judy? The kind where you crush your daughter's soul into even tinier pieces? Monica wants to know, why not Ross's room? Jack: "Gosh, we talked about that, but your brother has so many science trophies and plaques and merit badges . . . well, we didn't want to disturb them." Monica: "God forbid!" But they ignore her, as usual. Judy ask Monica what's new, what can she tell them, how's her job, all very fast and in one sentence. "Job?" Monica is awkward. "Did I mention I still don't have a boyfriend?" Yeah, that's gonna ease the tension. But Jack and Judy are cute: "Ah, well, I just assumed." Rachel enters carrying a basket of laundry. Judy tells her how sorry they were to hear about her parents splitting up. But Rachel is hopeful, saying that they're just separated, "You never know, we'll see!" She tries to weasel out of the room, but the claws of Jack and Judy Geller are strong. Jack pipes in: "I can't say any of us were surprised. Your parents have been unhappy ever since we've known them. Especially after that incident in Hawaii." Behind Rachel, Judy is shaking her head, and Jack finally gets the picture. "What incident," Rachel wants to know. Jack: "Oh, no, I must be thinking of someone else. Maybe me!" Jack, even Rachel isn't that dumb.
Central Perk coffee house. Phoebe and Chandler are sitting on the couch, drinking coffee. Phoebe gets up, asking if he wants a refill, when she notices a decotellaged brunette scoping on an oblivious Chandler. She adjusts her skirt, grunting and coughing," I want to get this just right." She sits down on the arm and says to him in a man's voice, "Dude, eleven o'clock. Totally hot babe checkin' you out." Chandler looks a little stunned, like this doesn't happen to him that often, and Phoebe is pleased with herself. "That was really good. I think I'm ready for my penis now." She walks off to get her coffee, and Chandler slowly peeks behind him at said hot babe. She smiles at him, so he gets up and walks over to her in a totally not gay way. That was sarcasm. His opening line? "I know what you're thinking. Dave Thomas, founder of Wendy's." She eats it up and giggles shamelessly. Woman, control yourself. She does a little wave as she introduces herself, "I'm Gail." Chandler gestures in kind, but that showcases his arm shackle perfectly. Gail is instantly horrified, and awkwards her way out of the meet and greet, "I, I really have somewhere to be, but it was nice meeting you." Yeah, right. What a liar. Chandler is momentarily speechless, unable to figure out what just happened when he catches sight of the shackle, and makes a seriously hilarious angry gesture at it. "Oh, this is excellent, he coulda gotten me a VCR, he coulda gotten me a set of golf clubs, but no, he has to get me the woman repeller. The eyesore from the Liberace house of crap!" He's really on a roll now, and Phoebe is somewhat sympathetic, but not really. She tells him it's not that bad, just as Joey is walking in the door behind them. She sees him and tries to let Chandler know, but he's already off again. "Oh, yeah, easy for you to say. You don't have to walk around sporting some reject from the Mr. T collection. 'I pity the fool who puts on my jewels. I DO, I DO.'" And his impression is quite awesome, but Joey has seen the whole thing, and is very hurt. Mid impression, Chandler sees him and nervously tries to cover, ". . . Hi. Hey man, we were just doing some, uh, impressions over here. Do your Marcel Marceau." Joey walks out without a word. Chandler: "That's actually good."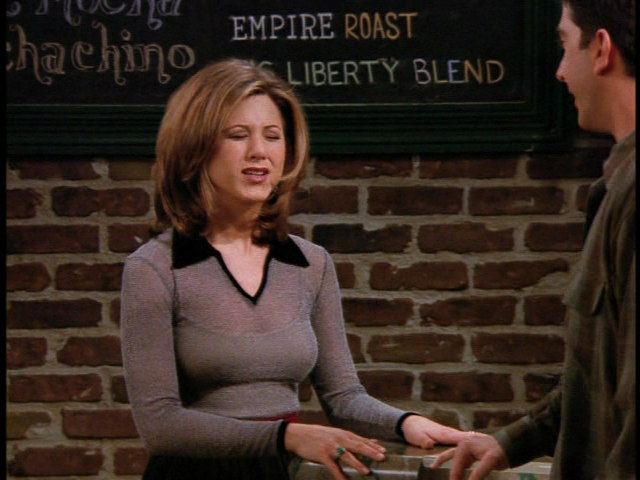 Central Perk, later. We see that Rachel is working now, and that a customer is flirting with her. The camera pans over to Ross and Phoebe, who is holding her guitar on her lap. Ross is fretting like a little girl with pigtails about how long that guy has been talking to Rachel. Phoebe says she thinks it's only been a couple of minutes, but Ross is clearly worried that she's being harassed. "It's like, back off, buddy. She's a waitress, not a geisha." Phoebe, ever the voice of reason, says she thinks she's okay, as we see that Rachel is clearly laughing, and putting her hand on the guy's chest. Ross, however, misinterprets. "Look at that! See how she's pushing him away, and he won't budge." He gets up, says he's going to do something. He goes over to the flirting couple, excuses himself, and asks if she's Rachel. He introduces himself, saying, "God, in your ad you said you were pretty, but wow!" Rachel is confused. She asks him what he's doing. He pretends to have gotten the day wrong, and laughs it off, "Well, if this works out, at least we'll have something to tell the grandkids." And, flirting guy is done. He's gotta go, take care. Ross sighs proudly: "You're welcome." Rachel, staccato anger: "What?" He was saving her. Rachel: "Saving, saving me? Saving me from the pleasant conversation with the interesting man?" Ross falters a little, and Rachel tells him that she's not his to save. Ross: "But, you are." Rachel's turn to falter. Ross continues, foot in mouth, "Well, you, um, you're my lobster." Phoebe watches from the sidelines, clearly behind this new ploy 100%. But Rachel needs an explanation; she asks him if he's being like the blind date guy again. Ross: "No! You're, uh, you're my lobster. See, uh, lobsters. Uh, in the tank, when, when they're old, they get with the, uh, they walk around holding the claws." Awkward pause while he does the lobster claw thing. "In the tank. With the holding?" Rachel is nonplussed. He asks Phoebe to help him out with the whole lobster thing. Phoebe: "Do the claws again!" Rachel has gone behind the counter and is wiping it down. He tells her to forget about the lobsters, that he wants to talk about "us." She tells him there is no "us." He tries to interrupt, but she's adamant: "No, listen to me! I fell for you and I get clobbered. You then fall for me, and I again somehow get clobbered. I am tired of being clobbered, you know, it's just not worth it." He tries a "but" on her, but she tells him that "we are never going to happen, accept that." Ross, sweet and dumb: "Except that, what?" Rachel is sad: "No, no. Accept that." And he gets it, and it's very, very sad.
Chandler and Joey's apartment. Joey walks in, very angry, and Chandler is waiting for him. "Hey, look! It's my best bud!" Joey is not amused. But Chandler isn't giving up, "Wow, you are really getting good at that Marcel Marceau thing." Joey just glares, as he hangs his coat on the same chair that Chandler was using earlier to blockade the arm shackle into the desk. Chandler intensely offers to play ball with Joey, picking up the basketball lying on the chair and hocks it at Joey, who makes no move to catch it. It shatters the lamp. Amazingly, Joey doesn't even blink, just that same angry glare. He finally breaks his silence: "If you hated the bracelet so much, Chandler, you should have just said so." Chandler wants to know if the fact that he wore the bracelet even though he hated it says something about their friendship and how much it means to him. Joey isn't buying, asking about the fact that Chandler insulted the bracelet, and made fun of him. Chandler: "That's the part where I'm a wank." Hee. Joey agrees, and storms off to his room as Chandler is still frantically trying to apologize. "I was hoping we wouldn't focus on on that." But Joey tells him to focus on *this*, and grabs his man parts. Chandler does that Chandler eek-face. "Hard to argue with that."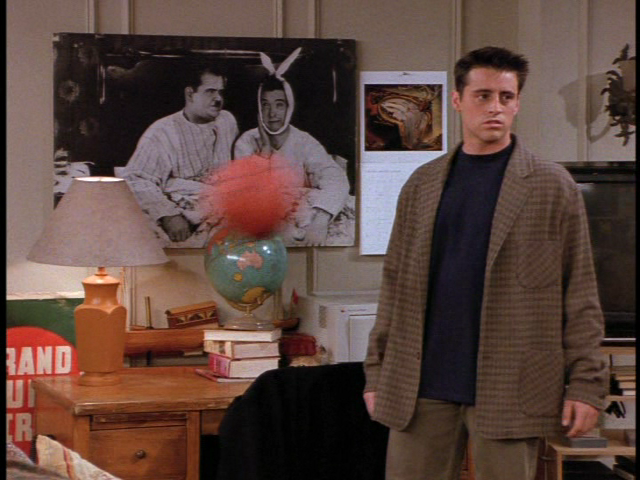 Chandler whinily bangs on Joey's door, saying that he promises he'll never take the arm shackle off again, when he notices that it is missing. He goes into panic mode and starts ripping apart the apartment, telling Joey that it's okay for him to stay in his room and be mad. But Joey comes out again, catching Chandler with couch cushions in his hands. What will he say now? "I am here, on my knees, holding up these couch cushions as a symbol of my sorrow and regret, much like they did in Biblical times. Though you may haveth anger now!" Joey just storms off again, but what I say is that it's a good thing Chandler has all those writers feeding him the good lines, because I wouldn't have known what to say if I were him. Chandler is damn lucky.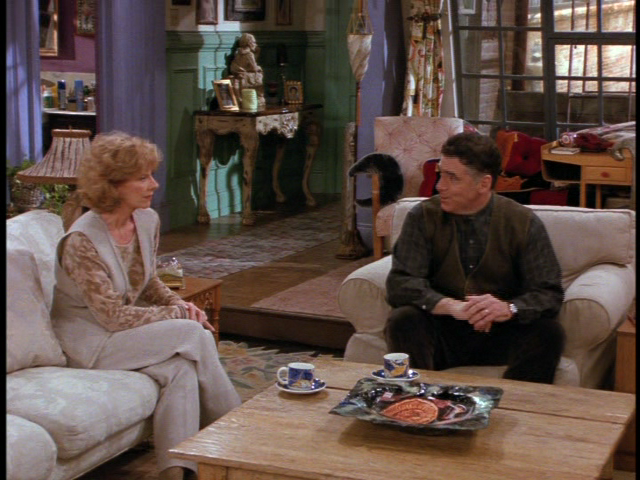 Monica and Rachel's apartment. Jack and Judy are sitting on the couch watching tennis, and Jack is complimenting Steffi Graf's ass, as Monica is sitting at the kitchen table. In walks Ross, dejected, but I'm willing to bet that he perks up a little at just the thought of being the winner in the sibling rivalry war every time his parents are around, no matter how much support he lends Monica. Ross is kind of a douchebag sometimes. Jack and Judy ask where Ben the grandson is, and Ross says that he's at Carol and Susan's. Jack and Judy are disappointed, because douchebag is a gene that runs in families. "A woman in my office is a lesbian," Jack offers helpfully. Jack and Judy are then distracted by a housepaint commercial that cracks Jack up. He laughs and they both sit down. That part kills me everytime; it's so domestic and . . . pathetic. And yet somehow comforting. Ross pulls Monica aside and she asks where he's been. Ross: "Emotional hell." He wants to know if they've lent her the money yet, and the answer is no, probably because she hasn't asked them. He urges her to do it, as we hear Jack chuckling in the background, presumably at the commercial. Ross tells them that Monica has news. Monica apologizes nervously that she didn't tell them before, but she's no longer at her job. She had to leave it. Judy wants to know why, dreading the answer, which is, "Because they made me." Courteney Cox nails that line. Judy starts to hyperventilate, wondering what she's going to do, but Jack tells her to relax, "This is our little Harmonica we're talking about. We taught her well." He turns to Monica and Ross, all scary army-general now, "Ten percent of your paycheck, where does it go?" Ross responds promptly, Monica lagging behind: "In the bank." The look on Monica's face says she's done anything but, which doesn't deter Jack. "So she'll have to dip into her savings, that's what it's there for, she's going to be fine. Aren't you, sweetie?" Monica: "In the bank." Jack pulls a penny from behind her ear, saying, "And if you need a little extra, you know where to find it." Monica: "Anything larger back there?" Poor Monica.
Lobsters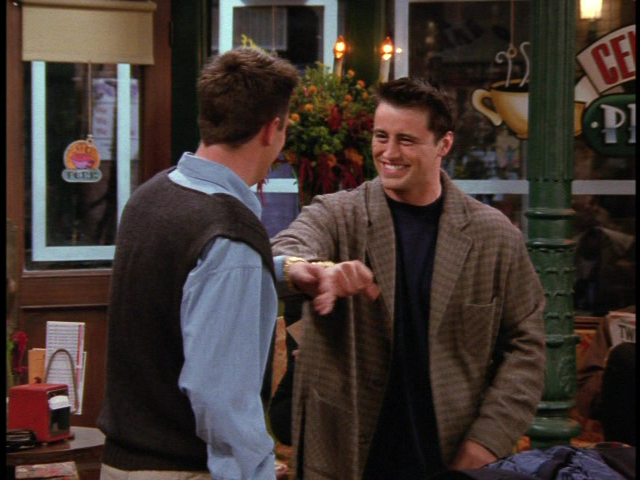 Central Perk. Enter Chandler and Phoebe, Chandler complaining about how he lost the arm shackle, and how he had to shell out $400 for a new one. Phoebe's suggestion to get out of the bitter barn and play in the hay doesn't seem to help. Neither does the fact that Rachel pops up from behind the counter, saying that Gunther found his bracelet. Chandler gets constipated face. Phoebe: "Hey, now you have two!" Let's all celebrate together, "Yayyyy." But Phoebe catches on, "Oh . . . now you have two." Joey walks in just as Chandler is holding up the second bracelet and asking what he's gonna do. Joey wants to know why he has two. Chandler, ever quick on the his/the writers' feet, says, "Why, this one's for you." Joey: "Get out!" His face almost breaks from the smile. Chandler: "Listen, I know how much this means to you, and I also know that this is about more than just jewelry. It's about you and me and the fact that we're . . . best buds." He holds their matching bracelets up next to each other. Joey is insanely happy, "Check it out, we're bracelet buddies!" He wiggles their arms happily together. Chandler turns to Phoebe and Rachel, who are looking on in amusement, and whispers in agony, "That's what they'll call us!" Awww, looks like Chandler has a lobster, too. It's horny, Italian, and has very bad taste.
Monica and Rachel's apartment. Ross is just finishing up writing a check for Monica. He hands it to her and tells her she can pay him back whenever she likes. Monica looks at the check and discovers that Ross has dinosaur checks. Ross: "Yeah, you get your money, and you learn a little something. What's wrong with that?" Ross is a yutz, an occasional douchebag, and a NERD. But did I also mention that I love him, and the next five minutes are a perfect showcase about why. Monica has the worst puns: "Hey, you're a cheaposaurus!" But she tells him she's kidding, thanks him, and gives him a hug. I wish I had a brother to loan me money. Mama needs a new mattress. Phoebe, who is pulling stuff out of the boxes Jack and Judy brought, calls Monica over, "What's this?" Monica pauses just for a second to let us know she's embarrassed, but otherwise seems unaffected. She tells Chandler and Phoebe it was her bathing suit from high school; she was a little bigger then. They look at it in astonishment. Chandler: "Oh, I thought that's what they used to cover Connecticut when it rains." Joey finds a mysterious videotape just as Rachel is walking in the door. Monica tells him she doesn't know what's on it and to put it in the VCR.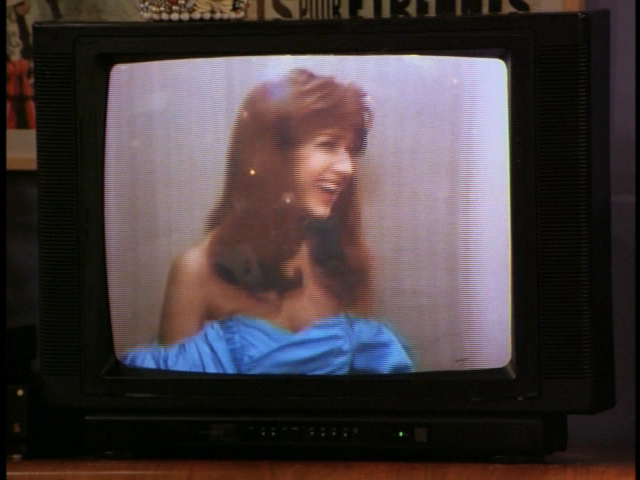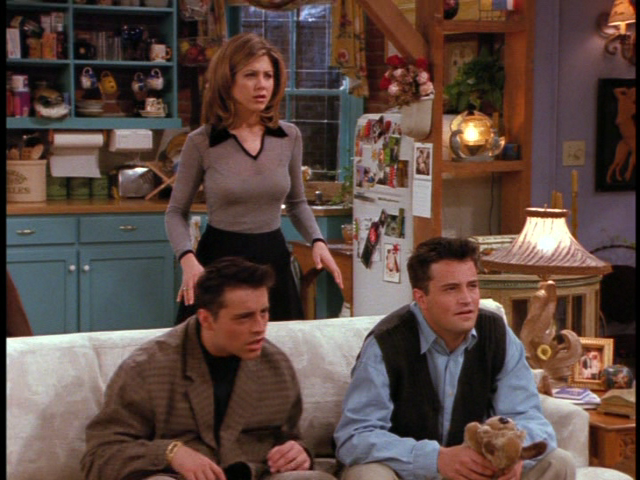 Rachel and Ross face each other awkwardly over the counter as Ross balances his checkbook and Rachel puts her coat away. They each say "Hi" or "Hey" like five million times. Awkward. Rachel walks over to where Chandler, Joey, Monica, and Phoebe are sitting and we see that's in an old tape, and Judy in spectacular 80′s fashion is giving Jack, who is presumable behind the camera, some orders. She tells him she sees Rachel coming up the path, doesn't she look pretty, Jack? In walks 80′s Rachel, complete with the hair, the Prom dress, and the old nose. Present day Rachel: "Oh, my God." Joey and Chandler's reactions are priceless. Joey: "What is with your nose." Rachel self-consciously touches her present day nose, saying that "they had to reduce it because of my, my . . . deviated septum." Right, Rachel, but we'll let that one slide. Chandler: "Okay, I was wrong. That's what they used to cover Connecticut. " Rachel smacks him in the back of the head. Monica excitedly tells everyone that the video must be her and Rachel getting ready for the Prom; Rachel is excited now, and she goes over to sit by Monica. Ross rushes over from the doorway and tries to get them to turn it off. Gee, I wonder what he has to hide? But everyone else is way too into it and he's outvoted. Whatever you've got to hide, Ross, it's comin' out, so get used to it.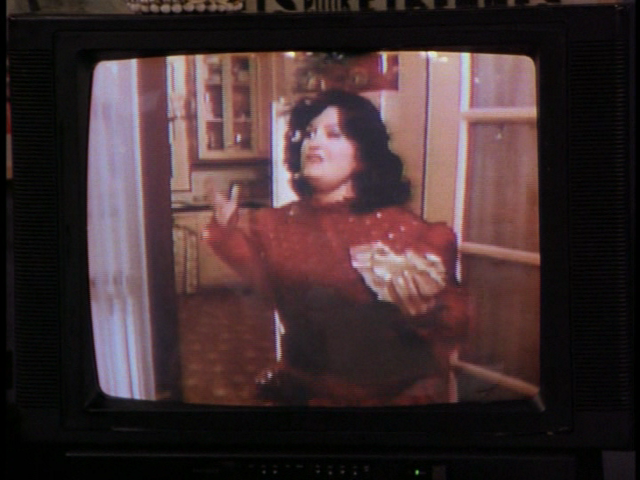 Meanwhile, back in the 80′s, Rachel, Judy, and Jack are wondering where Monica is. She calls from off camera, "Over here, Dad." The camera jerks over to the right and hits a bright fuchsia wall that is taking up the whole frame. Jack zooms out and we see that it's Monica, overweight, and holding a sandwich. Historical sidenote — I think this was the first time I ever died from laughter while watching a TV show. Fat Monica waves girlishly, and present day Monica and Rachel start giggling. Joey and Chandler are horrified. Joey: "Some girl ate Monica!" But Monica is defensive of her former self, "Shut up, the camera adds ten pounds." Chandler, with a perfect example of saying what nobody else wants to say: "So, how many cameras are actually on you?" Classic. Real time Rachel rubs Monica's hand in affectionate comfort, as Fat Monica squeals over how great 80′s Rachel looks. They go in for a Fat Monica bear hug, but Monica manages to get mayonnaise all over Rachel's shoulder, effectively ruining the moment. Both 80′s Rachel and present day Rachel are cracking up.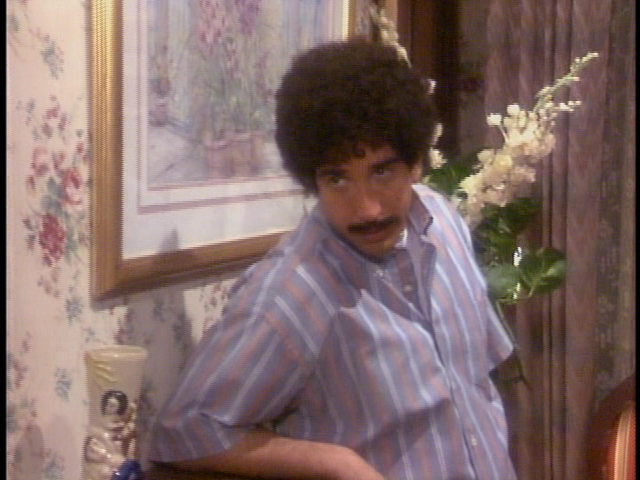 80′s Rachel and Fat Monica are now pretending to be shy for the camera, and I must say that I love Fat Monica. She's so exuberant and child-like. Jack calls for Ross, and swings the camera around to find him, where we see . . . the best thing ever. Ross, in afro and moustache, leering over at the girls like a serial rapist. Okay, this was the second time I ever died laughing, and actually I think I died worse on this one. Everybody in the present day can't contain themselves. Joey turns to a clearly mortified Ross and says, "Looking good, Mr. Kotter." But Ross has to acknowledge the quality of the joke and lets Joey have it. Back to the video. Afro Ross is attempting to chat up 80′s Rachel, but he is very bad at it. He tells her she looks pretty and when she asks him what he's doing this summer he says, "You know, I'm just gonna hang out and work on my music." Hee! Rachel is having trouble with her poofy sleeves so she asks Ross if her hook is undone, and turns her back to him. Lots of naked Rachel back + dorky college Ross = not a good idea. He awkwardly fumbles around back there for a while and present day Rachel gets a big kick out seeing a young Ross ogling her. But 80′s Rachel is distracted by the doorbell and she pulls away from Afro Ross, forgetting him, and squealing, "The guys are here!" Chandler takes the pause in the video to mock Ross some more: "Work on your music?" Ross just shrugs.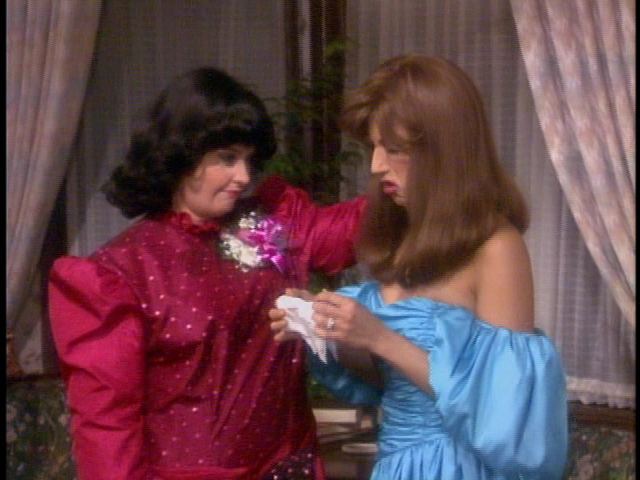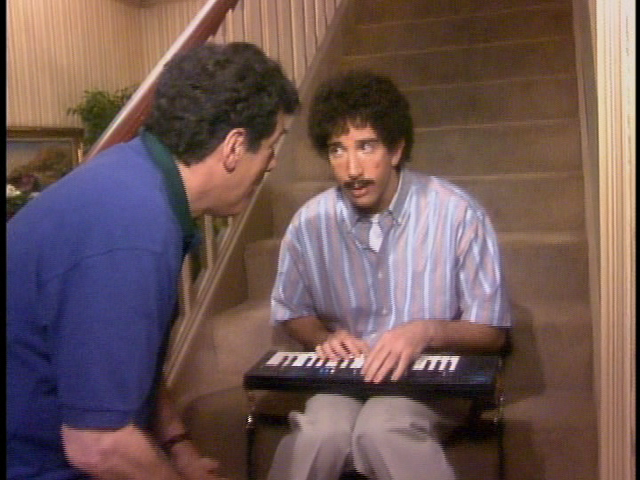 Back to the video, Jack is filming Afro Ross playing "Axel F," on his keyboard with just two fingers and Fat Monica and her date are in the foreground. He pins a bouttonier on her dress, which I love, because isn't she supposed to be wearing it on her wrist? As Fat Monica chugs something, present day Monica tells us that her date's name was Roy Gublich and that he saw Star Wars 317 times. "His name was in the paper." 80′s Rachel wants to know where Chip is, why isn't he here yet? Afro Ross is still playing his nerd music in the background. I honestly don't know what he was thinking, that this was going to impress Rachel? I love you Ross; don't ever change. Roy tells 80′s Rachel to take a chill pill and makes a funny movement with his hand as he finishes pinning the bouttonier. Fat Monica turns to Rachel, whispers in her ear, and the two of them giggle. Present day Monica laughs even harder as she tells the others, "I just told Rachel that Roy touched my boob." Ahh, young love. The prom video then switches tracks and cuts to Fat Monica comforting Rachel, who is crying about not having a date. She says she's not going without one, and Monica claims that if Rachel doesn't go, she's not going either. Young, boob-touching Roy storms off with a great line delivery, complete with lisp: "Aww, I'm gonna kick Chip's ass." Jack follows him with the camera and lands on Ross and Judy. Judy is trying to persuade Afro Ross, who is still playing his "music" that he should take 80′s Rachel to the prom. Afro Ross scoffs: "Doubtful." Judy tells Jack to give her the camera and to talk to his son. They switch places, and Jack tells Ross he can wear his tux. Ross says that she won't want to go with him, as we see that present day Rachel had no idea this happened. Present day Ross looks awkwardly at his feet. Jack asks Afro Ross if he doesn't want to find out, as 80′s Rachel cries that it's so harsh that she doesn't get to go to her own prom. That does it for Ross. He tells Jack to hold his board and he heads up the stairs.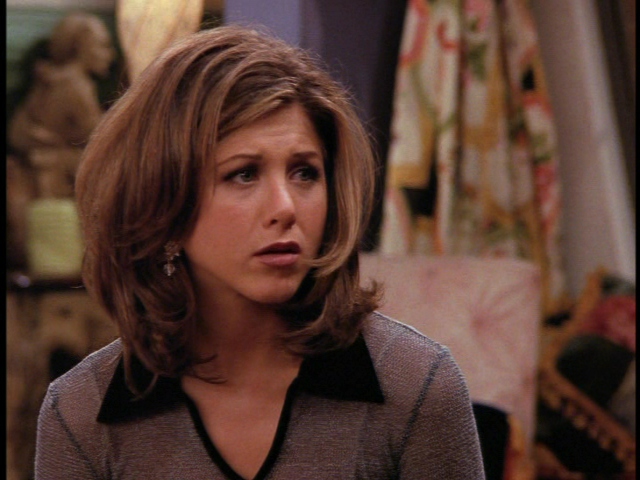 As Ross runs up the stairs so eagerly, he full out trips and falls on his face, but that doesn't slow him down. Present day Ross takes the chance to interrupt, saying, "Okay, guys, I think we've seen enough. Let's turn it off." Everybody screams no at the same time, except Rachel, who is too engrossed to speak. He knows he's lost, "Well, I'm not gonna watch, all right?" He goes to leave. Meanwhile, back in the 80′s, Jack is telling Ross, "Let's go, kid," and out he comes lookin' all afroey and handsome. He shuffles around nerdily, before taking a couple seconds to give himself a little pep-talk. After some more harassment from Jack and Judy to hurry, he plucks some flowers out of a vase and shakes them off. Ross heads down the stairs as Jack calls, "Rachel, ready or not, here comes your knight in shining–oh, no." But he's interrupted by the happy sounds of four teenagers leaving for the prom. We hear 80′s Rachel call out Chip's name, so we know the asshat has shown after all. And Ross is left heartbroken and alone on the stairs, still holding those flowers. As Jack and Judy try frantically to turn the camera off, we see that our Ross hasn't managed to leave the apartment and is stuck at the door.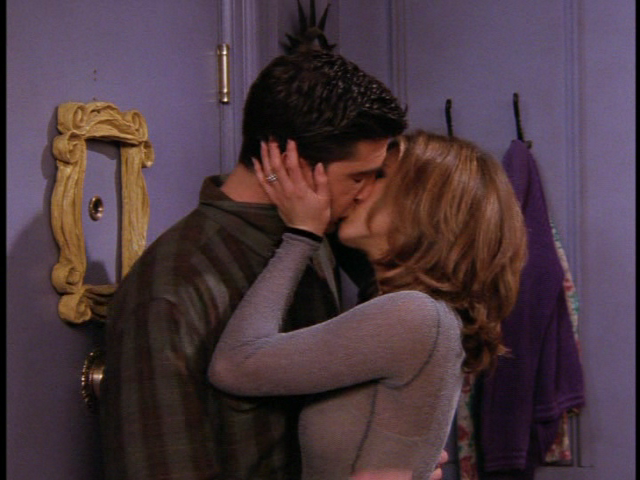 Rachel looks sad and thoughtful at the image of Afro Ross on the screen. Monica turns to Ross: "I can't believe you did that." Everyone else turns as well. Ross: "Yeah, well." Rachel gets up from the arm of the chair and walks over to him. It's a very long walk, and Ross is very nervous; he doesn't know what she's going to say. But she is calm. She grabs his face and kisses the hell out of him as the others look happily on. The kiss ends in a sweet hug, as the camera pans over to a joyful Phoebe: "See? He's her lobster." I love this show.
**Bonus scenes: Monica is sitting on the couch eating ice cream and watching some more of the video. Judy is telling Fat Monica to dance with her father, but she doesn't want to. Jack tells her that he may not know any of her Flashdances, but he's no slouch. She gives in, present day Monica grinning away. But the video cuts out, only to be replaced with Jack and Judy having sex under the covers. Monica puts the ice cream down, wipes her forehead and walks away, traumatized. THE END.