25. "Tempus Fugitive," Lois and Clark: The New Adventures of Superman
Season Two, Episode 18
Original Airdate: March 26, 1995
Written By: Lee Hutson, Jack Weinstein
Directed By: James Bagdonas
Starring: Dean Cain as Clark Kent/Superman
Teri Hatcher as Lois Lane
Justin Whalin as Jimmy Olsen
K. Callan as Martha Kent
Eddie Jones as Jonathan Kent
Lane Davies as Tempus
Terry Kiser as H.G. Wells
Don Swayze as Jesse James
Joshua Devane as Frank James
Synopsis: Lois and Clark need to travel to 1966 with the help of H.G. Wells and his time machine to prevent a villain from the future who wants to destroy the baby Superman. The villain tells Lois about Clark's most important secret — his secret identity.
Why It's on the List: This is the one I had the hardest time with. On the list, off the list, on the list, off the list. "Replace it with a Battlestar episode? No, I have to give other shows a chance. Is it too silly to be on the list? Isn't silly good sometimes? What about that episode of The Golden Girls where Rose is horny at the wedding and Sophia curses her ex-fiance's socks to always fall down to his ankles? That's a good one." These are the thoughts that were running through my mind. And I still feel a little funny about it, because this is the lone duck in the 25. It's the only one that isn't on par in terms of quality to the others. It doesn't even come near to #1. So, why? Because this was the first TV show I ever truly loved, and campiness aside, the first two seasons are still one of the best love stories ever told.
Extra Goodies: Screencaps, Watch the Episode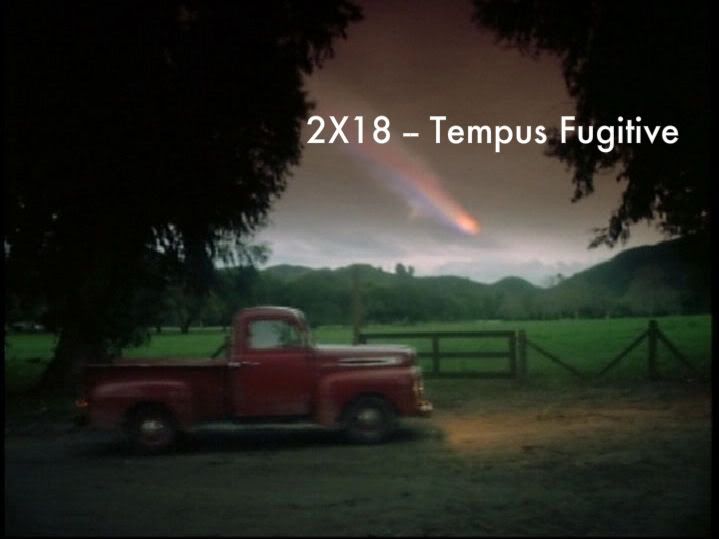 In Which Our Heroes Laugh at the Crazy Man
Lois Lane trots down the ramp into the Daily Planet newsroom, holding a steaming cup of what looks like early Starbucks coffee. She stumbles a little on the way down, making sure to save the coffee, and runs into Jimmy Olsen, who is holding out a wrapped present to her. He tells her she's cutting it close. "I still got eight minutes, what'd I get him?" She takes the present. "Checked suspenders; you remember the card?" She didn't. He holds up a card: "Who's your buddy? Who's your pal? I am, right?" The kid gives goofy smiles a bad name; Lois hits him affectionately on the head with the blue-enveloped birthday card. Boy, if I were Jimmy Olsen and I had Lois and Clark asking me for favors all the time, I'd sure want more than a hit in the head. Money would be nice, or maybe some smoochies. Anyway, back to the scene. Our titular heroes are both looking rather dapper in their '90s fashions — she of the shoulder pads and he of the fugly tie. Such beautiful people, such horrible clothes. Clark sees Lois across the room; he, too is holding a present. "Good morning, Lois." Her response? "You're late." I'm guessing she's not a morning person, either that, or she hasn't had enough of that coffee she almost spilled not a minute before. "Good morning, Clark," he mocks, and then asks what she got Perry for his birthday. She holds up the present with confidence. "Checked suspenders." He isn't impressed. "Didn't you get him those last year?" Her face falls as she confirms. But she's not too bothered, "He liked 'em, didn't he?" I'm sure Clark is about to say something extra charming, if the smile on his face is any indication, but they are interrupted by a cute, strangely dressed, and obviously very British man, who is coughing politely into his fist.
"Hello," he laughs nervously, obviously quite aware that he's about to be thought insane. "Excuse me. I am H.G. Wells." I'm just gonna pause right here and go out on a limb — that probably wasn't the way to open if he wanted to be thought sane. I will forgive him, though, because he is cute and British. He goes on to spin them a yarn, telling them he's gotten into "a spot of trouble" while traveling with a companion, whom he's brought back from the future, in his time machine . . . he's left him in the park, actually. . . And here Lois takes the proffered pause in the little man's little speech to tell Clark: "If this is a gag, you're dead."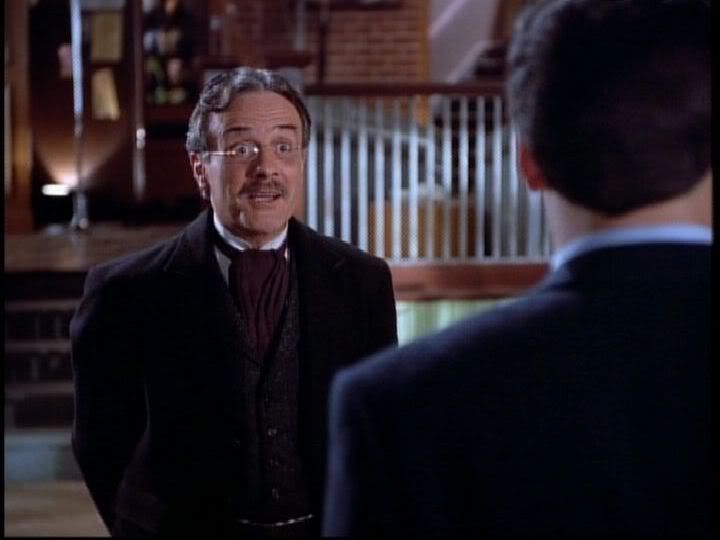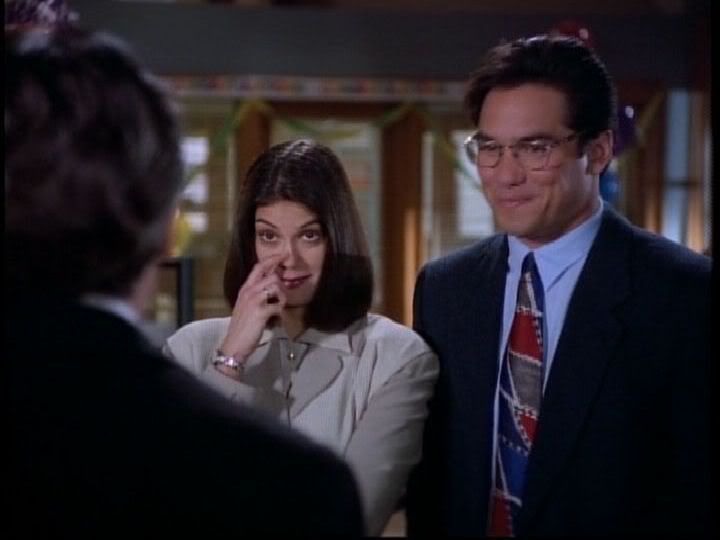 The little man attempts to continue, unaware, but Clark interrupts him. Perhaps he senses that if this little gag goes on for any longer, Lois will kick him in the face. Anyway, he tells the little man that time travel isn't possible and that H.G. Wells died in 1946, but the little man interrupts him, saying in a tense whisper, "I know you're Superman, and I need your help." Simultaneously, Clark puts on his panic face, and Lois' Superman detector perks up — "What? What'd he say?" The little man, who is apparently H.G. Wells for real, or has somehow found out about Clark's secret another way, covers with some rambling nonsense that is still really cute, because he's still British. Something about quelling all of Mr. Kent's doubts and meeting his companion, yada yada. Lois doesn't understand why Clark's suddenly going along with all this nonsense when just a moment before he was making fun of the little man right along with her, but I still think that Superman detector inside of her is bleeping fiercely, even if she doesn't yet know what it means. Clark tries to ditch her before they get on the elevator, but Lois accuses him of lying about what the little man told him. She turns to the little man: "And if you really have a man from the future with you, why did you leave him in the park?" The little man explains that he didn't want his companion to see the city because "the 22nd century is a peaceful, harmonious Utopia. No violence, no crime. Without preparation, poor Tempus would be horrified by savagery of the 1990s." This makes me guffaw, because a) I've seen this episode one million times, and b) "the savagery of the 1990s"! You kill me, little man!
After some excitement with the elevator, we cut to a shot of the savage streets of Metropolis. A XXX girls sign is our main focus, but let me just say that if it this is supposed to be savagery, I'll take it. All of the bad guys on this show are idiots — with the exception of our friend Tempus — and even the slums and porn shops are clean and beautiful, like they've just been pulled straight out of Little Miss Muffet's butt. O, happy shiny Metropolis! And then we get our first view of Tempus, very subtly named of course, from the Latin meaning "time." (Also, "tempus fugit" is "time flies," so all in all, this episode's title pretty much rocks.) In case you couldn't tell, that was sarcasm outside of the parentheses, but inside I was being totally serious. I just wanted to make sure that was clear. Because Tempus is now wearing blue tights, blue boots, and a shiny silver vest thing that closely resembles those sun visors you put up in your car. No wonder he's become a sociopath, with clothes like that. But, contrary to the little man's fears, Tempus seems to be highly enjoying the savagery. He comes upon an alley in which a man is being mugged by Little Richard's mutant cousin, Hairball, but instead of helping the man, he watches with glee. And, when Hairball makes a run for it, he goes up to the victim: "What just happened here is called . . . mugging." The victim shakily assents — "Took everything but my watch." Tempus looks at said object, "Not a very successful mugging, was it? Let's see if I can do better." And he pushes the man up against the wall, taking his watch. "Excellent! I just mugged you!" And then a really corny line about being about not being out of his mind, but out of his century, which is the only line in the episode that Lane Davies, the actor playing Tempus, doesn't really sell. Then again, it's probably impossible to do so. Credits.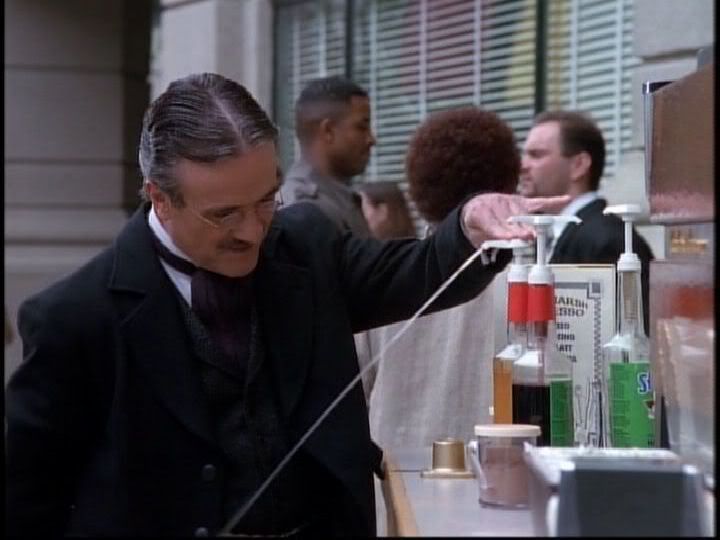 Back to the mean streets of Metropolis, where Lois is asking the little man why he brought Tempus back from the future. The answer, apparently, is that he volunteered. Also, in the middle of his explanation, he is significantly distracted by a leggy blonde in a pink mini-skirt, whom he titters at. So, in addition to being British, he is also horny. He gets back to the point after some effort, and tells Lois and Clark that back home, his peers were never able to accept that his time machine was functional, so he wanted to bring Tempus back as proof. At this point, he becomes confused by a sidewalk espresso vendor, and Lois tells Clark that they should cut their losses. He thinks this is a good idea, and tries to ditch her again. (Superman detector: BEEP BEEP.) "You actually believe this guy?" He tries to avoid the implications: "I'm just . . . curious." So is she. So she tries again: "How did he get your interest all of a sudden? What did he say?" Luckily, Clark is saved by the little man, who is done assaulting the flavored syrups. And he's a pretty smart little guy, because he distracts her with Superman. He tells her she might find it interesting to know that Utopia was founded by Superman's descendants. This does not necessarily make her happy. "He got married?" The little man tells them that the whole society was based on the values and principles that Superman lived by. Lois tries to fish the future bride out of him, but he's not telling. "That might be giving a bit too much away."They round a corner and come face to face with a very strange sight. There in the park is an odd looking, and rather large, contraption that is something like a cross between the bed in Bedknobs and Broomsticks and an 18th century parlor. "So where's your man from the future?" Lois asks. The little man speculates that he just wanted to look around. Lois smells a con job. I wonder if it smells like gouda. The little man reaches into what passes for the time machine's glovebox, saying that he would like to show them his problem so that they can get word — and here he gives Clark a knowing look — to Superman. Clark gives his nervous dork face, the one he's so good at. Little man continues, "First you must appreciate the intricacy of the flux facilitator." And let me just stop you right there. Take a moment and bask in the glory of the cheese. This show either has major balls or a major lack of brains to so obviously rip off Back to the Future's flux capacitor.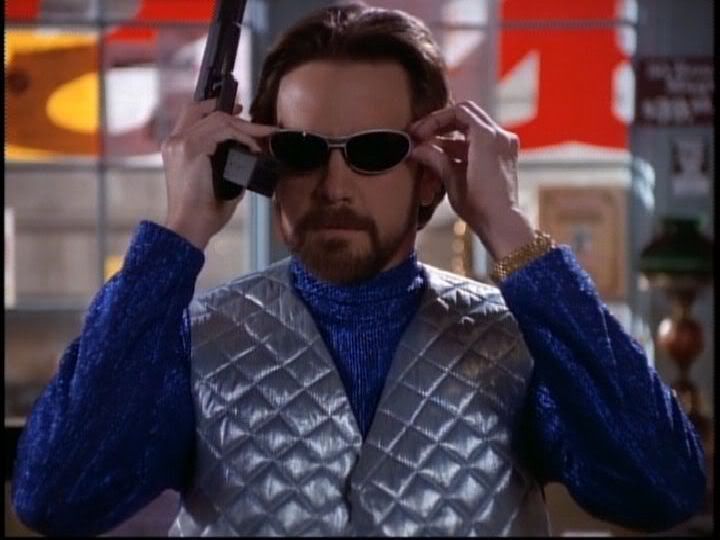 We are now entering what appears to be a guns and ammo kind of shop, where a short, chubby man wearing an abundance of obnoxious gold chains is telling someone about his stock. Into the frame walks Tempus, I'd say doing a bit more than looking around. He seems very interested in the semi-automatics, saying the words with a kind of reverence usually reserved for newborn babies or piles of money. The chubby shop owner, whom I will now be calling Bling Bling, says that those are his "personal choice for self-protection. I keep one here under the cashbox. Gives the scum a real surprise, they try to rip me off." Tempus chuckles in a patronizing way. He goes on about the specifics, and ends with, "Makes you someone to respect." He might as well be flashing a sign that says "CHUMP." Tempus asks him how to load it. "Wham. Bam. Thank you, Ma'am." Tempus giggles. Tempus asks Bling Bling if the chains he's wearing are real gold. "24 karat." Tempus is pleased. Tempus asks if he can hold the gun; how stupid is Bling Bling? But then again, that's a question we will be asking a lot in the next forty minutes or so. And the answer is very, as Tempus grabs the gun and clip, and demands that Bling Bling hand over his bling. How many more times can I say bling before this is over? Tempus maneuvers an ammunition belt, extra clips, and a holster out of him, and then proceeds to shoot up the store just for kicks. "You are, you know. Incredibly stupid. Bless you." And this is why I think Tempus is the best villain on the show, possibly even better than that bastard Lex Luthor. Lane Davies just sells it. He revels in the cheese, basks in it, wades in it, and makes it his own. But we'll get back to my adoration of him in a little bit. Clark is attempting to listen to the little man's technobabble when his super-hearing picks up the gunfire, and he makes his usual excuses to Lois. "He always does that," she says to the little man. "Don't worry, my dear," he soothes her, "someday you'll understand why." Meanwhile, Tempus makes an unintentional homage to Terminator 2: Judgment Day, as he puts on a pair of sunglasses while electric guitar rocks the soundtrack.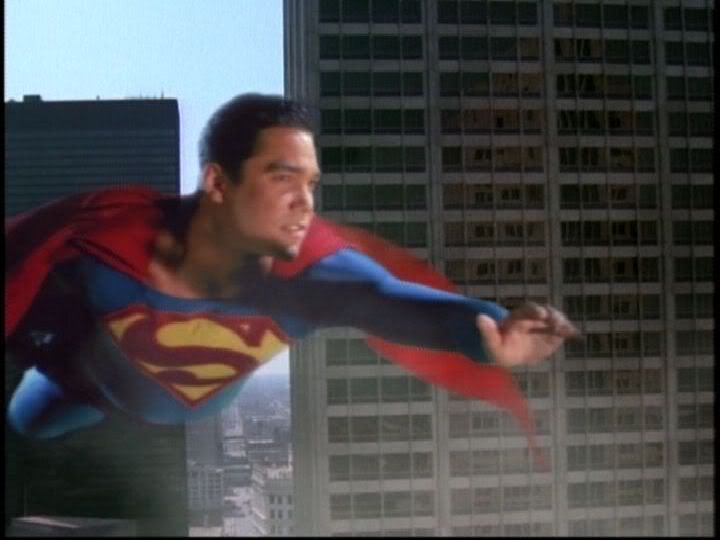 Superman flies overhead in all his heroic glory. Bling Bling is really freaked out and greets Superman with a gun. Superman asks if he's all right. Bling Bling snottily replies, "Does it look like I'm all right?" Supes apologizes, asks who was responsible. "Some psycho about six foot three, wearing an aluminum suit, some heavy guns, and a selection of very tasteful gold chains for men." Haha, Bling Bling! You kill me almost as much as the little man! This is just the first of many moments in this episode where it becomes clear that this is a show willing to laugh at itself. Bling Bling is very upset about the loss of his tasteful chains. Superman assures him that he'll take care of it, and jets off into the sky.
Back to Lois, who is sitting in the time machine, and looking very bored. She interrupts him, which seems to happen a lot. "Mr. Wells, what is it you're after, exactly?" Fuel. "What kind of fuel?" Pure 24 karat gold. Lois laughs, and gets up, knowing for sure that it's a scam and asks him if that is the best he could do. Did he think that maybe they would just give him all their jewelry, maybe get Superman to dig him a mine? "Do I have sucker stamped on my forehead, or maybe you think I'm the dumbest person on the planet." And there it is again! How dumb is she? More on this later. he stops her rant with a finger: "Or! I'm really H.G. Wells." Tempus chooses just then to appear calling the little man "Herb." The little man asks what he's doing with the gun, and Tempus says that he's going on a trip, and that the little man is driving. Lois smirks, still convinced it's a trick. Tempus spots her, doesn't he know her? Still smirking, "I don't think so. Most of my friends are pro-gun control." Teri Hatcher does an excellent job of expressing her amused contempt, but my favorite part is how that is about to be wiped right off her face. But Tempus recognizes her, he's seen the holograms, telling her it's a special pleasure to meet her. That he's from the future, that she and Superman created. "Me and Superman?" Maybe there is a little something to this "Lois is stupid" theory. Maybe she's more than a little show to catch on that he might be implying that she is the bride to be. "A world of peace. A world with no greed or crime. A world so boring you'd blow your brains out, but there are no guns! You want to know the future, Miss Lane? No one works, no one argues. There are 9,000 channels and nothing on! Well, I intend to do something about that." And I have to say, he makes me want to agree with him. No arguing? 9,000 channels? But maybe that's just the charm of Tempus.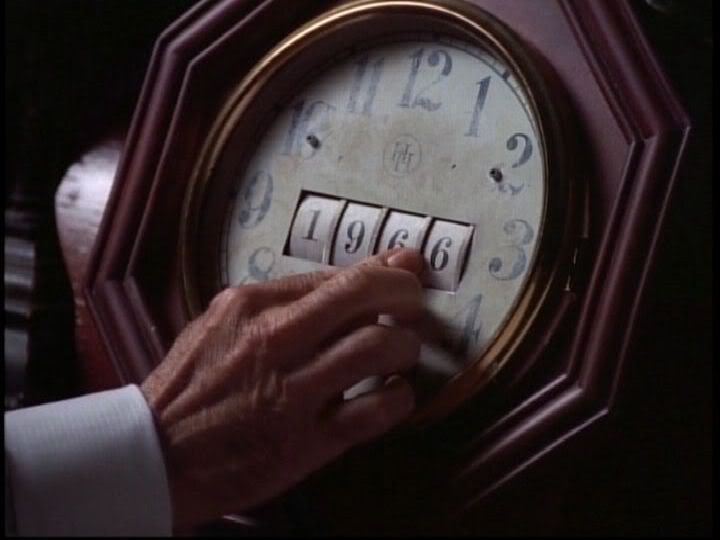 He tells the little man to set the time machine to Smallville, 1966. Lois is confused. "Smallville?" The little man's objections about having no fuel are quickly mollified as Tempus hands him the stolen bling, and Tempus prattles on gloriously about not knowing how to work machinery because he's from the future, but he does know how to shoot a gun. He then expresses his regrets to Lois about ruining her life, saying that he's going to kill Superman. She is sceptical. "No one can kill Superman." Unless you could get to him when he was a baby. Tempus is hilarioius: "Gee, if only I had a time machine." Lois is afraid now for the first time, most likely because Tempus just said the words "baby," "Superman," and "kill," in the same sentence. Her Superman detector is going haywire. Superman arrives back just in time to see Tempus, Herb, and the floating parlor disappear in a haze of electric purple smoke. Now it's on. "I think somebody's gone back in time to kill you as a baby." Gee, Lois, you think? She asks Superman if he can build the time machine from the plans the little man left behind. He says it could take a couple hours.
An almost immediate cut to a brand new time machine, complete with the random gigantic clock that serves no purpose tacked on the rear end. Thankfully, this time machine seems to be computerized, so at least we know Superman has some skillz. He flies off to find some fuel, though God only knows how he's going to get it. Wouldn't it be great if he ripped off a bank? It's probably more likely he dug up that mine Lois mentioned earlier. In comes Clark, telling Lois that Superman gave him the gold and told him what happened. He tells her that Superman wanted them to go save his infant self from Tempus. Lois is visibly disappointed. Our resident genius closes out the scene with this little gem: "Don't you think it's odd that we're going to Smallville? That's your hometown." Clark makes a self-conscious chortle, avoiding the question, and the time machine disappears.
In Which Our Heroes Discover The Magic of Television
But wait, this doesn't look like 1966! It's an old building with a sign reading, "Free Will Missionary Church," a horse and buggy passes in front of the camera, and the roads are made of dirt. Tempus and the little man walk out of a barn, the little man smiling delightedly. Tempus, wearing a jaunty brown duster, expresses his doubts about this being Smallville 1966, "unless that's Bob Dylan," he says, looking pointedly at a dirty man by a water trough. Herb surmises that the inferior grade of gold they used must have affected the flux facilitator, but Tempus calls him on it. "I'd almost think you did it on purpose, Herb, if I though you had a spine." Lane Davies' line delivery here is perfect. The little man's smile is mysterious, and I must confess that I've never been able to determine whether or not he did do it on purpose, and that's a good thing, especially for a show that regularly practices the opposite of show, not tell. Tempus grabs a hat from the wall and tells Herb they're going to look from some gold. The little man delivers a priceless line, seeming quite amused with the whole situation, "You're quite funny in that hat, you know."
Smallville, 1966. Lois and Clark emerge from an alleyway. Luckily, the floating parlor had the presence of mind to take them somewhere hidden away. Lois is amazed that it actually worked. They both marvel at the clothes and the cars, but she really seems to get it when she picks up a newspaper. That's my girl. She goes on and on about the stuff they could do with their time machine: be their when Columbus landed, when Washington crossed the Delaware. The biggest stories in history. Also, kind of boring. If I had a time machine I would use it to go back to October 11, 1999 in Wellington, New Zealand so I could get hired to work on the creation of the Lord of the Rings. But that's just me.
Smallville, 1866. A nice little saloon tune is being played on an upright piano as the camera pans around to find K. Callan, she of Martha Kent fame, in an old west outfit. She asks the bartender about two shady fellas sitting at a nearby table, saying they look like trouble. "They didn't drive all this way just for the pretzels." Just then, in walks Tempus, little man in tow, who is amusingly hit with the swinging doors on his way in. Everyone in the bar stops to take in the strange sight of a man in blue tights, a duster, and a cowboy hat. Tempus: "Yee-Ha." Little man asks for a spot of tea, but Old West Martha tells him they serve whiskey and beer. One of the shady fellas comes up to pay for his drink with a gold coin. This catches Tempus's eye. He asks the little man how many it would take to power up the floating parlor. A lot, apparently. He asks shady fella number one where he can get more like them, and shady fella says he got it down at the bank. In fact, a whole shipment has just come in, " go ahead and take it." He continues menacingly, "'Course you got about five minutes to spend it." Tempus pauses, recognizing his face. Apparently there's lots of history studying in the future for him to recognize shady fella, but sure enough, it's Jesse James.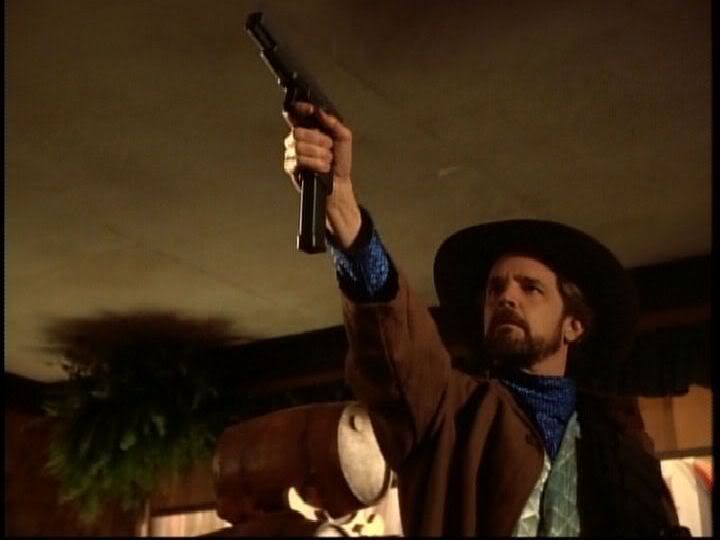 Shady fella is understandably wigged by this news. He isn't famous yet. He threatens Tempus, who has just pointed out his brother, Frank, telling him they were his inspiration. Fortunate that he gets to meet them, then! What a coincidence! Tempus says he doesn't recall them ever robbing a bank in Smallville, then asks Jesse James if he's as good with a gun as they say he is. Jesse James response by shooting out four lamps with four fast shots. Tempus is suitably impressed. Little man is holding his ears. "You're good, you're really good," Tempus tells him. James smiles idiotically as Tempus continues, "You have a future. Not a very long one unfortunately, and here's why. See, no matter how good you are, there's always somebody better." And Tempus proceeds to take his semi-automatic and shoot out every last railing post of the banister. You know, Tempus discovering violence is like a beautiful sort of destiny. He tells the brothers that if they have any ideas about that bank full of gold, to get in line. In walks the Sheriff, played by Eddie Jones, similarly of Jonathan Kent fame. "You boys got something against this place?" he asks, two pistols in his hands.
Smallville, 1966. A man in a duster and a cowboy hat comes shooting out of a corner bank, a little man of his own in tow. Lois and Clark look over in surprise, only to find that it's a reenactment of a robbery that happened in 1866. Imagine that. Clark says that there never was a Great Gold Robbery before, and Lois quickly figures out that Tempus and Herb must have gone to 1866 instead. For someone who's been acting so stupid all episode, she sure figures that one out quick, especially considering they don't even know about Tempus's hat and duster yet. They head back to the time machine, Lois still nagging at Clark about why they're in Smallville.
Back to the saloon, where Old West Martha and Sheriff Jonathan are cleaning up Tempus's mess. Jesse and Frank are soothing their wounded male egos in the corner, complaining about the size of Tempus's weapon. Frank goads him into robbing the saloon, as Lois and Clark walk in. Lois asks the grunting bartender for something diet, before landing on a sarsparilla, when in comes Old West Martha. Lois and Clark are suitable flabbergasted. Who knew genetics had such sway? Old West Martha hilariously implies that Lois is a prostitute before she is joined by Sheriff Jonathan.
Lois can't get over how Old West Martha looks just like real Martha. Neither can I, Lois. Neither can I. "Clark, I think we're talking to your . . . " He interrupts, "My great-great grandparents." Old West Martha is insulted. "You're Miss Martha , and Marshall Kent." Funny how Miss Martha manages to look so identical to a woman who's not even related to her by blood, unless there's some remarkably coincidental incest going on here, but if that's the case I don't want to know about it. Sheriff Jonathan remarks about the amount of weirdos that are coming in, and Lois catches on, asking about the other weirdos who were there earlier. Sheriff Jonathan tells them about Tempus, but doesn't know where he's gone. But gone, he says, is where he wants Clark and "the naked lady" to go as well. Lois tries to cover with some lame story about Paris fashions, but it doesn't work. These people aren't buying. The James brothers tell them about the bank, and Superman hears Tempus with his super-hearing. He runs out the door, Lois following. Jesse and Frank take this moment to decide to shoot up the saloon. Clark once again tries to ditch, but before he can, they see Tempus and Herb leaving the bank. When they hear shots also coming from the saloon, Clark goes back to take care of his ancestors and instructs Lois to stay right there until he gets back. Does he know her at all?
As soon as he leaves, she takes off in the other direction after Tempus. We cut back to the saloon, where Sheriff Jonathan has been hit by an improbable bullet. Clark ties up the James brothers Superman style and quickly decides to take Sheriff Jonathan to the nearest hospital in Kansas City — "four days ride!" Old West Martha watches in awe as Clark floats up into the air with Sheriff Jonathan. Imagine what the shock is doing to the poor Sheriff. Grunting bartender faints dead away.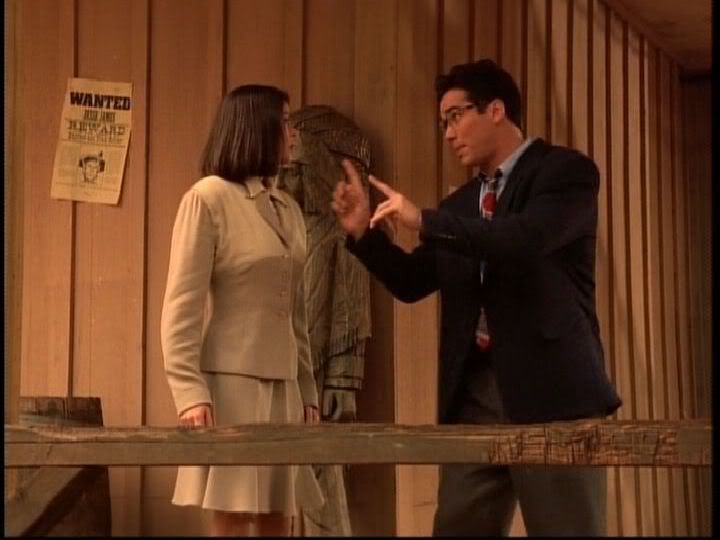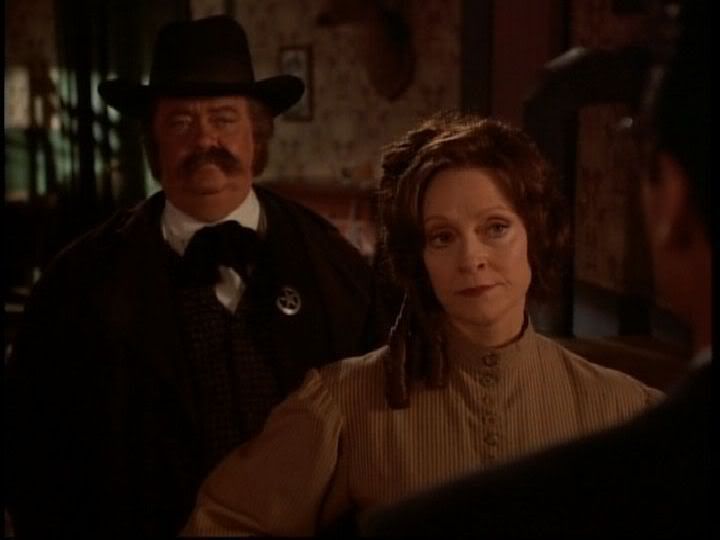 Back to Lois, who is sneaking into the barn where Tempus and little man Herb are hiding. Herb is expressing his impatience with Tempus's jokes as he loads the other stolen bling into the time machine. Lois peeks around the corner of a barrel or something, but Tempus catches her. She's really very bad at hiding. He asks her what she's doing, and before he can confirm the existence of the other time machine, she tells him she hung onto the back of the time machine in the park. He buys her story, but still decides that he can't have her messing up his plans. Gleefully: "Well, Lois Lane, independent career woman of the 1990s, you're about to be stranded in 1866 without the right to vote, own property, or write for a great metropolitan newspaper. God! I love irony." Lois feigns fear, but uses the chance to milk him for information. Why Smallville? Why 1966?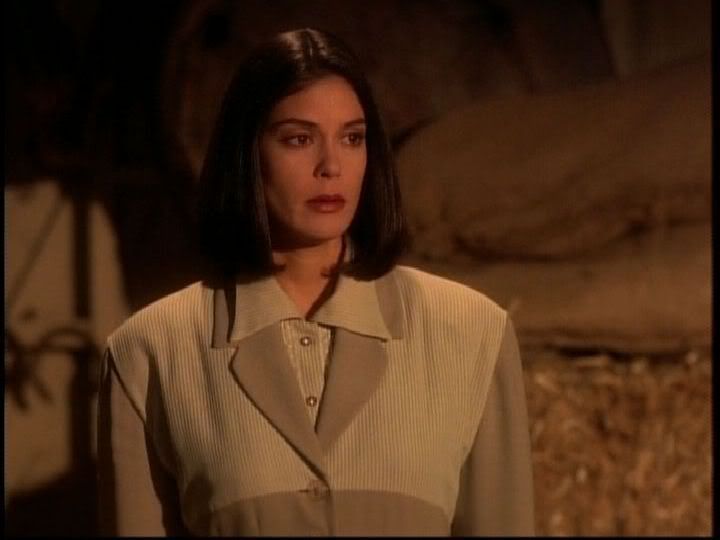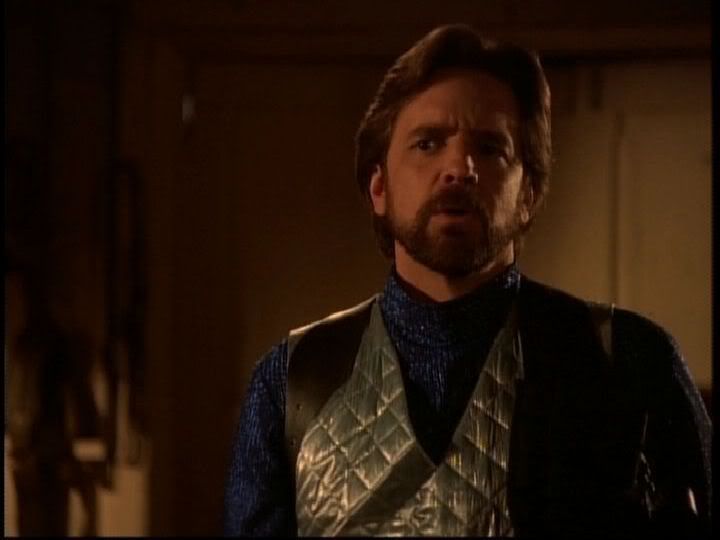 Tempus is momentarily speechless with joy, that he should be the one to tell her. He asks her if she knew that in the future she is revered at the same level as Superman. Books, statues, interactive games. Even a breakfast cereal! "Really?" She's confused now. "Yes, but as much as everybody loves you, there is one question that keeps coming up: How dumb was she?" And I must emphasize that the line delivery in this pivotal scene is what makes it work, not to mention Lois's face as she realizes the truth. Lane Davies owns this character in a way the writers probably never intended. Lois gives a blank stare at the thought that she might be thought stupid in the future. Tempus continues: "Here, I'll show you what I mean." He puts on Herb's glasses. "Look, I'm Clark Kent." He takes them off. "No, I'm Superman!" On, "Mild mannered reporter." Off, "Super hero. Hello! Duh! Clark Kent is Superman." He laughs maniacally. "That was worth the whole trip, to actually meet the most galactically stupid woman who ever lived." Lois is crushed, as he gets into the floating parlor, promising that both Clark and Superman are dead. "The future belongs to me." And let me just tell you that that is probably the greatest "duh" ever filmed. Also, I told you that stupid thing would be back. Clark runs into the barn, relieved the find Lois unhurt, but she interrupts him with a slap. Venomous: "And don't pretend that hurt. Superman." Busted!
Now, let me pause for a moment to discuss. The reason why this episode works, despite it's obvious flaws, is because it not only acknowledges its flaws straight up and in the most obvious ways (i.e. using the same actors to play Old West Martha and real Martha, and having a time travel plot that blatantly ignores logic), but it pokes fun at them. This is not a show that takes itself seriously; it knows how silly it's being. When Tempus is questioning everyone he meets, asking them how dumb they are, he's also questioning us. How dumb are you, to buy into this crap? Later on, we'll get an answer, but for now suffice it to say that the reason all of these inaccuracies work is because this whole episode is a giant acknowledgment of the purpose and intent of the show itself. Sit on that one awhile.
In Which Lois Is Very, Very Angry
Back in Smallville, 1966. Lois and Clark are coming out of a car rental agency, Clark blabbering about his Superman origins, and how he wanted to lead a normal life. Lois is still pissed, and clearly hasn't said a word to him since 1866. Clark confirms my theory: "Lois, come on, you haven't said a word to me since 1866." She rounds on him, "You are the lowest form of life imaginable." Yes! I love it when she's angry. She calls him a liar, and he babbles some more. Mostly, she's just angry that her irrational love of Superman and her very rational love of Clark have been the same thing all along, which means at least some of the blame is on her, but she doesn't want to admit this. Instead, she rages. "You know, you oughta run for president. Oh, wait! You can't, you weren't born here. Then again, you could just lie. Look at you now, renting a car. That's a big fat lie, what do you need a car for, you're Superman." She runs out of air near the end, and it's very cool. Teri Hatcher does this so well. She gets in the car and slams the door.
She won't look him in the face as he talks to her. He tells her how much he has hated not being able to tell her his secret — which, he should have started out saying — and how it wasn't easy watching her swoon over Superman and ignoring him. She tells him that's ridiculous, because he is Superman. Then he says something that really defines the whole series: "No, Lois, Superman is what I can do. Clark is who I am." Lois doesn't really have anything to say that isn't motivated by anger: "Well, you've obviously had more time to think about this than I have so let me just ask you one question. How can I ever trust you again?" Aaaaaand, conversation over. Clark gets in the car, cutely muttering about glasses and secret identies seeming like a good idea at the time.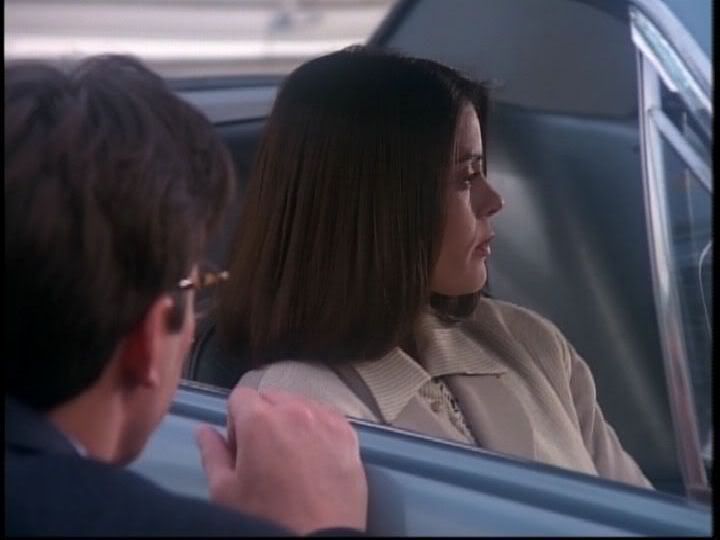 A spaceship has made a good-sized divot in a lonely field, although I might add that it should have made an even bigger one. The ground surrounding the ship is littered with green, glowing rocks. Enter Tempus and Herb, who are both fascinated at finding the ship just as the history books said. Tempus picks up a glowing rock and calls it Kryponite — and it's my turn for a "duh," but thanks for the exposition, writers. Herb opens the spaceship, and baby Clark pops into view. "Hello, Junior," Tempus says.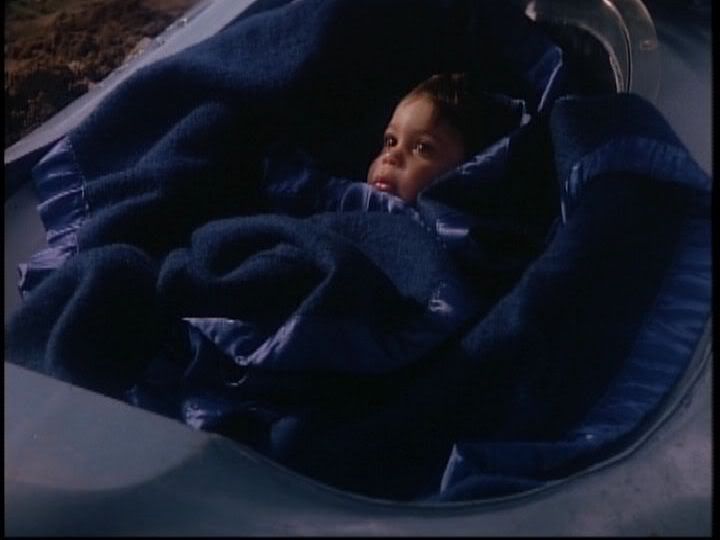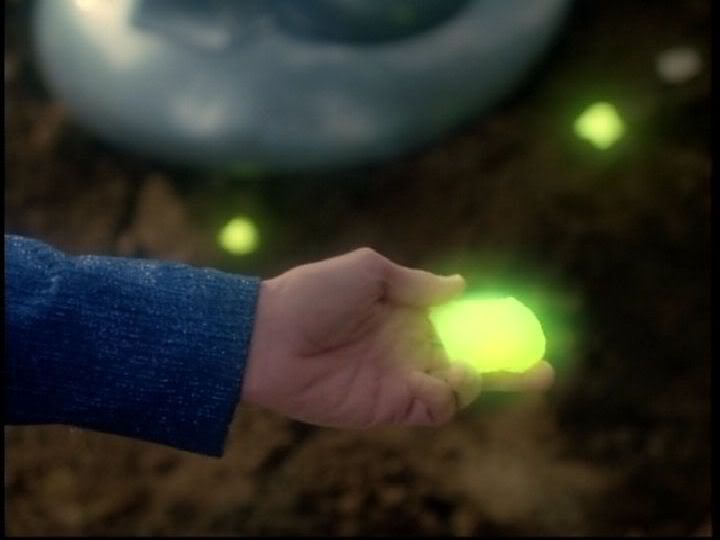 Cut to Lois and Clark, who are still driving in their rental car, and Clark is still trying desperately to win Lois back. She hurls back at him, "What do you think I am, galactically stupid?" Obviously, a big part of this is that it's her pride that is hurt, not just her trust. Clark: "You are the smartest woman that I know and I never wanted to hurt you in any way. Now, if what I did was wrong, then I apologize, but I can't change what I've done." They have stopped at Schuster's field, where Clark informs Lois his parents found him as a baby. He also tells her that his parents found him at night, but clearly that was wrong, because Tempus and Herb are already with the baby. The Kents must have seen something else, hmmm? I wonder what that could have been?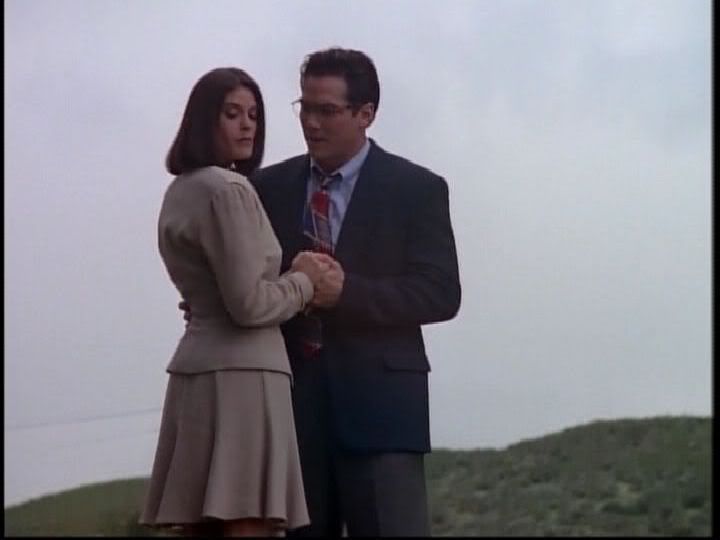 Clark, resorting to showing off in order to win her back, takes Lois's hands and floats her over the fence. Her expression is hilarious. "All those times you pretended you couldn't hit, couldn't jump, couldn't open a peanut butter jar by yourself." Clark is in the middle of telling her to let it go, when he doubles over in pain from proximity to Kryptonite. They see the ship just ahead. Meanwhile, Tempus and Herb are walking with the baby in Rocky cove, while Tempus gets ready to do the dirty deed. Herb decides to stand up to Tempus: "You know, I won't let you hurt him. I will fight you with my last breath." "Really?" "I swear it." Tempus smacks him across the head, and Herb makes this funny "oh no" noise. Tempus: "Sorry, can't have you swearing in front of the baby." Love it! As does the baby, who gurgles appreciatively at Tempus. Back to Lois and Clark, who are knocking at the Kent's door to find out if they've picked up baby Clark yet. Both are once again speechless as a young Martha Kent appears at the door and invites them inside to freshen up.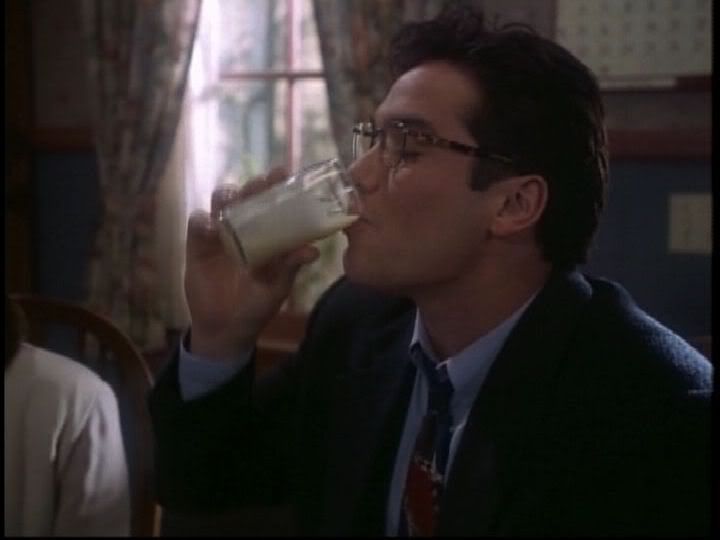 Mmmm, mother's milk. Clark is drinking buttermilk as Lois chats up Martha. Then Jonathan walks in, causing Clark to spill his buttermilk, and yet another genius comment: "I'm sorry, it's just, you both look so young." Real smart, Clark. They have no idea what you're talking about. Get it together. But he doesn't. When Young Martha tells him not to worry about the spill, he says, "But I know how clean you like to keep things." Good one! But Lois covers for him. Young Jonathan pulls Young Martha aside to ask her whether Schuster is selling his field, because he just saw a couple weird-lookin' city fellas up there. She tells him not to talk business in front of the company, but it's too late. Lois and Clark have to go find the weirdos. But not before they up the awkward one more notch as Lois asks about the baby, which solicits a teary confession from Martha about her non-existent child-bearing skills, and how if she were to find a baby she would be the most grateful woman in the world." Clark once again proves that Lois is the smart one: "And the world's best mom." Clark!! But Young Martha is touched. Lois takes the opportunity to pull them out before Clark makes even more of an ass of himself, but too late! He calls Young Jonathan "Dad" first, and gives young Martha a kiss on the cheek. Awkward! (Or sweet. You pick.) Young Martha cheesily whispers to Lois on her way out that she doesn't know how she knows, but that Clark is getting s ick, and Lois promises to take care of him.This miraculous visit to his family was all Lois needed, apparently, to forgive him, because she apologizes for being hard on him. She tells him she understands how hard it must have been for him, and how she wishes he didn't have to go through it alone. He tells her he wasn't alone — he had his parents, and her. He is trying to appear healthy, but is not succeeding, as his hand is beginning to disappear. Lois and Clark rightly deduce that Tempus must have the baby and is changing the past. Cut to Tempus, who is tying Herb up on the floating parlor, and taunting the baby, who is surrounded by Kryptonite, and clearly unaware of his dire fate.
In Which Our Heroes Save the Day, and Then Make Out a Little

Lois pulls the car up to Rocky Cove, and Clark breathlessly tells her that in a minute he won't exist, and that she's going to have to go find Tempus. She looks worried as he grimaces in pain. En route, she picks up a large stick, which I presume she wants to smack Tempus with. She finds the cove, where Tempus is singing a creepy lullaby about death and destruction to the dying baby. Herb asks Tempus if he really thinks he can stop Utopia by killing a child, and Tempus says that he's gonna try his damndest. Tempus muses about Herb's fate, pondering possible starvation, but rejecting it in case he got away to build another time machine. "Something ironic, like what I did to Lois. That was good. I know! A Utopian execution: I'll bore you to death." His self-satisfied laughter is interrupted when he hears Lois step on a twig. When she gets him in sight, she brains him with the stick and a brief yet glorious fight ensues. He is puzzled by her appearance, but quickly deduces that there must be another time machine. Remember, he's the smart one in this episode. Tempus threatens to shoot her unless she tells him where it is, but before that can happen, a headless Clark manages to hit Tempus with his icy breath. It's pretty hilarious, actually.
Lois kicks Tempus to the ground: "You like violence so much? Come on, let's see what you got." She, also, looks pretty hilarious, holding up her fake karate hands. Tempus goes in for a punch, but she knees him in the stomach and he drops to the ground. Lois runs off, "Hate to tell you, but you hit like a girl." Well, sweetie, even so, maybe you shouldn't just leave him there. Back to the baby, who is presumably unconscious due to the Kryptonite, but really just looks like he's peacefully sleeping. I'm assuming it's illegal to actually knock an infant unconscious, so that makes sense. Lois throws the Kryptonite into the woods, unties Herb, and goes back for the baby, who she coos over delightedly. Tempus wakes up to find Clark standing over him, and is promptly lifted into the air. Lois and Herb walk up, and Lois immediately confirms that he's all right, telling him that she was so worried that she might lose him. That she couldn't stand that she'd never get to tell him how much, she'd never get to say . . . but Tempus interrupts her in one final moment of meta-reflection on the show. "Oh, please. I'll go to jail, I'll strap myself into the electric chair. Just don't make listen to this." Even Tempus knows it's cheesy, but I think that's the point. Lois and Clark smile doofily at one another.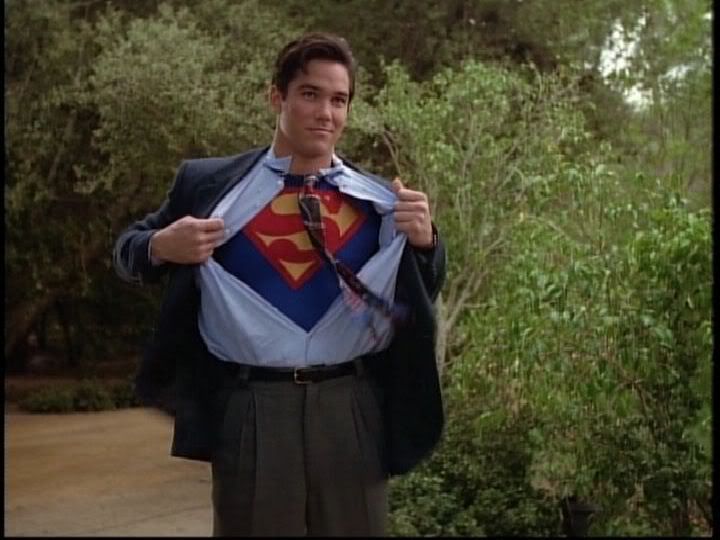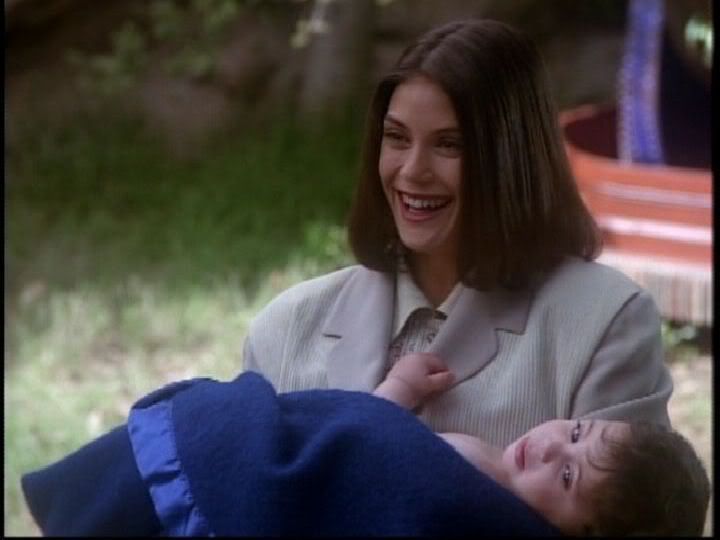 Clark drops Tempus into Herb's care when he realizes it's almost time for the Kents to see the "meteor." He gets ready to super-spin into his Superman costume, telling Lois, "I've always wanted to do this in front of you." He rips open his shirt in a very manly way, Lois giggling, and does his thing. Her Superman-detector? Off the charts. He gently takes himself from her arms while she once again proves her intelligence — "He looks like you," No! Really? — and jets off into the sky. At super-speed, his costume looks like a meteor through the night sky, and draws the attention of the Kents who are driving along the road. You know what? I think if I were Clark, I would be a little more freaked out that I was carrying myself as an infant. Just a thought. But he isn't; instead, he watches calmly as Ma and Pa Kent find the little nipper. Say it with me now: "Awwwww."
Meanwhile, Lois and Herb are having a heart to heart. She still can't get that "galactically stupid" thing off her mind. She asks him if what Tempus said about her is true, and he blunders on, "Oh, yes!" Her face falls. "You're as highly revered as any woman in history." She looks relieved but brings it up again, clarifying about which part she meant. Herb: "No, no, Miss Lane, not stupid. Blind. It is one of the many things that makes your story so timeless, why children never tire of hearing it at bedtime, why parents never outgrow it. Generation after generation, we are all blinded by love, Miss Lane. Especially, that one great love that changes us forever." I'm almost about to gag from the schmaltz, but Tempus saves me: "Oh, excuse me, but I'm in danger of choking on my own vomit." Ha! See what I mean? I guess what we're supposed to take away from this is that love outweighs brains, but that's kind of a weird message. I mean, it works, but it's no deep philosophy. That's the point, though. This show isn't asking us for ourbrains, it's asking us for our hearts. It's wish fulfillment. Whatever, it's fun. And Lois and Clark are pretty.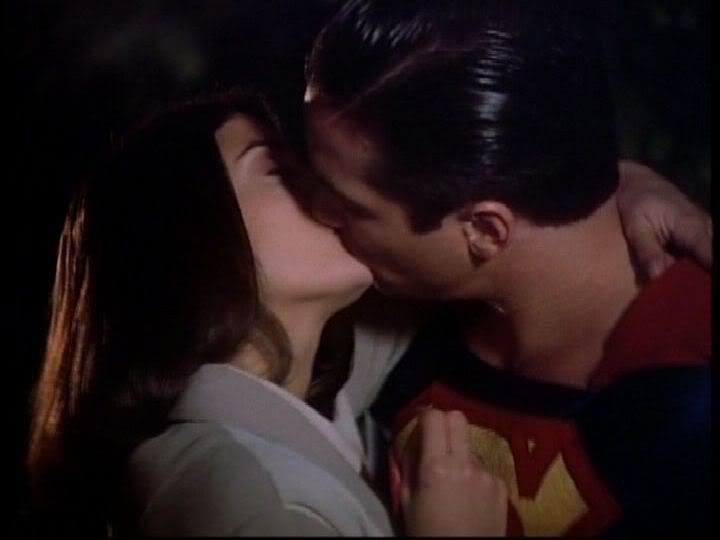 Superman arrives back from delivering his baby-shaped package, and Herb takes charge. He says he's going to see to it that Mr. Tempus causes no more trouble, and tells them to meet him at the second time machine. Before they go, Tempus pulls Superman aside: "As long as I have you here, just answer one thing for me? Why tights? Why a cape? You're a grown man; don't you feel ridiculous?" Tempus, always the voice of reason, we've all been wondering that for years. But Clark has an answer: "My mother made them for me." They all giggle as the time machine poofs away. Then Lois and Clark are alone. Lois slyly scoots closer to Clark; she really can't resist him in the Superman costume. She tells him he has a little schmootz on his 'S' and scoots even closer. He leans in for the kill. I'm sure that took a while. And, scene.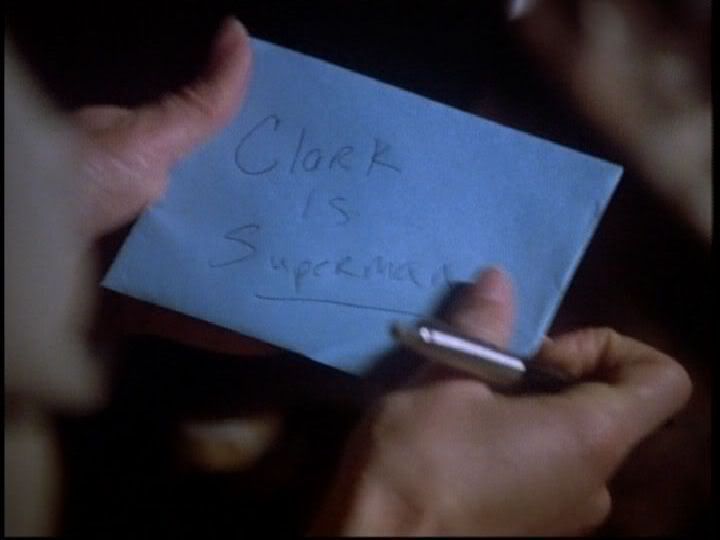 Back at the time machine, Lois and Clark looking rather sated, Lois wonders aloud if it's going to be as weird for him as it is for her, knowing that he's Superman from now on. Herb breaks the news that they won't remember this in a little bit, that he is in fact going to drop them off before he arrived. And you know what? I'm just going to leave it alone that that makes absolutely no sense whatsoever in any kind of context imaginable. I'm just going to go with it, because they needed to save the real revelation for the finale. I get it. But Lois isn't having any of it. As Herb is telling Clark about the ironic fate he gave Tempus, she sneakily writes "Clark is Superman" on the birthday card that Jimmy gave her earlier and slips it back into her purse. Also, please don't ask me how it is she won't remember, but the card will still be there. Okay, I didn't leave it alone. Whatev. Tempus's fate? Herb: "He was such a lover of irony that I decided to give him a lifetime of it . . . by granting him his wish: to live in a violent, hellish dystopia." And, poof goes the time machine.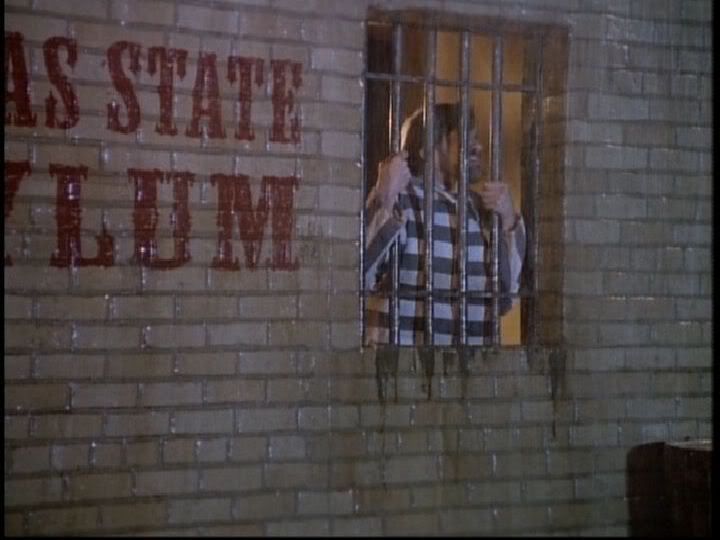 The Kansas State Asylum, unknown year. It's raining, and Tempus is screaming. "You stupid, hayseed, corn-shucking, cow lovers! I don't belong here! I'm from the future! I have to get out of here so I can build another time machine. Hey! Anybody listening to me? Hey!" And, I will say it for the last time, Lane Davies rules all. The tone in his voice is markedly different from the rest of the episode. There's an edge of panicked desperation to his voice that is just brilliant, and frankly, really funny. Farewell, Tempus.Back to the newsroom, and Lois walking down the ramp of the Daily Planet. She has apparently forgotten the whole thing. She has the same interactions with both Clark and Jimmy, but this time she guesses about the checked suspenders, and she has a weird feeling of deja vu. In fact, it's so weird that she starts grilling Clark about how, he too, guessed she was giving Perry checked suspenders. Clark: "Well, now that you mention it, it does feel like we've done all this before." Then she realizes the card is missing, and reaches for the blue envelope hidden in her bag. Clark sees what's written on it and snatches it out of her hands.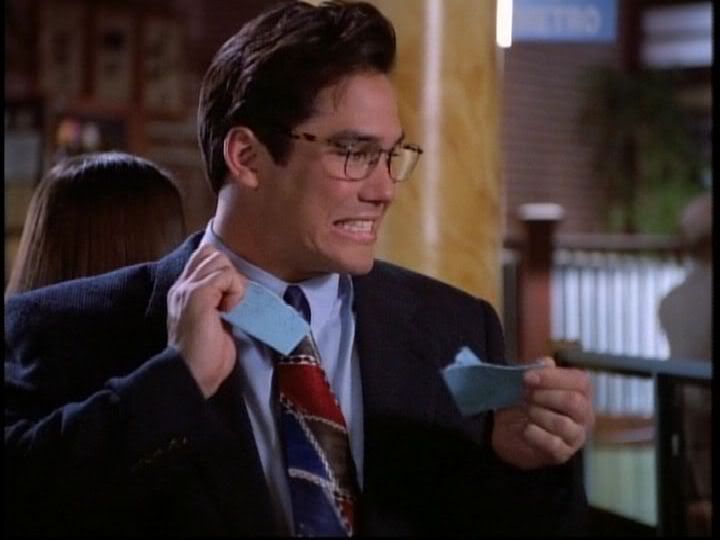 Lois strongly objects. Clark: "You were holding it for me, remember? It's my card." No, she doesn't remember that, and now she's suspicious. He gives her his best winning smile, but she gets Realization!Face. "What?" he asks. "I was just thinking . . ." about Clark's unlikely resemblance to Superman? Apparently. But she shakes herself out of it and makes a funny face: "Nah." When Perry comes out of the elevator, off camera of course, because Lane Smith isn't scheduled for this episode, Clark quietly rips the card into pieces and throws it away. Herb smiles from across the room, checks his watch, and goes to leave. His work here is done, and thankfully, so is mine. Tune in next week to find out what crazy shiznat I picked for number twenty-four.